Movie Review
Gloria
She's tough...but she sides with the little guy.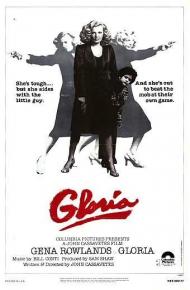 US Release Date: 10-01-1980
Directed by: John Cassavetes
Starring
▸
▾
Gena Rowlands

,

as

Gloria Swenson
Juan Adames

,

as

Phil Dawn
Buck Henry

,

as

Jack Dawn
Jessica Castillo

,

as

Joan Dawn
Julie Carmen

,

as

Jeri Dawn
Lupe Garnica

,

as

Margarita Vargas
John Finnegan

,

as

Frank
Tom Noonan

,

as

Gangster
J.C. Quinn

,

as

Gangster
Sonny Landham

,

as

Gangster
Lawrence Tierney

,

as

Broadway bartender
Val Avery

,

as

Sill
Edward Wilson

as

Guillermo D'Antoni
Reviewed on:
February 3rd, 2015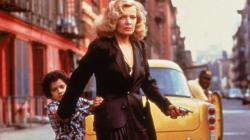 Juan Adames and Gena Rowlands in Gloria.
Filmmaker John Cassavetes usually directed his own screenplays. Gloria was different. It was originally written as a vehicle for Ricky Schroder, MGM's biggest child star of the day who was fresh off the success of the remake of The Champ. When Schroder was instead cast in a different movie, the script made its way over to Columbia where the title role was offered to Barbra Streisand. She passed, and Gena Rowlands got the part. She asked her husband, who also happened to be the guy that wrote it, to direct the movie. And that's how Gloria came to be the ninth movie, of an eventual eleven, starring Rowlands and directed by Cassavetes.
Gloria is about one tough cookie who's the ex of a mob boss. She saves the life of a six year old neighbor kid when his entire family is brutally murdered by gangsters. The kid's father worked as an accountant for the mob and he'd been, not only cooking the books at his employer's expense, but also acting as an informant for the FBI. Knowing he's about to be killed, he begs Gloria to save his young son Phil. She reluctantly agrees. What follows is a fast paced crime thriller with Gloria and little Phil on the run from mobsters that will stop at nothing to track down and kill the boy.
Gena Rowlands really sinks her teeth into the role of Gloria Swenson (she was named after Gloria Swanson). She's one helluva gal. She can throw a punch and handle a rod like a pro. Gloria, as a character, was definitely ahead of her time. Her influence can be seen in several other movies, including Léon: The Professional (1994), Ultraviolet (2006), and Julia (2008). Gloria was remade in 1999 starring Sharon Stone in the title role.
We first learn just how capable and dangerous this woman is in a great scene where the mobsters first catch up to Gloria and Phil on a crowded city street. It looks like they are caught but Gloria doesn't panic. On the contrary, she calmly pulls out a gun, plants her feet, takes aim, and fires at the car full of bad guys. She unloads the chamber causing the car to crash and go up in flames. Clearly Gloria is a woman who can take care of herself as she proceeds to prove over the course of the next 90 minutes or so.
Seven year old Juan Adames plays Phil. He's about as precocious as young kids get and Adames' lack of acting experience really shows. Most notably in the scene where he realizes that his entire family has been killed. He seems to improve as the movie goes along though, and he understands the humor in some of the dialogue well enough. This is the only movie Adames ever made and it earned him one rather unusual distinction. He tied with Sir Laurence Olivier (in The Jazz Singer) for Worst Supporting Actor at the first ever Razzie Awards in 1980.
Gloria is more accessible than many of John Cassavetes' films. It's a straightforward action movie with bits of drama, humor and heart sprinkled about. I won't spoil the ending except to say that it's entirely satisfying. Gena Rowlands received Oscar and Golden Globe nominations for playing this gutsy broad, and seminal female action heroine, with such over the top zest. Gloria was shot in New York City in the summer of 1979. It's a priceless time capsule of the era with a timeless female character in the lead role.
Photos © Copyright Columbia Pictures (1980)
Related Reviews