Movie Review
Glitter
In Music She Found Her Dream, Her Love, Herself.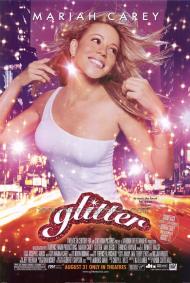 US Release Date: 09-21-2001
Directed by: Vondie Curtis-Hall
Starring
▸
▾
Mariah Carey

,

as

Billie Frank
Max Beesley

,

as

Julian Dice
Da Brat

,

as

Louise
Tia Texada

,

as

Roxanne
Valarie Pettiford

,

as

Lillian Frank
Ann Magnuson

,

as

Kelly
Terrence Howard

,

as

Timothy Walker
Dorian Harewood

as

Guy Richardson

Reviewed on:
September 23rd, 2001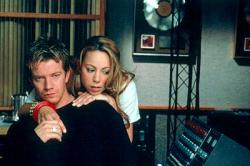 Max Beesley and Mariah Carey in Glitter.
Mariah Carey is certainly the perfect diva to try her hand at this umpteenth take on A Star Is Born. Like Judy Garland and Barbra Streisand before her, Mariah has the narcissistic ego necessary to play this larger than life role. Mariah (like them over thirty playing a much younger person) is Billie Frank a young girl living in the Big Apple' with a big voice and dreams of stardom. She has the added emotional burden of being rejected by both of her parents. By her black mother due to drugs and alcohol and by her rich white father who wants nothing to do with his illegitimate daughter.
It is 1983 and Billie is a struggling backup singer trying to get a break in the dance club world of Manhattan. She meets famed DJ Dice (Max Beesley) who quickly falls in love with her and her talent. From here you know the story, her star rises while his quickly descends.
The fault with Glitter lies in the hokey script and the surprisingly awkward direction by Vondie Curtis-Hall. Mariah it turns out can act and there is plenty of chemistry between her and Beesley. Similar to the much panned Streisand version where there were on screen fire works between her and Kris Kristofferson hampered by silly dialogue. Glitter will surely join it as a camp classic.
The songs here give this movie its heart and there are several memorable ones, including the tender ballad 'Reflections', a remake of Cherrelle's 'I Didn't Mean To Turn You On' and the showstopping 'Never Too Far'. Mariah sounds great and looks amazing throughout.
Having been a teenager during the early eighties I can say they have successfully recaptured the look of the time without being overly obvious about it.
Unfortunately there were several moments of intended drama which drew laughs from the audience and twice during overhead shots of the city The World Trade Center towers were shown causing audible sighs. Still when the credits rolled the audience cheered although I'm not sure if it was from appreciation or simply relief that it was over.
Reviewed on:
September 26th, 2001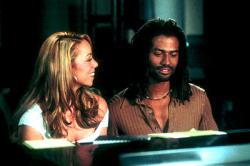 Mariah Carey and Eric Benet in Glitter.
Some movies just become popular to make fun of. Glitter is such a movie. In the long run, it's really not so bad. It's not so good either, but it is certainly not the worst movie ever made as some pundits have made it out to be. And Mariah Carey it turns out, is not the horrible actress that the critics said she is.
What is bad about this movie, as Patrick pointed out, is the weak dialogue and poor direction. Some of which is so bad, that I defy even Meryl Streep to make it sound believable, let alone a novice actress like Mariah. And the direction is full of distracting moments like slow motion, and glitter and fireworks appearing over images in the movie. And the question that kept bugging me throughout the movie is, why did they set it in the 80's? It adds nothing to the story and it seems kind of silly that they nailed it down to any time period at all, as it changes nothing in the plot.
With the death of the movie musical, the singer turned actress is now a dead breed. Barbra Striesand was the last person to have made the transition, and even she stopped making musicals in 1983. Madonna has tried to make the transition, but sadly Evita was not the success it should have been. If the musical is ever going to make a successful comeback, it desperately needs someone like Mariah, who has a huge fan base, who can bring people out to see it. This movie, had it been successful could have gone a long way to bringing back one of my favorite genres. Sadly, this was clearly not the case.
Instead this is a movie that only a Mariah fan could love. I only hope this wasn't her only shot at a musical, if they're ever going to make a comeback, Musicals need all the help they can get.

Reviewed on:
September 28th, 2001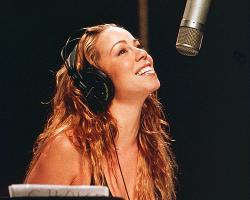 Mariah Carey in Glitter.
Did anyone in the cast or crew of Glitter know what the hell they were doing? Sure, the lines and direction suck. However there is more wrong about this movie than that.
Patrick is wrong about the chemistry between Carey and Beesley. They are not convincing as a couple. The scene where they are in bed together sucked. Mariah obviously is uncomfortable filming it. She clearly has blankets between herself and Beesley, so minimal skin is touching. She closes her eyes and fakes a smile when she reaches over to put her hand on his chest.
I do agree with Patrick and Scott that Mariah is not as bad at acting as I was expecting. However, some lessons would not hurt. If you are in bed with someone you just made love to and are in love with them, you should be more comfortable than what she was acting like.
Other than what has already been stated, I have 2 problems with this movie. The first one is Max Beesley's character. He is supposedly this big famous, hip, contemporary dj. He looks like a farm boy from Nebraska. Other than his desperate for attention shirtless outfit, he dressed and acted very conservatively. His job and love is new original music, yet he is so utterly middle of the road.
My second problem with this movie is that I never realized how utterly unattractive Mariah Carey could be. Other than the big glitzy bikini video scene, I found Mariah to be ugly. Having only seen her in videos and in photo's, I have always found her good looking. Perhaps the director just doesn't know how to film her. Either way, she has looked better in almost everything else I have ever seen her in.
I was going to give this movie 2.5 stars until the stupid break up scene. Her boyfriend kicks this jerk's ass in defense of Billie. Billie bails him out of jail then breaks up with him? I was then going to give this movie 2 stars, but then we got to the last scene. Mariah walks in and finds out that the love of her life just died. What's a diva to do? Mariah, looking like she just ate too much dairy, does what any diva would do. She gets on that stage and belts out a gushy ballad.
Photos © Copyright 20th Century Fox (2001)
Related Reviews