Movie Review
Glee: The 3D Concert Movie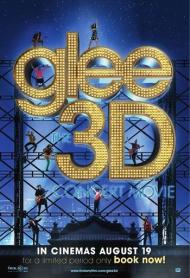 US Release Date: 08-12-2011
Directed by: Kevin Tancharoen
Starring
▸
▾
Lea Michele

,

as

Rachel Berry
Heather Morris

,

as

Brittany Pierce
Kevin McHale

,

as

Artie Abrams
Amber Riley

,

as

Mercedes Jones
Cory Monteith

,

as

Finn Hudson
Chris Colfer

,

as

Kurt Hummel
Darren Criss

,

as

Blaine Anderson
Mark Salling

,

as

Noah 'Puck' Puckerman
Naya Rivera

,

as

Santana Lopez
Harry Shum Jr.

,

as

Mike Chang
Jenna Ushkowitz

,

as

Tina Cohen-Chang
Dianna Agron

,

as

Quinn Fabray
Gwyneth Paltrow

as

Holly Holliday

Reviewed on:
August 14th, 2011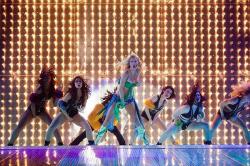 Heather Morris as Brittany in Glee: The 3D Concert Movie.
Glee: The 3D Concert Movie, is the easiest movie in the world to review. This concert/documentary is strictly a chance for fans of the show to celebrate it and sing along with some of their favorite songs. If you're a fan, you'll love it. If you're not a fan, you probably won't be seeing it anyway, unless you're dragged along with someone who is a fan, and if you weren't a fan before you saw it, you're unlikely to be one when it's over.
There's not much of a documentary element to the film, although it's being labeled as one. Between songs there are clips of fans talking about their love of the show and how it has had a positive effect on their lives. We hear from a girl with Aspberger's Syndrome. A dwarf cheerleader who becomes Prom Queen. And a gay teenager who was outed in high-school when his journal was exposed. These scenes reinforce the show's message of disparate people having a voice. They're nice enough, but not exactly in-depth.
Most of the cast get's a chance to step into the spotlight with a song, but certain members do get more screentime than others. While Lea Michelle, the Streisand wannabe, gets plenty of songs, as you'd expect, Dianna Agron, who plays the blonde cheerleader Quinn, is mostly absent. She sings one duet and then occasionally appears in the background. I wonder if her voice and dance skills aren't up to a live performance? Likewise, Chris Colfer, who plays fan favorite gay student, Kurt, finds his time limited relative to his time on the show. Kevin McHale as wheelchair bound Artie and Darren Criss as Blaine, both supporting characters on the show, get ample time in the spotlight here. Heather Morris as the dimwitted blonde Brittany gets the sexiest number in the skimpiest outfit, making you glad that these actresses are all well clear of high-school in real life.
I was a bit disapointed to find that Jane Lynch as Sue Sylvester didn't make an appearance. I mean, they were able to get Gwyneth Paltrow to do a number, but they couldn't throw in a Jane Lynch cameo?
Apart from the documentary elements there are also a few moments backstage with the cast in character. They're not exactly enlightening or in-depth but they do provide a moment or two of humor. Lea Michelle as Rachel is told that Barbra Streisand is in the audience (she's not really) and almost comes to tears in her excitement. Heather Morris as Brittany mentions how good her breasts will look in 3-D.
Speaking of the 3-D, while you might assume that it's just there to raise the ticket price, it's surprisingly well-done. Unlike many so-called 3-D movies, this one was actually filmed that way instead of simply being converted in post production and that makes all the difference. If Hollywood is looking for a reason why 3-D ticket sales are tanking, it's because they're shooting themselves in the foot by putting out inferior product and calling it 3-D. When I see a movie filmed like this one, I'm reminded why the 3-D for a movie like Avatar got me so excited about the technology. Oh and for the record, Brittany's breasts do look fabulous in 3-D.
The songs themselves are nice enough, but apart from Lea Michelle's "Don't Rain on My Parade", they're all pop song covers and quite a few of them end up sounding like elevator versions. This is especially evident on the Glee version of Jay Z and Alicia Keyes "Empire State of Mind".
As I said at the start though, this movie is easy to review. If you're a Gleek you'll see this movie and enjoy it no matter what I or anyone else says, and if you're not, you probably weren't going to see it anyway.

Reviewed on:
December 3rd, 2015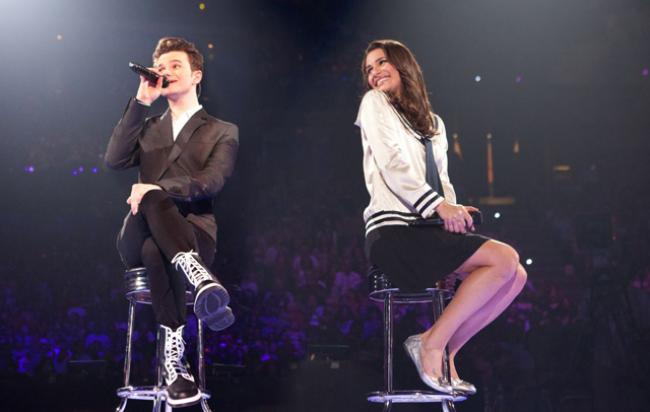 Chris Colfer and Lea Michele in Glee: The 3D Concert Movie
Watching this on a 2D television, I can only imagine how much better Heather Morris's breasts looked in 3D, All I can write is that they look pretty good without it.
I have never been a Glee fan, having only watched a couple of episodes and endless amounts of commercials. I knew some folks that never missed a single episode and talked about them with me whether I wanted to hear about them or not. This movie illustrates that this television show had a very loyal fan base and took this glee club to heart.
In between songs we meet different fans. Scott mentioned some. The one thing they all seem to have in common is a sense of feeling outside the "normal" description of a young person or a young person's social circle. The secret of Glee's success was always that it gave a home to those that felt like outsiders in high school. The handicapped kid, the nerd, the jock who liked to sing, the bad boy, the Streisand wannabe, the stuck up cheerleader, the gay kid, the fat minority all found acceptance in the rehearsal room working towards some regional singing contest.
Glee: The 3D Concert Movie is merely a gift to all of their dedicated fans. Lea Michele is my favorite as she has always been the driving force behind the glee club. Whereas many of the members were there to simply find social acceptance, she had the most enthusiasm for song and winning that trophy. Her near meltdown at the idea of Streisand being in the audience is the best part of the movie. My least favorite moment is when the cast performs with t-shirts on that proudly state their "secret" or "flaw." Subtlety is not Glee's forte.
A Jane Lynch appearance would have likely been my favorite part of the movie. Like Scott, I felt her absence. She always provided snarky humor, whether insulting the choir director's hair or simply mocking the Glee members. She was their foil and without her these "kids" have nothing to prove.
When I was in high school, I probably would have been attracted to this group of kids, as I too felt like an outsider. As an adult, I see them mostly as a bunch of drama queens milking their growing pains for all the attention they can get. Does that sound harsh? Too bad, why do you think people are attracted to being on a stage in front of an audience?
Photos © Copyright 20th Century Fox (2011)