Movie Review
The Girl Who Played with Fire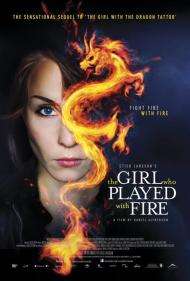 Sweden Release Date: 09-18-2009
Directed by: Daniel Alfredson
Starring
▸
▾
Michael Nyqvist

,

as

Mikael Blomkvist
Noomi Rapace

,

as

Lisbeth Salander
Lena Endre

,

as

Erika Berger
Peter Andersson

,

as

Nils Bjurman
Michalis Koutsogiannakis

,

as

Dragan Armanskij
Annika Hallin

,

as

Annika Giannini
Sofia Ledarp

,

as

Malin Erikson
Jacob Ericksson

,

as

Christer Malm
Reuben Sallmander

,

as

Enrico Giannini
Yasmine Garbi

,

as

Miriam Wu
Ralph Carlsson

,

as

Gunnar Bjork
Georgi Staykov

,

as

Alexander Zalachenko
Micke Spreitz

,

as

Ronald Niedermann
Paolo Roberto

as

Paolo Roberto


Reviewed on:
November 23rd, 2011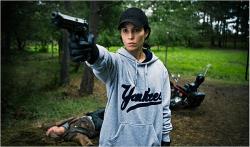 Even Lisbeth Salander is a Yankee fan.
The Girl Who Played with Fire (Flickan som lekte med elden) is the second movie in the Swedish trilogy written by Stieg Larson. It is more personal than The Girl with the Dragon Tattoo in plot as well as in its reflection of the author.
As the movie starts, computer hacker Lisbeth Salander and journalist Mikael Blomqvist have not seen each other in a year. Lisbeth left to travel and clear her head after the events of the first movie. Mikael still pines for her but finds some sexual companionship with his blonde co-worker at Millenium magazine. A new writer, Dag, brings a story with him to Millenium that he and his girlfriend have been writing about sex trafficking. His story intends to name some important "johns" from politics and law enforcement. Before the story can be published, he and his girlfriend are murdered.
Lisbeth returns to Sweden. Someone from her past, and the first movie, is killed. She is accused of the murder. She works to clear her name while Mikael investigates Dag's murder, using the names from the article as suspects. The two plots converge, with Lisbeth and Mikael electronically communicating with each other. They only share one scene together at the very end. This installment ups the sex a bit. Most notably is an explicit lesbian scene between Lisbeth and her girlfriend, who was only briefly in the first film.
When Stieg Larson was 15 he witnessed a rape of a girl named Lisbeth. One of his favorite stories as a child was that of Pippi Longstocking, who always outsmarted those around her. These were his influences on the creation of Lisbeth Salander. In the story Dag is killed before his story was finished. Larson died of a heart attack before his fourth novel was complete.
This is the shortest of the three movies but still clocks in at over two hours. It reveals Lisbeth's past and introduces her to a relative she never knew she had. It fills in the blanks but the mystery is not as fascinating as that of the missing Harriet from the first film. It seemed to drag a bit, but kept me watching none-the-less.
As a last note, Dolph Lundgren was reportedly offered the role of muscle bound bad guy Ronald Niedermann, but turned it down. As a Swede, Lundgren would have been an ideal choice and this would have been his first Swedish film. Too bad, it would have been a treat for American audiences.
Reviewed on:
November 28th, 2011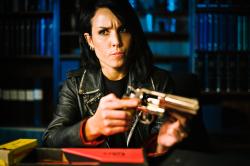 Noomi Rapace is Lisbeth Salander in The Girl Who Played with Fire.
I agree Eric that the mystery here isn't as interesting as the one in the first film, yet it will still hold your attention. And it's not only the mystery that is weaker, but the movie in general, as I suppose is to be expected from a sequel. Mikael and Lisbeth are still great characters though, who it is very easy to root for and whom you want to see succeed.
The story this time around also feels more "Hollywood" with its conspiracies and family surprises. A character assumed dead turns out to be alive and Lisbeth's parentage is revealed to be a bit more exotic than anything that was hinted at in the first film. Although there's plenty of family drama in the first film with the Vangers, the family shenanigans here feel more like a soap opera or perhaps a Greek tragedy.
Sex scenes in non-pornographic films are often tricky. How many of them advance the film and how many of them are there for mere titillation? The one here certainly crosses that boundary. While it develops Lisbeth's character to see her in a passionate makeout session with her girlfriend so that later we will understand her strong desire for revenge, it wasn't absolutely necessary that we see her with her face buried between her girlfriends thighs, not that I'm complaining.
I was disappointed at the lack of interaction between Mikael and Lisbeth. They make a good pair and it seems odd to keep them apart for for most of the movie. You could almost separate the two plotlines into different films.
While Mikael is a good character, we've seen the investigative journalist character many times before. Lisbeth though, is something much rarer. She's a wounded animal in a tiny frame. Completely lacking in social skills, she's still somehow quite likable. She's a bit of an enigma and perhaps that's the way she is meant to be. Maybe any explanation of her past would be unsatisfactory, but the one chosen seems too far out there. Once you bring in a defecting Soviet Spy who resembles a Bond villain, complete with super strong stooge, you've crossed a line that makes Lisbeth less real.
While this isn't as good a movie as the first film, it's still quite good and has reinforced my belief that the makers of the Hollywood version will have a hard time topping these versions. They will have a particularly tricky time trying to replace Noomi Rapace who simply is Lisbeth Salander.
Photos © Copyright Nordisk Film (2009)
Related Reviews