Movie Review
The Girl Who Kicked the Hornet's Nest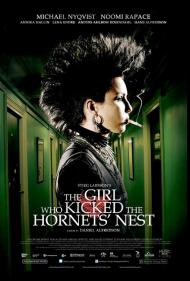 Sweden Release Date: 11-27-2009
Directed by: Daniel Alfredson
Starring
▸
▾
Michael Nyqvist

,

as

Mikael Blomkvist
Noomi Rapace

,

as

Lisbeth Salander
Lena Endre

,

as

Erika Berger
Annika Hallin

,

as

Annika Giannini
Jacob Ericksson

,

as

Christer Malm
Sofia Ledarp

,

as

Malin Erikson
Anders Ahlbom

,

as

Dr. Peter Teleborian
Micke Spreitz

,

as

Ronald Niedermann
Georgi Staykov

as

Alexander Zalachenko

Reviewed on:
January 4th, 2012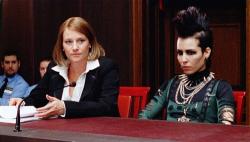 This third installment is the weakest of the three but still ties up all the lose ends quite well. Lisbeth and Michael are again apart most of the film. They only share the screen twice, once at the beginning and once at the end. I am not sure why that decision was made but the best moments of the first film are when the two work together.
The Girl Who Kicked the Hornet's Nest picks up mere moments after the second one ended. Lisbeth is severely wounded from the climactic assault scene in The Girl Who Played with Fire. With a bullet wound to her head, she spends most of the film in a hospital under the care of a doctor who seems to like her more and more.
Although there is an attempt on her life while she is in the hospital, Lisbeth has little to do but lay in her bed and exercise. The best part of the entire film is when she finally goes to trial. Michael's sister brings her some conservative clothes to wear but Lisbeth has her style and will not put on a front even to help her case. She walks into court with a studded dog collar and a spiked Mohawk. To save herself from prison she has to reveal her abusive past.
The plot is not as engrossing as the first film and lacks the mystery of the second. By this third film all the major players are now known. The secondary characters are far too confusing to keep track of. The only thing left to discover is just how much Lisbeth is willing to reveal or change to save herself.
Meanwhile Michael and his co-workers are getting threats if they publish their next issue. If you have seen the first two films then you know the outcome. Of course Michael will stay the course and Lisbeth would rather die than not stay true to herself.
With that established the film loses much of the tension. We want to see this through but the end is almost anti-climactic as we are not surprised by the ending. Several characters within the story get shocked, but we knew it was coming, so the surprise factor is almost nil.
There have always been far too many secondary characters in these stories. They make the plot confusing and too often slow the pace down. At two and a half hours long it needed a severe trimming. Skip to the last hour to get to the good stuff.
Photos © Copyright Nordisk Film (2009)
Related Reviews