Movie Review
Girl Crazy
The Big Musical with Broadway Flair and a Western Air!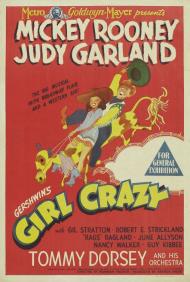 US Release Date: 11-26-1943
Directed by: Norman Taurog, Busby Berkeley
Starring
▸
▾
Mickey Rooney

,

as

Danny Churchill, Jr.
Judy Garland

,

as

Ginger Gray
Gil Stratton

,

as

Bud Livermore
Robert E. Strickland

,

as

Henry Lathrop
Rags Ragland

,

as

'Rags'
June Allyson

,

as

Specialty Singer
Nancy Walker

,

as

Polly Williams
Guy Kibbee

,

as

Dean Phineas Armour
Frances Rafferty

,

as

Marjorie Tait
Henry ONeill

,

as

Mr. Danny Churchill, Sr.
Howard Freeman

,

as

Governor Tait
Tommy Dorsey

,

as

Himself - Bandleader
Peter Lawford

as

Student

Reviewed on:
December 10th, 2010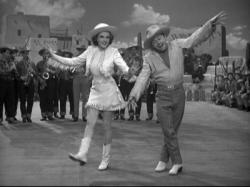 Judy and Mickey prove they have got rhythm!
Girl Crazy was the last of the Mickey Rooney/Judy Garland Backyard Musicals. It was preceded by Babes in Arms (1939), Strike Up the Band (1940) and Babes on Broadway (1941). Each movie served as an excuse for its young stars to show off their many talents. They always culminated with a local talent show designed to raise money and/or awareness for a worthy cause. These talent show ideas always started with Mickey saying some variation of the line, "Hey kids, let's put on a show!"
In Girl Crazy (from the George and Ira Gershwin stage musical which had already been made into a movie by RKO in 1932) the kids decide to do a Western Rodeo in order to increase enrollment at the college Mickey attends. He plays the son of a wealthy New York publisher who spends his evenings chasing girls in night clubs and making scandalous headlines. Sick of his son's antics his father ships him out west to an all male school in Arizona, where he meets and immediately falls for Judy Garland, the dean's granddaughter.
At first Mickey is a fish out of water. He expresses surprise that the students wake up at six a.m., not go to bed at that time. But as this is an MGM musical you just know that everything will work out neatly in the end. This set up, which was already pretty thin back in 1932, was positively transparent by 1943. It only works because of the remarkable talents of and chemistry between Rooney and Garland. They could do it all, sing and dance, go from comedy to drama in the blink of an eye, you name it.
Mickey even did impressions. In one scene Mickey and Judy go to see the Governor about the school's being closed down. While they wait Mickey does an impromptu routine in front of a microphone to amuse Judy. His manic energy and split second timing are a wonder to behold. He was Robin Williams before Robin Williams was.
And don't get me started on the magic that was Judy Garland. Witness how easily she breaks your heart when she sings the line, "They're writing songs of love... but not for me." She also belts out a full tilt rendition of "I've Got Rhythm" that will knock your socks off.
The supporting cast includes Guy Kibbee, Nancy Walker and June Allyson (who gets to sing one song), while Tommy Dorsey and his orchestra provide the music. If you pay close attention you may notice a very young Peter Lawford; he gets one line of dialogue.
When Girl Crazy wrapped production in May of 1943 Rooney was 22 and Garland a month shy of her 21st birthday. This was their 8th movie together (beginning with 1937's Thoroughbreds Don't Cry and including 3 Andy Hardy pictures) and would be their last costarring vehicle. They would share the big screen just one more time performing the song "I Wish I Were In Love Again" in the 1948 Rodgers and Hart biopic Words and Music.
Girl Crazy features legendary stars performing immortal songs. It's just too bad they're stuck in this trite, rehashed story. 70 years after their heyday one indisputable fact remains. Every teenager since, that has ever dreamed of singing, dancing and acting, owes a debt to Mickey Rooney and Judy Garland.


Reviewed on:
March 4th, 2015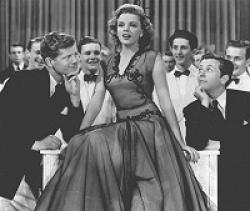 Judy Garland driving some boys Girl Crazy
Whether or not you are a fan of Mickey Rooney or Judy Garland, there is no possible way to dispute the energy and enthusiasm these two young troopers put into their performances. I have heard of the reported long hours they were forced to work, as well as the supposed drugs the studio supplied them with to help maintain their schedule. I am not sure how hard they were worked or what drugs they used but neither action diminished their performances.
In his youth, Mickey Rooney rarely played a variety of characters. Here he is playing his standard likable young man who lives innocently enough on the right side of mischief. As with almost all of his films, he constantly gets distracted by the opposite sex. The movie title, Girl Crazy, could have easily applied to any number of his many films. Like Patrick, I too enjoyed his moment with the microphone as he calls a tennis and boxing match of his own imagining.
As for Judy Garland, this was made during her beautiful period in the early to mid-nineteen forties. She was thin and wears some form fitting dresses that show her figure off. It is her voice, of course, that was her pay check and she cashes it here. Patrick mentioned her two best numbers while I was struck by another one.
Garland is playing the granddaughter of the dean of an all-male high school. She is one of the few girls around for miles. This, of course, makes her very popular with the student body. At one point, all of the female companionship deprived young men give her a piano as a birthday present. She then takes this moment to play and serenade them all at dinner with the song "Embraceable You", which is about desiring a man's physical affections. By today's standards this song is not that suggestive but she sings it as she walks flirtatiously around the room making a point to touch every one of the boys arms as she sings such lyrics as, "I love all the many charms about you, above all I want my arms about you. Don't be a naughty baby...come to mama come to mama do. My sweet embraceable you." Garland's performance is not overtly sexual but I found the song choice more suitable to Marlene Dietrich to sing in a saloon or Rita Hayworth to a bunch of horny soldiers. The song seems too mature and inappropriate for the innocent tone and situation of the film.
As Patrick so humorously put it, the plot is nearly non-existent. I doubt people went to Mickey Rooney movies for such things. They always knew they would get light hearted innocent down home entertainment with his films and he rarely let them down. Add Garland to the mix and who at the time could resist. Today it is best remembered as their final team up. Girl Crazy is not a horrible film by any means but it truly has nothing unique beyond the two talented leads demonstrating that they simply do not make movie stars like they used to
Photos © Copyright Metro-Goldwyn-Mayer (MGM) (1943)
Related Reviews