Movie Review
Gilda
Gilda Gambles As Recklessly As She Lives!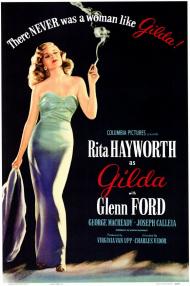 US Release Date: 03-15-1946
Directed by: Charles Vidor
Starring
▸
▾
Rita Hayworth

,

as

Gilda
Glenn Ford

,

as

Johnny Farrell
George Macready

,

as

Ballin Mundson
Joseph Calleia

,

as

Obregon
Steven Geray

,

as

Uncle Pio
Joe Sawyer

,

as

Casey
Gerald Mohr

as

Captain Delgado


Reviewed on:
March 15th, 2001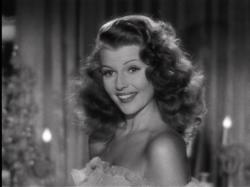 Rita Hayworth in Gilda.
Rita Hayworth created her most famous and sexiest character with Gilda. She is a spurned lover, who desperately wants former lover Johnny, played by Glenn Ford, back. But the fact that she married his employer makes it difficult. So what's a girl to do?
Gilda spends the entire movie flirting and sexually teasing Johnny to distraction. From her first scene where she flips back her hair ever so sexy and says 'What, me decent?' You know that this is a wanton woman. To one of the final scenes where she attempts to strip in front of a packed nightclub before Johnny stops her.
Rita Hayworth here is one of, if not the most beautiful, enticing women to ever be on screen. Take note Sharon Stone, there is no nudity yet the entire film is about sex. They never even use the word sex. They don't need to. Watch the masquerade scene where Johnny and Gilda are dancing and talking about how long it's been since they danced. The innuendo is obviously and just as effective.
Hayworth is great and the dialogue is wonderful, yet the film is not perfect. There is the huge coincidence of Gilda marrying Johnny's boss. The first 10 minutes before Rita Hayworth is in could be trimmed. There is a side story that provides a little action and intrigue but its the friction and heat between Gilda and Johnny that make this a great movie.
Reviewed on:
March 15th, 2002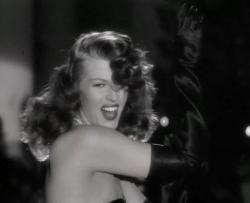 Rita Hayworth in Gilda.
As Eric has pointed out Rita Hayworth spends this movie in ravishingly beautiful poses, spouting flirtatiously seductive quips brimming with sexual innuendo. For example, she tells a man she has just met 'If I was a ranch they would call me The Bar Nothing.'
Glenn Ford is good, though not outstanding, in the part of Gambler Johnny Farrell. And although he has technically the larger role, this is the top billed Hayworth's movie from beginning to end. Even when not onscreen her presence is palpable.
This love story, set in a casino in Argentina, focuses on the bitter side of romance; proving that the line between love and hate is, indeed, thin. As noted above, Gilda is a sexual predator using every trick she knows to win back Johnny's love and affection. Only she plays this game too well. He, in return, loves her so much it hurts, yet can't bring himself to forgive her supposed indiscretions.
Finally, just as these lovers agree, Gilda's husband, believed dead, returns in time for a final showdown.
Charismatic stars in an entertaining, yet dramatically weak, film.
Reviewed on:
March 15th, 2003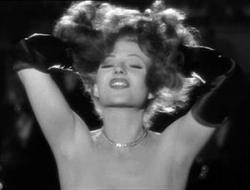 Rita Hayworth in Gilda.
This is very nearly a great movie. It comes close, but veers away from greatness at the last minute.
If only it's creators had focused more on the relationship between Gilda and Johnny, rather then the convoluted goings on of Gilda's husband and his business deals. Because it is the story of the two on again off again lovers that is the heart of this film.
Rita Hayworth, as both Eric and Patrick said, is wonderfully sexy and dominates the screen every time she appears. Sadly, despite the name of the movie, her screen time is limited. And we are left with Glenn Ford, one of the most unromantic, unattractive leads I have ever seen in any movie. Gilda deserves better then him or her husband.
Although this is a classic 1940's film noir, melodrama, it just leaves you feeling like it could have been so much more.
Photos © Copyright Columbia Pictures (1946)
Related Review