Movie Review
Ghost
Before Sam was murdered he told Molly he'd love and protect her forever.
US Release Date: 07-13-1990
Directed by: Jerry Zucker
Starring
▸
▾
Patrick Swayze

,

as

Sam Wheat
Demi Moore

,

as

Molly Jensen
Whoopi Goldberg

,

as

Oda Mae Brown
Tony Goldwyn

,

as

Carl Bruner
Rick Aviles

,

as

Willie Lopez
Vincent Schiavelli

,

as

Subway Ghost
Stephen Root

,

as

Police Sgt
Bruce Jarchow

,

as

Lyle Furgeson
Phil Leeds

as

Emergency Room Ghost

Reviewed on:
September 28th, 2013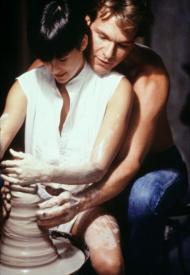 Demi Moore and Patrick Swayze in Ghost
Rare is the film that can boast that it has something for everyone. Ghost is that surprising exception. It is a love story/comedy/supernatural thriller. It walks a fine line between melodrama and camp without ever becoming either. This is helped by some genuinely funny moments and a few tense action scenes.
Sam and Molly are a New York couple that move in together at the start of the film. Sam works for a bank while Molly is an artist. During a mugging, Sam is killed. However, his love for Molly keeps him stranded on Earth. Later in the film it is explained that he has unfinished business.
While Molly cries continuously, Sam discovers the reason he was killed and that he has some abilities that can affect the world of the living. He also finds a medium who can talk to the dead. Through her he tries to worn Molly of the danger she is in and eventually reach his final destination.
Ghost was the very pinnacle of Patrick Swayze's career. With this film and Dirty Dancing (1987), a shirtless Swayze made more women wet than the Japanese tsunami. He once stated that the clay scene he filmed with Moore was the sexiest scene he had ever been in. Although he would also find some success in action movies, these two films are his most memorable.
Demi Moore had been in movies for ten years but Ghost was the one that put her on the "A" list. For the next seven years, Moore would make a string of highly talked about films before taking a temporary sabbatical to raise her children that she had with then husband Bruce Willis.
Both Swayze and Moore are good in their roles but it was Whoopie Goldberg as Oda Mae Brown who won the academy award. It made headlines as she was the first black woman to win an academy award since Hattie McDaniel won Best Supporting Actress for Gone with the Wind in 1939. In truth her acting is only adequate. Whenever she and Moore share a scene it is as if they are in two different films. Where Goldberg succeeded was that she stole every scene she appeared in with her attitude alone. Her lines are not instinctively funny, but how she says them is.
Ghost truly has a little something for everyone. It should not have worked as the comedy almost clashes with the sentimental love story. Somehow they pulled it all together and complimented it with a sappy/romantic soundtrack.
Photos © Copyright Paramount Pictures (1990)