Movie Review
Ghost Story
The time has come to tell the tale.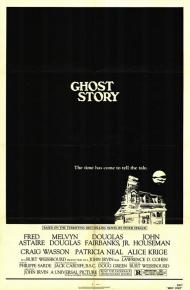 US Release Date: 12-18-1981
Directed by: John Irvin
Starring
▸
▾
Fred Astaire

,

as

Ricky Hawthorne
Melvyn Douglas

,

as

Dr. John Jaffrey
Douglas Fairbanks Jr.

,

as

Edward Charles Wanderley
John Houseman

,

as

Sears James
Craig Wasson

,

as

Don Wanderley / David Wanderley
Patricia Neal

,

as

Stella Hawthorne
Alice Krige

as

Eva Galli / Alma Mobley


Reviewed on:
December 10th, 2009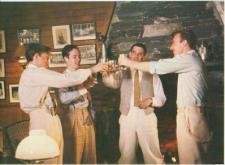 Who knows what the future holds.
I recall discussing Ghost Story with Patrick when it first came out. He was fascinated by the old actors appearing in it. It would be Astaire's and Fairbanks's last film roles. That in itself is this movies greatest legacy.
In a small Vermont town, four elderly gentlemen get together on a regular basis to drink brandy and share ghost stories with each other. They call themselves The Chowder Society. They have been friends since they were young and are now all distinguished gentlemen of the town. They all also suffer from related nightmares, that they refuse to discuss with anyone, including their wives.
One member of the group, Edward, has two sons. One dies, causing the other, David, to come home for the funeral. David suspects that his brother was murdered, and that his brother's fiancé has something to do with it. Before becoming engaged to his brother, she was engaged to him. Shortly there after, Edward dies and David discovers an old picture of the four men when they were young. Also in the picture is a woman who looks very much like his brother's fiancé.
Through a flashback, we see the four men meet a beautiful stranger when they were young men. They spend the summer with her. The young men are all sexually immature, but are attracted to her nonetheless. Edward has a moment with her that does not fare well. One fateful night the four men visit her while intoxicated. Things get out of hand and she ends up dead.
Back from the grave, her ghost now wants to exact revenge on them. Why she waited so long is never explained. This movie scared me when I was younger. The scene where David sits helpless with a broken leg, while the ghost descends the stairs used to scare the crap out of me because of the anticipation of what she may be about to do. Now it seems very tame.
Whereas the gore and frights are not there compared to more recent films. It earns its "R" rating with the nudity. Krige is topless in several scenes, and her ass gets just as much screen time. It also is one of the earlier films to have a male full frontal nude scene.
Consider that the movie is about four old men, the pace is a bit slow at times. The ghost uses a couple of humans to help her out, yet seems to not really need them when it comes to killing. I get the feeling that the book better explains things.
The four men are shown at two interesting times in their lives. As old men they are retired and have little enough responsibility. The flashback shows them at a time when life has yet to become hard. It is the two most carefree times of their adult lives, separated by 50 years, yet connected by the events of a horrible night.
I wonder what Patrick would think of this movie now? He is such a nostalgic person that I think he still may find this movie entertaining. It did not live up to the memory I had of it. I guess that is the intrigue of nostalgia. How we felt at the time is really what we remember and not the actual events.
Reviewed on:
October 25th, 2011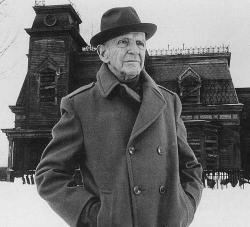 Fred Astaire in Ghost Story.
For those who worry that movies can warp children's minds, I have to confess that I saw this movie in the theater when I was just 12 years old. I don't know if I'd hit puberty yet, but I do know that this is the first movie I can remember seeing where I definitely found the nudity interesting. I don't think it left any scars on my young psyche, although I have always found the English accent to be quite sexy, perhaps that's linked with Alice Krige and her nudity here.
I agree with you Eric that the pace is quite slow, painfully so at times. With a nearly 2 hour running time there's definitely room for trimming, especially in the flashback and the love story portion between David and Alma.
As you point out Eric, the most unique aspect of this movie is the cast of older actors lead by Fred Astaire. Sadly though, their screen time is rather limited. I wish the plot could have focused more on them. One inside joke in the film that throws a nod to their identity is when the actor playing the young version of Astaire's character says, "I don't know how to dance."
There are some creepy moments but no real scares. I remember finding the ghostly image of Eva standing in the middle of the snowy road to be disturbing as a child. I've also always remembered the line, "Dance with me you little toad."
For such a drawn out story, the ending feels rushed. Ricky (Astaire) comes to the conclusion that if they raise the car from the lake their problems will be over. He's then able to convince the sherriff, hire a tow truck and crew and haul up the car in seemingly no time at all. Meanwhile Eva descends the staircase slower than any movie character since Joan Crawford did it in Whatever Happened to Baby Jane.
This movie didn't live up to my memory either, except maybe the parts with a nude Alice Krige.
Reviewed on:
October 31st, 2011
Douglas Fairbanks Jr., John Houseman, Fred Astaire and Melvyn Douglas share a toast in Ghost Story.
Yes this movie brought back a strong sense of nostalgia. In 1981 I was 14 years old. I vividly remember that holiday movie season. My obsession with old Hollywood stars was at its peak and within a matter of a few weeks 3 movies were released that featured some of my favorite old time stars in them. I was pleasantly surprised by the fact that all 3 movies turned out to be quite good.
First there was James Cagney, Pat O'Brien and Donald O'Connor revisiting turn-of-the-century New York City in Ragtime, which was released in November. Then in early December, Henry Fonda and Katharine Hepburn spent their 48th (and perhaps final) summer together On Golden Pond. Ghost Story came out a few weeks later with Fred Astaire, Douglas Fairbanks Jr., and Melvyn Douglas in a snowy New England setting. I was in celluloid heaven.
Now as for the movie itself, I think it holds up rather well. As the title says, it's a ghost story. It is meant to be creepy and eerie but it's most definitely not a slasher type horror movie. My brothers both complained about the slow pace but I didn't mind it. The story unfolds elegantly and with a sense of mystery.
The atmosphere is nearly perfect. The old haunted mansion looks exactly like we imagine an old haunted mansion should look (see photo in Scott's review). Scott, I think the old actors get plenty of screen time, especially Astaire. I do agree that the son's flashback of falling in love with Eva/Alma could have been trimmed but I absolutely enjoyed the scenes set 50 years in the movie's past. They picked a good group of young actors to play these famous old men in their youths.
Like for the members of the Chowder Society, Ghost Story will always conjure up the past for me. Eric, I remember you mentioning how graceful Fred Astaire looked in the scene where they share a toast (see photo above). Yes, nostalgia is the remembrance of a feeling more than an actual event. One reason I love film so much is that it can bring back the emotions we felt during a fondly remembered time and place in our lives. Ghost Story recalls for me one of the most carefree seasons of my life and for that it will always hold a special place in my heart.

Photos © Copyright Universal Pictures (1981)
Related Reviews