Movie Review
The Ghost Ship
Madness on the High Seas.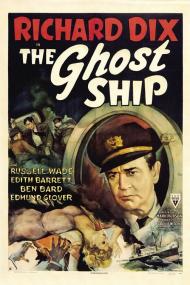 US Release Date: 12-24-1943
Directed by: Mark Robson
Starring
▸
▾
Richard Dix

,

as

Captain Will Stone
Russell Wade

,

as

Tom Merriam, 3rd Officer
Edith Barrett

,

as

Ellen Roberts
Ben Bard

,

as

First Officer Bowns
Edmund Glover

,

as

Jacob 'Sparks' Winslow, Radioman
Robert Bice

,

as

Raphael, the Steward
Alec Craig

,

as

Blind Beggar
Skelton Knaggs

,

as

Finn, the Mute
Paul Marion

,

as

Peter, the Greek
Lawrence Tierney

as

Seaman Louie Parker
Reviewed on:
February 27th, 2006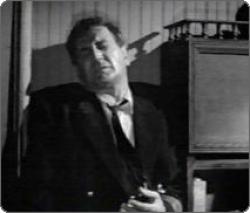 The Ghost Ship.
They just don't make movies like this anymore. The Ghost Ship is a classic B movie from the studio era. It clocks in at less than 70 minutes but manages to fit in an awful lot of interesting characters and situations. To many modern viewers the story and dialogue will seem clichéd and contrived and the acting melodramatic. For those few, it seems, that appreciate this old-fashioned style of moviemaking it will be a treat to watch.
Tom Merriam (Russell Wade) is a young officer signed on for his maiden voyage aboard the Altair. Richard Dix is Captain Stone. The two men strike up a friendship until Tom begins to suspect the Captain of being a homicidal maniac. After the death of one of the crewmen Tom's suspicions are confirmed but when the owner of the ship questions the rest of the crew, they all stand by the Captain. Needless to say Tom is relieved of duty but winds up back onboard the ship after being knocked out in a street fight. The story builds to a solid finish complete with an inspiring knife fight between the Captain and the mute deck hand who also serves, through his thoughts, as the narrator.
This movie drips with atmosphere and foreboding, from the opening shot with a blind beggar, to all the old salts on the crew, to the descending madness of the Captain. Yes, the plot is predictable but the Noir-ish journey is an enjoyable one to take. And the ending is more subtle than you might expect.
I find it interesting that though this movie was released in 1943 there is absolutely no mention of the World War that was then raging around the globe. Apparently it was meant to provide escapist entertainment, not to remind viewers of their troubles.
The Ghost Ship is a classic example of the type of black & white movie that used to be shown on the late, late show on television back in the 60's and 70's. Unfortunately today, outside of Turner Classic Movies, these films seem to have been forgotten.
Photos © Copyright RKO Radio Pictures Inc. (1943)