Movie Review
The Ghost and Mrs. Muir
Is Lucy Muir's love really a ghost, or is it a man of flesh and blood she yearns for?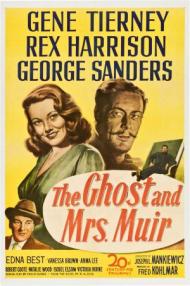 US Release Date: 06-26-1947
Directed by: Joseph L. Mankiewicz
Starring
▸
▾
Gene Tierney

,

as

Lucy Muir
Rex Harrison

,

as

Capt. Daniel Gregg
George Sanders

,

as

Miles Fairley
Edna Best

,

as

Martha Huggins
Vanessa Brown

,

as

Anna Muir as an Adult
Anna Lee

,

as

Mrs. Miles Fairley
Robert Coote

,

as

Mr. Coombe
Natalie Wood

,

as

Anna Muir as a Child
Isobel Elsom

,

as

Angelica - Mother-in-law
Victoria Horne

,

as

Eva - Sister-in-law
Whitford Kane

,

as

Mr. Sproull
William Stelling

as

Bill


Reviewed on:
August 15th, 2012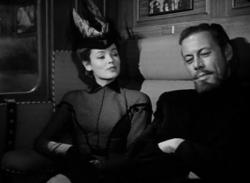 Gene Tierney and Rex Harrison in The Ghost and Mrs. Muir
The Ghost and Mrs. Muir is a uniquely romantic film as it is of a love story between a living person and a spirit. This makes for an untraditional courtship. Issues of physical affection are a non-issue, leaving the couple from two different worlds to fall in love without it. Can you even imagine that being done today? No doubt a remake would find a way to work out a sexual connection.
It starts in 1900, with recently widowed Lucy Muir moving into a beautiful English seaside cottage with her daughter and maid. She does so with the knowledge that the place is haunted by the ghost of the sea captain who built the home. He makes a bit of an effort to scare her off but becomes impressed with her stubbornness and the two strike up a friendship. The closest thing to a sexual situation the film gets is when Lucy starts to undress for bed, but then turns out the lights. When she lies down she is a bit shocked to hear the Captain say, "My dear, never let anyone tell you to be ashamed of your figure!"
And what a figure it is. Gene Tierney was a hell of a beautiful woman. Although she wears period costumes that keep her covered, she clearly had a figure that not only should she not be ashamed of but damn right proud. She had all the right feminine curves but was most famous for her stunning cheek bones. Darryl F. Zanuck reportedly called her unquestionably the most beautiful woman in movie history. She was certainly one of the best looking women from the 1940s but my money is still on Rita Hayworth.
Lucy and the ghost become close as he dictates to her his life story so that she may sell the manuscript and buy his home. Rex Harrison is great as the spirit of the sexist Captain. "Blasted women. Always make trouble when you allow one aboard." Most of his lines are filled with sailor talk, "You must make your own life amongst the living and, whether you meet fair winds or foul, find your own way to harbor in the end." He advices Lucy after she has met a man she is unsure of her feelings for.
George Sanders as the man in question has my favorite line in the film when he says to Lucy about the rain, "It's easy to understand why the most beautiful poems about England in the spring were written by poets living in Italy at the time." Sanders was one of those classic actors whose voice was almost more distinguished than his face.
Filmed on location, with the northern California coastline standing in for the English seaside,The Ghost and Mrs Muir is a romantic fantasy that could have benefited from an even lighter touch. Tierney plays her role very straight and it drags a bit as we wait to see how the love triangle will play out. It ends on a bit of a twist, you may or may not find satisfying, but it does stay true to the story.
A television show based on this movie ran for two years in the late 1960s. Despite earning it's lead, Hope Lange two consecutive Emmy awards, it struggled with ratings and soon disappeared into television history, without ever gaining the classic status of the film.
Reviewed on:
January 11th, 2014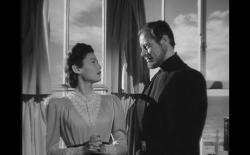 Gene Tierney and Rex Harrison in The Ghost and Mrs. Muir.
The Ghost and Mrs. Muir begins as a lighthearted comic/fantasy before switching to a wistful romance. It features a wonderful central performance by Gene Tierney. She is in nearly every scene and carries the movie effortlessly on her slender shoulders. Reportedly she began filming playing Mrs. Muir with a screwball comic edge, but changed it to a much more serious and subtle performance at the bequest of director Joe Mankiewicz. The result is a performance of quiet beauty.
I agree wholeheartedly with Eric that Rex Harrison is terrific as the ghostly sea captain. He looks quite dashing in that beard and dressed all in black, as befits a spirit. My favorite scene in the movie is when he says farewell to Mrs. Muir while she sleeps. He gives a passionate speech about how much the two of them have missed out on. It is filled with longing and regret and Harrison gives it his all. It foreshadows the ending, which I guessed long before it unfolded.
Both Harrison and George Sanders had splendid speaking voices. And, speaking of Sanders, the one flaw in the script concerns his character, Mr. Fairley. The idea that Mrs. Muir would fall for this obvious phony is a bit hard to swallow. After all she's an incredibly beautiful woman and he - well as anyone who has seen many of his films knows George Sanders usually played a cad, when not being downright villainous. The maid Martha's reaction to him is a dead giveaway.
Wistful B&W romances with elements of fantasy were quite popular in the mid-to-late 1940s. This movie fits quite nicely alongside The Enchanted Cottage (1945) and Portrait of Jennie (1949). I rather liked the ending. It is a tad melancholy but also highly romantic, all of which is aided by Bernard Herrmann's haunting score. Look for a very young Natalie Wood in one of her many daughter roles of the period and Anna Lee has one scene as George Sanders' long suffering wife. In case you were wondering where Mrs. Muir's rather unusual last name comes from it is meant to be symbolic. In Gaelic "muir" means "the sea". How fitting.
The Ghost and Mrs. Muir is a bit uneven at times. The comic and dramatic elements don't always fit together and the story nearly runs out of steam. The final twenty minutes are highly enjoyable, however, for anyone with a streak of romantic whimsy.
Photos © Copyright Twentieth Century Fox Film Corporation (1947)