Movie Review
Get Him to the Greek
Aaron Green has 72 hours to get a Rock Star from London to L.A. Pray for him.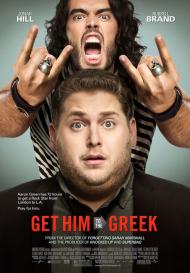 US Release Date: 06-04-2010
Directed by: Nicholas Stoller
Starring
▸
▾
Jonah Hill

,

as

Aaron Green
Russell Brand

,

as

Aldous Snow
Sean Combs

,

as

Sergio Roma
Rose Byrne

,

as

Jackie Q
Elisabeth Moss

,

as

Daphne Binks
Aziz Ansari

,

as

Matty
Colm Meaney

,

as

Jonathan Snow
T.J. Miller

,

as

Brian the Concierge
Meredith Vieira

,

as

Herself
Zoe Salmon

,

as

Herself
Lars Ulrich

,

as

Himself
Mario Lopez

,

as

Himself
Pink

,

as

Herself
Billy Bush

,

as

Himself
Kurt Loder

,

as

Himself
Christina Aguilera

,

as

Herself
Kristen Bell

,

as

Sarah Marshall
Rick Schroder

as

Himself


Reviewed on:
February 5th, 2011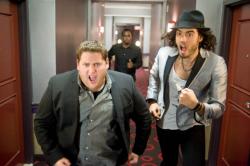 Sean Combs tries to get Jonah Hill and Russell Brand to the Greek.
I had been putting off seeing Get Him to the Greek as I am not a fan of Jonah Hill or Russell Brand. Both seem to merely have a persona, disguised as acting. Hill has the likable, sensitive fat guy down and Brand is the epitome of the British hippy. My 17 year old finally got his way and I watched it with him.
Aaron works for some music company and is sent to England to escort a rock star, Aldous Snow, who has seen better days, to Los Angeles to perform a rock concert. The schedule gets thrown out of the window almost immediately as Aldous is a walking rock star cliche. They have to party first, which involves hitting some bars, clubs and parties. They have to drink a lot, do plenty of drugs, and bang some groupies.
Along the way we get to know both men. Aaron lives with his cute doctor girlfriend. She wants to move to Seattle while he likes Los Angeles. Aldous is still in love with his former girlfriend, a slutty British pop star, Jackie Q. Her best moment is her anus song.
They meet up with his dad in Las Vegas in one of the funniest parts of the film. Aaron's boss Sergio joins them there to try to get them back on track. They all get high on some laced marijuana called a Geoffrey. "When the world slips you a Geoffrey, stroke the furry wall."
Although Get him to the Greek did not change my opinion of Brand or Hill, I was surprised by how funny Sean Combs can be. As Aaron's foul mouthed boss he steals every scene he appears. "I've got six fuckin' kids! Do you know how many Air Jordans six black kids wear?" His mind game speech was great. "Can't you feel my dick fucking your mind?"
Unfortunately he is in a supporting role. This leaves a plot that tries to garner sympathy for a rock star who has everything. So his dad is a dick and the woman he loves is a slut. He has more fame and money than most. He has the means to do whatever the hell he wants. He has made horrible decisions and screwed himself up on drugs and alcohol, and I am supposed to feel sorry for him?
I did not care for Aaron as he is so weak he does whatever Aldous tells him to. This includes smuggling heroin on a plane for him. Or as Sergio says, "If he tells you to stick the drugs in your ass, you stick them in your ass." Aaron ends up benefiting from all the ass kissing, so enjoy that message kids, selling yourself short to an arrogant rich asshole is the way to go!
Get Him to the Greek has it's moments. My favorite is Aldous Snow discussing the story behind his new song, African Child, "I was watching the news one day and I saw footage about, uh, war, and I think it was in Darfur, or Rwanda, or Zimbabwe, or one of 'em, and I thought, 'this isn't right, is it?' And I made some phone calls and it turns out, it isn't." More scenes like that and less attempts to get us to sympathize with Snow's personal life would have helped greatly.
Reviewed on:
May 27th, 2011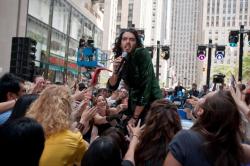 The charismatic Russell Brand makes a believable burned-out rock star.
Yeah this movie is uneven in tone. It isn't content being merely an outrageous Judd Apatow produced gross-out comedy; Get Him to the Greek wants to evoke some emotion in the viewer as well. They should have just gone strictly for laughs since the set-up is ripe for them.
I agree that Sean Combs is very funny. He pokes fun of himself by parodying his own hyper-ambitious persona. Check out the following exchange between him and Pharrell Williams (in a cameo). Pharrell: (wearing a pink shirt) "How do I look?" Sergio (Combs): "Man, lose the pink. It's not gangster." Pharrell: "That's your problem. Everything is gangster with you." Sergio: "The name of the song is "I'm Gangsta!""
The script is quite funny and clever. Brand has plenty of charisma and makes a believable burned-out rock legend. He also has good comic timing. After Hill insults his song "Afrikan Child", he gives this next line the perfect delivery with his clipped British accent, "What you did was very spiteful, but it was also very brave and very honest and I respect you for doing that. But the content of what you said has made me hate you. So there's a layer of respect, admittedly, for your truthfulness, but it's peppered with hate. Hateful respect."
I also laughed at his take on monogamy. Hill asks him about his seven year relationship with his ex. "So you only slept with Jackie?" "No, I slept with other people but I always told her about it. Monogamy."
Hill gets a few good lines as well. While in a limo in London the driver asks him, "Would you like me to take the Chiswick roundabout through Hounslow and Staines?"
Hill replies, "What is this, fucking Middle Earth? Just take us to the airport, okay."
Despite some cleverly funny dialogue Get Him to the Greek is a bit of a muddled disappointment. FYI, If you have ever wanted to see a 3-way between Brand, Hill and Elisabeth Moss while Mariah Carey's "Touch My Body" plays in the background, this is the movie for you.

Reviewed on:
July 22nd, 2011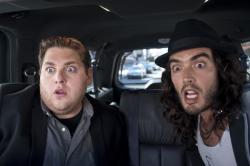 Jonah Hill and Russell Brand in Get Him to the Greek.
Like you Eric, I'm not a fan of Russell Brand or Jonah Hill and this movie didn't make me change my opinion of either of them. I did enjoy it more than I thought I would, but not because of either of their talents. In fact, I might have enjoyed it a lot more with almost anyone else playing Jonah Hill's part, whose charisma is completely lost on me. Brand fares mildly better, even if he seems a bit young for the part and isn't capable of handling the small amount of drama that this part requires.
Unlike both of you, I didn't find Combs that funny. He has a few lines that made me chuckle, but he's not a very good actor and I didn't think he delivered them all that well.
Eric, you say that the movie wants to generate some sympathy for Brand's character, but because he's rich you don't think he's worthy of any? His fame and money can't win him back his ex-girlfriend. They can't change the fact that his son isn't really his son. And they can't mend his relationship with his father. Yes, being fabulously rich and having those problems is a lot better than being dirt poor and having those problems, but it doesn't mean they aren't still problems. You'd make a great psychiatrist. "Welcome, have a seat on my couch. Wait? This is how much money you have? You can't have any problems. Why are you wasting my time? Get the hell out of here."
You did mention the line I laughed hardest at Eric. Brand's "And I thought, 'this isn't right, is it?' And I made some phone calls and it turns out, it isn't." Unfortunately, too many of the jokes involve Hill vomiting. I lost track of the number of times he does it. My favorite scene with him is when he attempts to buy heroin in Vegas, but ends up at the hospital with a stab victim. It's a scene that's edited well for the laughs and is only marred by yet another puke appearance.
This movie is definitely uneven and never seems to find the right tone it's looking for. It was difficult for me to get worked up over Brand jumping off the building when a few moments earlier he was engaged in perhaps the least sexy three-way ever put on film. I laughed a few times, but I can never imagine wanting to watch this again.
Photos © Copyright Universal Pictures (2010)