Movie Review
George of the Jungle
Watch out for that tree!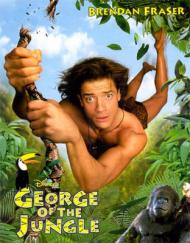 US Release Date: 07-16-1997
Directed by: Sam Weisman
Starring
▸
▾
Brendan Fraser

,

as

George
Leslie Mann

,

as

Ursula Stanhope
Thomas Haden Church

,

as

Lyle Van de Groot
John Cleese

,

as

An Ape Named Ape (voice)
Richard Roundtree

,

as

Kwame
Greg Cruttwell

,

as

Max
Abraham Benrubi

,

as

Thor
Holland Taylor

as

Beatrice Stanhope

Reviewed on:
March 24th, 2004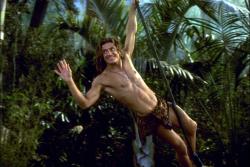 Brendan Fraser in George of the Jungle.
George of the Jungle flies along as lively and entertainingly as its theme song. Jokes come from many directions. The movie often steers toward juvenile antics but often enough stops just short, but not always.
While traveling in Africa, beautiful blonde heiress, Ursula meets and falls in love with jungle man George. Her fiancé, Lyle, shoots George so Ursula takes George to San Francisco. Once there, George begins to experience modern civilization, like coffee and saving a parachutist caught on the bridge.
Meanwhile, back in the jungle George's companion, a talking ape named Ape, gets captured by some poachers. By way of a bird, George hears of the abduction and races back to Africa to save his friend. Ursula follows George and Lyle shows up to abduct her. But not to worry, George is there to do a really big swing that you know will hurt, and save the day.
What makes this movie such a joy is the cast. Fraser is in his best beef cake/moron mode. He basically walks around in a loincloth with a blank expression. John Cleese is wonderfully sarcastic as the voice of Ape. "All of George's secrets." That's the shortest book ever written."
My favorite character is Ursula's stuck up mom, Beatrice. She is played to the snobbish hilt by Holland Taylor. She hates George and makes no bones about it. Her best scene is when Ursula tells her she is in love with George and Ursula's father gives his blessing. Beatrice resembles a balloon on the verge of exploding. She is holding a glass that you just know she wants to hurl at her husband. She steals many scenes.
A unique aspect to this film is that there is a narrator who occasionally talks to the characters. The characters make many asides to the camera as well. When George is in San Francisco, Ursula takes him shopping. The narrator says, "The jungle king was pleased to find out that he looked pretty good in Armani." To which, George turns to the camera and says with a smile, "Pretty darn good."
Definitely a film for kids but enjoyable enough that adults will be amused. When the poachers are trying to get away with Ape, Ape farts and they blame each other. Near the end of the movie, Beatrice says to her husband. "Arthur, I wish you would do something about all these monkeys. I feel like Jane Goodall." Ape responds, "Madam, I knew Jane Goodall and you are no Jane Goodall."
Photos © Copyright Walt Disney Pictures (1997)