Movie Review
General Spanky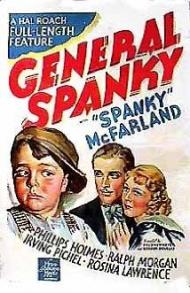 US Release Date: 12-11-1936
Directed by: Gordon Douglas, Fred C. Newmeyer
Starring
▸
▾
Spanky McFarland

,

as

Spanfield George 'Spanky' Leonard
Phillips Holmes

,

as

Marshall "Marsh" Valient
Ralph Morgan

,

as

Yankee General
Irving Pichel

,

as

Capt. Simmons
Rosina Lawrence

,

as

Louella Blanchard
Billie 'Buckwheat' Thomas

,

as

Buckwheat
Carl 'Alfalfa' Switzer

,

as

Alfalfa
Hobart Bosworth

,

as

Colonel Blanchard
Robert Middlemass

,

as

Overseer
James Burtis

,

as

Boat Captain
Louise Beavers

,

as

Cornelia
Willie Best

,

as

Henry
Eugene 'Porky' Lee

,

as

Kid Army Member
Slim Whitaker

as

Extra
Reviewed on:
February 26th, 2015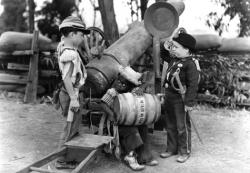 Alfalfa, Buckwheat and Spanky in General Spanky.
There were more than 200 Our Gang (Little Rascals) shorts made between 1922 and 1944. General Spanky is the one and only feature film in which they starred. It was supposed to mark the series' transition from two-reelers to full length movies but it failed to find an audience at the box office. It was produced by series' creator Hal Roach just two years before he sold the rights to MGM. Leo the lion would keep the series going through most of WWII. Seen today, one of the biggest problems with General Spanky is the fact that it's set during the American Civil War. None of their two-reelers had been period pieces and it takes away from the familiarity of these characters to see them in a different time era. It's worth noting that 1936 (when General Spanky was made) is now closer to 1861 (when the Confederates fired on Fort Sumter) than it is to 2015 as I type this.
It begins on a riverboat (with the Sacramento River standing in for the Mighty Mississippi) where an orphan (Spanky) works as a bootblack. He meets another boy (Buckwheat) and they wind up falling overboard. After they make it to shore, Buckwheat tags along with his new acquaintance out of fear of being shot as a runaway slave. They soon become good friends. The boys wind up being taken in by a kindly planter just as the War Between the States breaks out. Before you know it Spanky has formed an army out of local kids. They study a manual, build a fort, and even manage to stage a battle against real Union soldiers.
As the title suggests, Spanky completely dominates the story. Buckwheat has the second biggest part, especially during the first 30 minutes or so. After that Alfafa makes his appearance and takes over as Spanky's sidekick for the duration of the movie. These three are probably the most iconic of all the many child actors to have appeared in the long running series. They were funny individually and together they made a great team (see photo). Each gets a moment or two to shine here.
Billie Thomas (Buckwheat) was just five years old at the time and was already a two year veteran of the series. He had great comic timing for such a youngster. I couldn't help but think of Eddie Murphy whenever Buckwheat would announce, "Here I is!" Yes he was playing a stereotype but he is accepted as a friend by the other white kids. This was progress. The ease with which they socialize was something you didn't often see adults doing publicly in the 1930s.
Carl "Alfalfa" Switzer was so goofy looking his picture should be in the dictionary. He sings one of his trademark off-key ballads while mugging for the camera. Spanky's best line is when he surrenders his fort to the Yankees. He tells them, "The RPWCRCWMR surrenders Blanchard Hill." This stands for "The Royal Protection of Women and Children, Regiment Club of the World and Mississippi River" of course.
The supporting cast includes two of the most familiar African/American adult faces of the 1930s, Louise Beavers and Willie Best. Beavers has a fairly substantial part as a house slave, while Best has one brief comic bit playing a "lazy slave". Frank Morgan's lookalike brother Ralph plays the kindly Yankee General who comes to the rescue at the climax.
General Spanky has a few funny moments, and it features some of the most beloved comic child characters in Hollywood history, but it never really gels. It seems ponderous and heavy handed in comparison to the breezy two-reelers. It doesn't at all surprise me that General Spanky gets shown on television far less frequently than the Our Gang shorts. It's worth a look for huge fans of the series but it's far from being the best of the Little Rascals (although it did pick up a single Oscar nomination for Best Sound).
Photos © Copyright Hal Roach Studios (1936)
Related Review