Movie Review
Garden State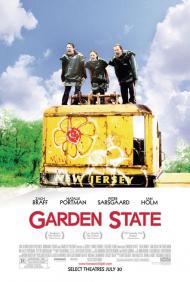 US Release Date: 07-30-2004
Directed by: Zach Braff
Starring
▸
▾
Zach Braff

,

as

Andrew Largeman
Natalie Portman

,

as

Sam
Peter Sarsgaard

,

as

Mark
Ian Holm

,

as

Gideon Largeman
Jean Smart

,

as

Carol
Ron Leibman

,

as

Dr. Cohen
Geoffrey Arend

as

Karl Benson
Reviewed on:
August 8th, 2004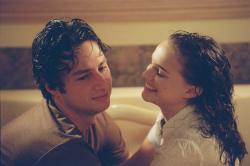 Zach Braff and Natalie Portman in Garden State.
Garden State is a remarkable freshman effort from writer/director/actor Zach Braff. Known previously only for his role as resident doctor J.D. on the sitcom Scrubs, Braff proves remarkably adept in his writing as well as his direction. Both funny and touching, this is a small film that deserves to be seen by a wider audience.
Inspired in part by Braff's own life, Garden State tells the story of Andrew Largeman, a television actor who returns to his hometown in New Jersey for the funeral of his mother. While he's there, he must confront his relationship with his estranged father. He also reunites with some of his old friends and most importantly, meets and falls in love with Sam (Portman), who helps Largeman find himself again.
Visually, the movie is interesting and stylish, but without ever getting lost in its own sense of style. The focus constantly remains on the characters.
For such a small film, the cast is quite remarkable. Ian Holm plays Andrew's psychiatrist father, who has been prescribing mood-stabilizing drugs for his son, since Andrew was a boy, which accounts for most of Andrew's problems. Portman is cute, quirky, and charming as Andrew's new love interest. And Peter Sarsgaard turns in another strong performance as the pot smoking, still living at home, best friend.
Good use is made of symbolism throughout the film, although some of it is far from subtle. The black crater the three leads stand on the edge of and scream into, is a little too obvious to be truly effective, but kudos are deserved for even trying to bring symbolism into the film.
The movie moves back and forth between humor and pathos, with sometimes uneven results. Its lighter moments work wonderfully well, while its more serious moments don't always quite work. The culmination of Andrew's relationship with his father seems a little to easy and pat, but without being too phony.
A small film, Garden State bears resemblance to The Graduate and last year's Lost in Translation. It might not quite reach either of those two movies, but the mere fact that it can be mentioned in the same sentence with those two films, is an achievement in itself and a tribute to the promise shown by Zach Braff.
Photos © Copyright Fox Searchlight Films and Miramax Films (2004)
Related Review