Movie Review
Gandhi
His Triumph Changed The World Forever.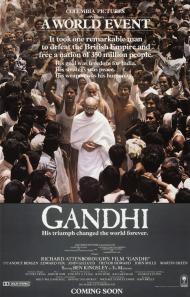 US Release Date: 12-08-1982
Directed by: Richard Attenborough
Starring
▸
▾
Ben Kingsley

,

as

Mohandas K. Gandhi
Candice Bergen

,

as

Margaret Bourke-White
Edward Fox

,

as

Gen. Reginald Dyer
John Gielgud

,

as

Lord Irwin
Trevor Howard

,

as

Judge Broomfield
John Mills

,

as

Lord Chelmsford
Martin Sheen

,

as

Vince Walker
Ian Charleson

,

as

Rev. Charlie Andrews
Athol Fugard

,

as

Gen. Jan Christiaan Smuts
Gunther Maria Halmer

,

as

Dr. Herman Kallenbach
Saeed Jaffrey

,

as

Sardar Valabhhai Patel
Geraldine James

,

as

Mirabehn
Alyque Padamsee

,

as

Mohammed Ali Jinnah
Amrish Puri

,

as

Khan
Roshan Seth

,

as

Pandit Jawaharlal Nehru
Rohini Hattangadi

,

as

Mrs. Kasturba M. Gandhi
Ian Bannen

,

as

Senior Police Officer Fields
Richard Griffiths

,

as

Collins
Nigel Hawthorne

,

as

Kinnoch
Daniel Day-Lewis

,

as

Colin
John Ratzenberger

,

as

American Lt., driver for Bourke-White
Michael Hordern

as

Sir George Hodge
Reviewed on:
January 3rd, 2011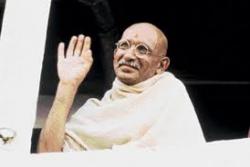 Ben Kingsley as Mahatma Gandhi.
I have vivid memories of the night of April 11th, 1983. That night the 55th Annual Academy Awards was telecast. The hosts that year were Walter Matthau, Liza Minnelli, Dudley Moore and Richard Pryor. Tootsie, E.T. The Extra-Terrestrial and Gandhi were the three favorites to take home the big prize.
Gandhi turned out to be the big winner of the night with wins in 8 of its 11 nominated categories including Picture, Director (Richard Attenborough), Actor (Ben Kingsley), Original Screenplay (John Briley) and Cinematography (Billy Williams and Ronnie Taylor). I had seen and loved both Tootsie and E.T. and I was rooting for E.T. to win in all its categories. I also remember Bob Hope presenting Mickey Rooney with a special honorary Oscar, but I digress.
Gandhi is a movie that walks a very fine line between world shaking epic and personal biography. Attenborough did an impressive job moving between huge crowd scenes (300,000 extras were used for Gandhi's funeral) to the intimate moments of Gandhi's life with his wife and confidants. Kingsley very much deserved the Oscar for bringing the legendary man to life. He brings humility and humanity to what could easily have become a caricature.
It begins with his assassination in 1948 before flashing back to Gandhi's arrival by train to South Africa in 1893. He is arrested for riding while nonwhite in the first class section. Thus begins his life of activism. He eventually wins new rights for the Indians there, but not for the native blacks of South Africa. That would wait for another day and another great leader.
His story then returns to India where he shaves his head and dons the simple clothes of a beggar. He eventually gains world wide recognition and defeats the mighty British Empire by forcing them to relinquish rule of India. As he puts it, "In the end, you will walk out. Because 100,000 Englishmen simply cannot control 350 million Indians, if those Indians refuse to cooperate." He must then contend with the different religious factions struggling for control. The Muslims are given Pakistan and the Hindus get India. When more violence ensues Gandhi begins a fast to bring peace.
As Mahatma Gandhi Ben Kingsley gets to deliver some great lines such as, "An eye for an eye only ends up making the whole world blind." And "They may torture my body, break my bones, even kill me, then they will have my dead body. NOT MY OBEDIENCE!" His best moment to me is when a Hindu man comes to him and says that he has bashed a Muslim babies' head against a wall in revenge for the death of his own son. Gandhi tells him that to escape Hell the man must find a young child whose parents have been killed and raise him as his own. He then adds the kicker, "Only be sure that he is a Muslim and that you raise him as one."
The supporting cast is filled with famous faces such as Sir John Gielgud, Trevor Howard, Candice Bergen, Martin Sheen, Richard Griffiths and John Ratzenberger among others. A very young Daniel Day-Lewis makes his movie debut in one small scene as a young racist thug that threatens Gandhi.
At 191 minutes this is an epic in every sense of the word. It is visually stunning and tells an amazing, thought provoking true story. It demonstrates the power that one man can have against tyranny. 28 years after winning the Oscar for Best Picture Gandhi remains one hell of a movie.

Photos © Copyright Columbia Pictures Corporation (1982)