Movie Review
Game Plan
Joe Kingman had the perfect game plan to win the championship... but first, he has to tackle one little problem.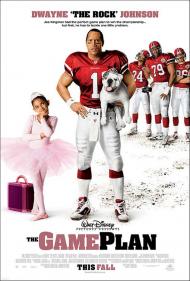 US Release Date: 09-28-2007
Directed by: Andy Fickman
Starring
▸
▾
Dwayne Johnson

,

as

Joe Kingman
Madison Pettis

,

as

Peyton Kelly
Kyra Sedgwick

,

as

Stella Peck
Roselyn Sanchez

,

as

Monique Vasquez
Morris Chestnut

,

as

Travis Sanders
Hayes MacArthur

,

as

Kyle Cooper
Brian J. White

as

Jamal Webber

Reviewed on:
February 6th, 2008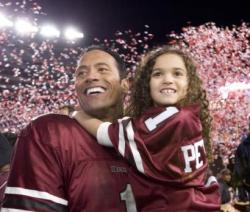 Dwayne Johnson and Madison Pettis in Game Plan.
In 1962, Tony Curtis played a skirt chaser who finds himself the guardian of a cute little girl in 40 Pounds of Trouble (1962). A clash of age and inconvenience happens as comedy ensues. After much adjusting they learn to get along and the movie ends with Curtis taking the girl to Disneyland.
Disney now offers the vague remake, The Game Plan. The Rock stars as a professional football player, Joe, whose team is about to go to the Super Bowl. A little girl, Peyton, played by Madison Pettis of Disney's Corey In the House, shows up at his front door claiming he is her father. A clash of age and inconvenience happens as comedy ensues.
Madison is as adorable as any child star who ever stood in front of a camera. The Rock is as imposing as any muscle bound actor. Having them share any scene is enough to create a cute situation, but putting a muscular action hero with a small child for comic effect is hardly new. The Pacifier (2005) with Vin Diesel, Mr Nanny (1993), with Hulk Hogan and Kindergarten Cop (1990) with Arnold Schwarzenegger have already milked dry what humor there was in that sitcom.
The movie never gets beyond the cute set up. Peyton is so cute in fact, that half of Joe's team seem to want to adopt her. Even the one and only married with children football player seems to spend an awkward amount of time with Joe and Peyton. Sedgwick shows up as Joe's agent and makes some slightly negative comments about his situation. She should have Cruella De Villed it up a bit. Her character is the one and only one that could have added some life to this sanitized story. The funniest scene is when The Rock talks in a lisp after having an allergic reaction.
With such an unoriginal plot, The Game Plan works only on the fact that the two leads are "cute" together, but it is far to much frosting and too little cake. Where as my youngest son liked this movie, I practically gagged on the sweetener over load. After Joe tells Peyton, "My dad never let me have sugar." She asks, "Is that why you never smile."
Photos © Copyright Walt Disney (2007)