Movie Review
Furry Vengeance
He Came. He Saw. They Conquered.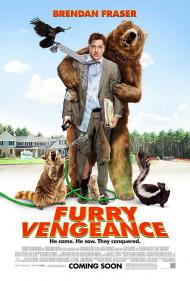 US Release Date: 04-30-2010
Directed by: Roger Kumble
Starring
▸
▾
Brendan Fraser

,

as

Dan Sanders
Brooke Shields

,

as

Tammy Sanders
Matt Prokop

,

as

Tyler Sanders
Ken Jeong

,

as

Neal Lyman
Angela Kinsey

,

as

Felder
Skyler Samuels

,

as

Amber
Ricky Garcia

,

as

Frank
Robb Riggle

,

as

Lyman Executive
Wallace Shawn

as

Dr. Christian Burr

Reviewed on:
May 3rd, 2010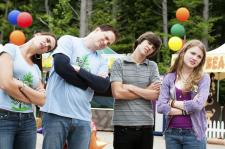 Shields, Fraser, Prokop and Samuels in Furry Vengeance
By the previews, I knew what to expect from Furry Vengeance. It's environmental message is loud and clear in a three minute spot. It also showed that Fraser was playing a moron, getting bested by animals. It was my son's turn to pick the movie.
Dan is a executive, overseeing the construction of a new neighborhood in an Oregon forest. He has just moved his wife Tammy, and their teenage son Tyler, from Chicago. They live in a model house on site.
Upon the arrival of his boss, a scene stealing Ken Jeong, Dan learns that besides the cul-de-sac, his company will be developing a shopping mall in the same forest. This bothers Dan, as he would have to keep his family their longer, as neither his wife or son were thrilled with the move in the first place. His son eventually meets a cute tree hugger and changes his mind.
It also bothers a raccoon, who happened to stow away in Dan's basket of sandwiches. He informs the rest of the forest creatures that Dan is the devil, and he needs to be gotten rid of. They all set out to destroy him. A crow keeps him awake at night. Skunks foul his car. A bear chases him into a port-a-potty. You know that will not end good.
Besides the annoying tree hugging, the only thing I got out of this film was just how fat Brendan Fraser has gotten. At first it seemed as though the director was trying to hide his belly. He films Dan on a tread mill from an angle that masks his stomach. Dan walks outside in the morning with a coffee cup firmly held in front of his torso. Later, he seems to flaunt it. In one scene he wears a tight woman's sweat suit. During the end credits, he lets it all hang out as he and Shields do a quick parody of Blue Lagoon.
The point of Furry Vengeance though, is the animal rights message. It is so loud and clear as to be a joke. Even after these animals have done so much to him, Dan cannot bring himself to harm them. They almost killed another executive, and nearly kill Dan. Yet, he still cannot do it. I know, this is a children's movie, so I should not take it's message that it is acceptable for animals to harm us, but not okay for humans to harm animals, seriously. However, this film is ridiculous. When Tammy and Tyler are told that Dan has been murdered they barely react, but when Tyler's girlfriend sees the animals in cages she screams in outrage. Whatever!
Photos © Copyright Summit Entertainment (2010)