Movie Review
Furious 7
One last ride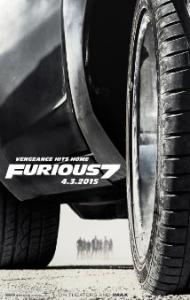 US Release Date: 04-03-2015
Directed by: James Wan
Starring
▸
▾
Vin Diesel

,

as

Dominic Toretto
Paul Walker

,

as

Brian O'Conner
Jason Statham

,

as

Deckard Shaw
Michelle Rodriguez

,

as

Letty
Jordana Brewster

,

as

Mia
Tyrese Gibson

,

as

Roman
Ludacris

,

as

Tej
Dwayne Johnson

,

as

Hobbs
Lucas Black

,

as

Sean Boswell
Kurt Russell

,

as

Mr. Nobody
Nathalie Emmanuel

,

as

Ramsey
Elsa Pataky

,

as

Elena
Gal Gadot

,

as

Gisele
John Brotherton

,

as

Sheppard
Luke Evans

,

as

Owen Shaw
Tony Jaa

,

as

Kiet
Djimon Hounsou

,

as

Jakande
Noel Gugliemi

,

as

Hector
Ali Fazal

,

as

Safar
Sung Kang

,

as

Han
Ronda Rousey

,

as

Kara
Iggy Azalea

as

Female Racer

Reviewed on:
April 8th, 2015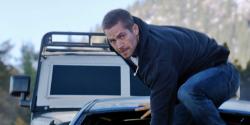 Paul Walker in Furious 7
The Fast and Furious movies have always been critic proof. People who like preposterous action scenes are not concerned with plots that make sense. Hot cars and a plethora of girls in scantily painted on clothes make for some nice scenery but do nothing to hide the flaws in the poor script. Fifteen year old boys, or people with the mentality of a fifteen year old boy, may love this film as they could not care less about what a critic thinks.
Jason Statham plays a bad ass that sets out to get revenge on Vin Diesel and his friends because they put his brother in a hospital. Kurt Russell shows up as the head of some secret government agency that is after Statham and provides Vin Diesel and company with an endless amount of money and resources to get Statham. Dwayne Johnson has a couple of scenes that book end the movie. He is also after Statham whose backup comes in the form of Djimon Hounsou and his small army. Throw in a hot computer genius that the Furious crew must save and protect and you have a story that quickly speeds out of control.
There are several huge action sequences and each is more ridiculously implausible than the previous. The first involves saving a girl from a large armored moving vehicle surrounded by other armored vehicles. The second takes place in an Abu Dubai skyscraper that ends with Vin Diesel and Paul Walker driving a three million dollar car out of a penthouse window and into another skyscraper, twice. Of course neither gets hurt. The final one involves an assault chopper and a military grade drone shooting countless bullets and missiles at cars in the Los Angeles city limits. All scenes feature impossible stunts and even more impossible coincidences.
This movie is filled with WTF moments but I will mention one of the most ridiculous. While lying in his hospital bed, Johnson sees on the news, and out his window, the attack on the cars by the helicopter and drone. He flexes his arm to break the cast off of it. Jumps into an ambulance and drives it right in front of a missile just before it hits a car driven by Michelle Rodriguez. The car and chopper are driving like mad around the city but Johnson knows just where and when to be to take the hit.
Not only does he not get hurt but he is able to grab a mounted gun and return fire. In fact, these guys never get hurt no matter how dangerous the accident. Not only does Vin Diesel drive his car through skyscrapers but over cliffs sending his car rolling over and breaking into pieces. He gets nothing more than a scratch or two. Near the end he has yet another outrageous accident involving a collapsed parking ramp. Rodriguez screams in concern while I laughed as I am fully aware that Vin Diesel is impervious to any physical harm.
Not only is the plot just plain stupid, but the dialogue is just as poor. When getting behind the wheel of the three million dollar car, Vin Diesel says to no one in particular, "Time to unleash the beast." I groaned out loud when Johnson confronts Statham who just stole information from his computer, "You just earned a dance with the devil." There has always been a theme in the Fast and Furious films that this group of friends consider themselves family. At one point, Vin Diesel reiterates it with the line, "I don't have friends. I have family." It has always been meant as an endearing gesture but it does not add any amount of emotional connection.
As far as this being Paul Walker's last film, they include a nice tribute to him in the last scene but it is obvious when his brother stood in for him. The last action sequence and scene on the beach feature very little of his face and when you do see it, it is a CGI replacement over his brother's. In real life, Paul Walker's co-stars spoke highly of him and he may have very well been a hell of a nice guy but those last few scenes demonstrates just how little he actually brought to Furious 7 and for that matter, any film. He was a good looking guy with nice blue eyes and a friendly smile but he truly lacked any real acting range.
Photos © Copyright Universal Pictures (2015)
Related Reviews