Movie Review
A Funny Thing Happened on the Way to the Forum
Something for Everyone!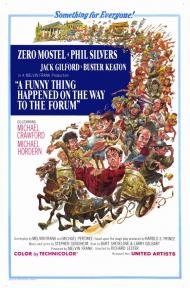 US Release Date: 10-16-1966
Directed by: Richard Lester
Starring
▸
▾
Zero Mostel

,

as

Pseudolus
Phil Silvers

,

as

Marcus Lycus
Buster Keaton

,

as

Erronius
Michael Crawford

,

as

Hero
Jack Gilford

,

as

Hysterium
Annette Andre

,

as

Philia
Michael Hordern

,

as

Senex
Leon Greene

,

as

Captain Miles Gloriosus
Roy Kinnear

,

as

Gladiator Instructo
Inga Neilsen

,

as

Gymnasia
Jon Pertwee

as

Crassus


Reviewed on:
July 29th, 2010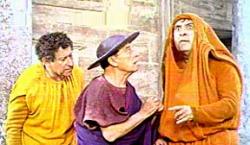 Gilford, Keaton and Mostel
"Something familiar." The 1963 Tony award winning play, A Funny Thing Happened on the Way to the Forum was brought to the big screen by Richard Lester in 1966. The Hard Days Night director made all the right decisions in this adaptation. He kept Zero Mostel in the lead. He only used some of the songs. My personal favorite is that he filmed it all on location.
Mostel plays Pseudolus, a house hold slave in ancient Rome who dreams of his freedom. He is owned by a hen pecked man and his domineering wife. They have a son, Hero, who becomes the key to Pseudolus getting his freedom.
"Something peculiar." Hero is in love with a virgin courtesan, Philia, who lives next door. She is owned by Marcus Lycus, who sells women. If Pseudolus can buy her for him, Hero will set him free. The only problem is that she is already promised to a Captain Miles Gloriosus, who will be collecting her soon with his detachment of soldiers.
The bulk of the movie is Pseudolus running around town trying everything he can to get this deal to go through. It involves him lying to absolutely everyone. His lies eventually come back to haunt him with great comic frivolity.
"Something thats bawdy." Today the sexual references are a bit quaint, but the reaction to sex, by the characters are still hilarious. An early scene has Pseudolus and Hero browsing the house of Lycus looking for Philia. After each courtesan is introduced, Hero and Pseudolus get more and more hot and bothered. One courtesan, Gymnasia, gets the greatest reaction from them both. Crawford's best moment is when he tells Pseudolus that she is not the one he is looking for.
To distract Hero's father, who thinks he is going to have sex with Philia they make him first take a long bath. Then their is the over weight breeder slave in heat. Of course Gloriosus shows up and demands they, "Arrange food, drink, entertainment, and a sit-down orgy for fourteen." Although he is the heavy, Gloriosus is quite funny in his reaction to those around him
"A tragedy tonight." The movie eventually leads to a chariot race in the country side. Lester was a fan of silent film slap stick and their influence is obvious during the chase scenes. No doubt he was thrilled to have Buster Keaton play a small, but key role. He plays Hero's other daffy neighbor, who has been looking for his kids for years. Sadly this was Keaton's last film. He was suffering from cancer during the shoot and died before the film was released.
"Liars and clowns." I am likewise a Keaton fan, but he is in very little of the film. Mostel is the great comic here and he milks this role for all it is worth. His interactions with the rest of the cast are the films brightest moments. Gilford, as the effeminate house servant, and Silvers playing his patented greedy persona are likewise hilarious.
Anytime someone decides to turn a Broadway show into a movie, they need to look to this film. The play no doubt took place in the three houses. Lester takes you into the streets of Rome and an arena, where Gladiators are practicing. A play does what it can with the limitations of the stage. A movie has very little boundaries, and Lester takes full advantage of that. If the play is a musical, remember to ditch the ones that slow down the plot and keep the good ones, like the obnoxiously catchy theme for A Funny Thing Happened on the Way to the Forum. "Something for everyone, a comedy tonight."
Reviewed on:
August 24th, 2010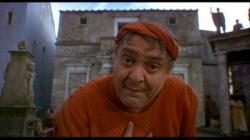 Zero Mostel as Pseudolus in A Funny Thing Happened on the Way to the Forum
I agree with you about the use of locations Eric. As in the Monty Python films, the realistic look and feel is in sharp contrast to the surrealistic and farcical humor and thus enhances it in a way that a more phony looking set would not. Too many stage to screen transitions simply feel like the play has been captured on film. A Funny Thing Happened on the Way to the Forum actually feels like an adaptation that takes advantage of its new medium.
Likewise, I agree with the decision to shorten the running time by removing many of the songs. This is a fast paced, well-timed comedy that flies along. Even though this is Sondheim, too many more songs would really have dragged the tempo down.
The cast is uniformly terrific with Mostel leading the pack and holding his whirlwind of lies together by sheer force of his wits. He is,"The lyingest, cheatingest, sloppiest slave in all Rome!" Jack Gilford as the prim and proper Hysterium, who gets caught up by Mostel's Pseudolus and his many plans by threat of Pseudolus revealing to the world Hysterium's collection of erotic pottery, is also a real highlight. Really though, Silvers, Crawford and every other part is perfectly cast.
Mostel was one of the last of a dying breed. He moved between Broadway and Hollywood and was a star in both of them. Today, there are Hollywood stars who occasionally will play a part on Broadway, but it's more often than not just for the novelty of it. In decades past it wasn't as uncommon for stars to do both with more frequency. Nathan Lane is the closest we have to someone like him today, although Lane, while a Broadway Headliner, doesn't carry nearly the same weight in Hollywood.
The talented cast is given plenty of one-liners and jokes to work with. One of my favorite exchanges in the movie is when Hero says, "For us there will never be happiness," and Philla, his love, replies, "Then we must learn to be happy without it." Another favorite is when Pseudolus teslls Hero, in reference to the whore house next door, "You must never know what goes on in that house." Hero replies, "But I do know." To which Pseudolus says with comic awe, "You do? Isn't it amazing." Although the moment I may have laughed hardest at is when we are shown how Hero is trying to get the mare's sweat for the sleeping potion.
As for Keaton, the old stone face still had his comic timing and seems quite spry for his 70 years of age. I was almost shocked when I heard him speak. This must be the only time I ever heard him do that.
A Funny Thing Happened on the Way to the Forum is one of those very silly and very funny movies that doesn't want to do anything but make you laugh at which it succeeds very well.
"And a happy ending, of course!"
Reviewed on:
June 9th, 2011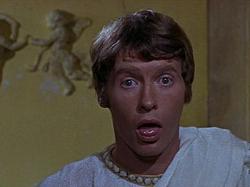 A young Michael Crawford in A Funny Thing Happened on the Way to the Forum.
This movie features three of the funniest men ever to grace the silver screen. Buster Keaton, still giving it his all and improvising pratfalls at 70, is amazing. Phil Silvers personified avarice better than anyone and was the perfect choice to play the greedy Marcus Lycus. But as my brothers wrote this movie belongs to the brilliantly hilarious Zero Mostel.
"Was 1 a good year?" he asks when examining a bottle of wine. Or watch the way he plays with this silly zinger, "He raped Thrace thrice!?" Not only could he deliver a funny line he was one of the all time great muggers. His facial expressions alone will crack you up.
I agree it was a good decision to shoot on location and to cut some of the songs from the Broadway show. "Comedy Tonight" is the only really memorable one of the bunch. You know a song is great if after hearing it once it seems as if you've known it all your life. This song is one of them.
I agree with Eric that Leon Greene is excellent as the arrogant humorous heavy Captain Miles Gloriosus. Check out this exchange between him and Pseudolus when discussing the bridal virgin's funeral. Miles Gloriosus: "Oh, her bridal bower becomes a burial bier of bitter bereavement!" Pseudolus: "Very good! Can you say "Titus the tailor told ten tall tales to Titania the titmouse""?
A Funny Thing Happened on the Way to the Forum is pure farce juxtaposed against a real setting. In this regard it follows in the footsteps of Tom Jones and precedes Monty Python as Scott mentioned. It features a sterling cast playing a memorable cast of characters delivering witty dialogue and inventive slapstick. With this movie you know exactly what you are going to get and it doesn't disappoint.

Photos © Copyright United Artists (1966)