Movie Review
Funny People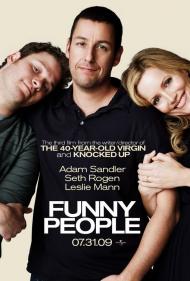 US Release Date: 07-31-2009
Directed by: Judd Apatow
Starring
▸
▾
Adam Sandler

,

as

George Simmons
Seth Rogen

,

as

Ira Wright
Leslie Mann

,

as

Laura
Eric Bana

,

as

Clarke
Jonah Hill

,

as

Leo Koenig
Jason Schwartzman

,

as

Mark Taylor Jackson
Aubrey Plaza

,

as

Daisy
Andy Dick

,

as

Himself
Paul Reiser

,

as

Himself
Norm MacDonald

,

as

Himself
Sarah Silverman

,

as

Herself
Eminem

as

Himself

Reviewed on:
August 6th, 2009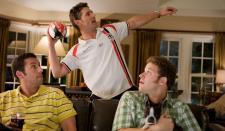 Clarke tries to interest George and Ira with a real sport.
Funny People finds Adam Sandler and Judd Apatow in familiar territory. They each exude their strengths. Sandler's performance combines humor and sensitivity. Apatow writes about fragile human emotions. Unfortunately, it also shows their weaknesses. Nearly everyone of Sandler's and Rogen's jokes are penis related. The worst offense is that Apatow chose to give far too much screen time to secondary characters.
Sandler plays movie star/comedian George Simmons. He learns that he has a rare disease and has a very small chance of recovery. He does not want pity from friends and fans so he tells no one about it except for his new assistant/joke writer, Ira. The news of his mortality causes him to evaluate his life. Being rich and famous, he has everything he could want, except for Laura, the woman he once loved. The movies honest approach to celebrity is refreshing.
After far too much screen time, George and Ira end up visiting Laura. She is now married and has two children. This is the best part of the movie as it reveals the most about the principle characters. George is selfish. Ira is insecure. Laura has regrets, and suspects her husband, Clarke, of cheating on her. One of my favorite scenes is when the four characters are talking and Clarke does not realize how uncomfortable he is making his wife. He tells them that Cameron Diaz is the one movie star he would love to have sex with. He then asks his wife who she would do. She responds, "George." Clarke then adds, "Oh, well, I'll just have Cameron then. On her surfboard."
The dynamics of these characters is amazing. In most good movies, characters grow over the course of it. In Funny People, they all learn important lessons, but change is not guaranteed. The lesson being that just because we have the opportunity to rethink something does not mean we automatically will do things differently.
Funny People features many cameos. These are quick and mostly unobtrusive to the plot. Some are for dramatic effect. Paul Reiser is looking old. Others are just played for laughs. My favorite is the one featuring Eminem and Ray Romano.
Although Funny People has plenty going for it, the length is simply unforgivable. At 146 minutes, this movie needed to tighten it's focus. As in Knocked Up, we have many scenes of Seth Rogen and his friends hanging out, talking, fighting and cracking jokes. His room mates are interesting enough, but this movie is about George and his chance at redemption. All of the scenes with Ira's friends belong in a movie by itself. In fact, this movie is so long, you could make it into two films by simply separating Sandlers scenes from all of the ones featuring Ira's friends.
It often seems that whenever a writer or director has a couple of hits, they become full of themselves and incapable of evaluating their own work. Someone around Apatow should have had the balls to tell him that although he is a good writer, this movie needed a tighter script. Funny People says that we all make decisions that we may one day regret, but still have to live with. That is a nice enough moral, but he could have said that in half the time.
Photos © Copyright Universal Pictures (2009)