Movie Review
Fun with Dick and Jane
See Dick Run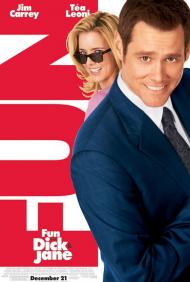 US Release Date: 12-21-2005
Directed by: Dean Parisot
Starring
▸
▾
Jim Carrey

,

as

Dick Harper
Tea Leoni

,

as

Jane Harper
Alec Baldwin

,

as

Jack McAllister
Richard Jenkins

,

as

Frank Bascom
Angie Harmon

,

as

Veronica
John Michael Higgins

,

as

Garth
Pasha D. Lychnikoff

as

Andrei

Reviewed on:
January 11th, 2006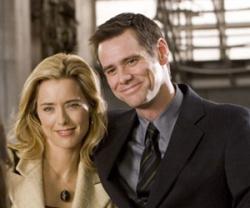 Tea Leoni and Jim Carrey in Fun with Dick and Jane.
Fun with Dick and Jane is first and foremost not that fun. The writers of this movie are so bent on politics that the comedy suffers. The best line this movie has is, "We might be in a little bit of a pickle, Dick."
Carrey and Leoni star as Dick and Jane. They are a married couple who have a small son who speaks Spanish because he spends so much time with the Mexican maid. The couple each have careers and Dick is about to climb up the corporate ladder. Dick gets a promotion. Jane quits her job. Dick's company goes under and the family slowly sinks into poverty. Almost as a joke they start robbing businesses and people. They become successful at it and in no time they are back to living high on the hog.
Early on in the movie they show George Bush giving a speech on television discussing the economy. When the couple rob a restaurant they wear masks of Bill and Hilary Clinton. Fun with Dick and Jane wants desperately to point the finger at someone but ends up avoiding blaming a President. At the end of the movie the film sarcastically thanks Enron and many other huge corporations as well as their CEO's by name.
Fun with Dick and Jane makes the point that CEO's make lots of money and do not care about their employees. Not only is the point blurred it is completely contradicted. Dick and Jane become criminals. They rob from other people. At no point in the movie does Dick or Jane ever have an inkling of guilt for their crimes. They never return the money they steal. Don't you just love Hollywood morality?
Carrey and Leoni work well together but the writing is so bad that they often get lost in the nonsense. Early in the movie they are alone in their bedroom. They decide to have sex, but for some reason, meant to be funny, they don't, telling each other how good it will be when they do. They then get into bed and go to sleep back to back. Huh?
Jim Carrey movies are supposed to be fast paced comedies, with Carrey doing manic routines. This movie wants to be funny and make a political statement at the same time. It fails at both. Fun with Dick and Jane is well worth missing.
Photos © Copyright Columbia Pictures (2005)