Movie Review
Fruitvale Station
Every step brings you closer to the edge.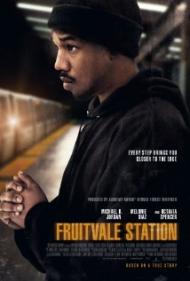 US Release Date: 07-26-2013
Directed by: Ryan Coogler
Starring
▸
▾
Michael B. Jordan

,

as

Oscar Grant
Melonie Diaz

,

as

Sophina
Octavia Spencer

,

as

Wanda
Kevin Durand

,

as

Officer Caruso
Chad Michael Murray

,

as

Officer Ingram
Ahna O'Reilly

,

as

Katie
Ariana Neal

,

as

Tatiana
Keenan Coogler

,

as

Cato
Trestin George

,

as

Brandon
Joey Oglesby

,

as

Cale
Michael James

,

as

Carlos
Marjorie Crump-Shears

,

as

Grandma Bonnie
Destiny Ekwueme

,

as

Chantay
Bianca Rodriguez III

,

as

Vanessa
Julian Keyes

as

Kris
Reviewed on:
January 16th, 2014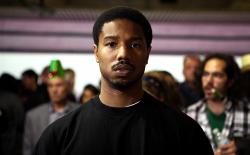 Michael B. Jordan in Fruitvale Station.
Fruitvale Station is a powerful drama that tells the (somewhat fictionalized) account of the last day in the life of 22-year-old Oscar Grant. (Since this story made national headlines at the time I don't feel it's spoiling things by giving that away.) He was shot in the back and killed by a BART (Bay Area Rapid Transit) police officer in the early morning hours of New Year's Day 2009. The movie opens with a few seconds of eyewitness footage (other clips can be viewed online) of the actual event before flashing back to the previous morning. We are also shown a few brief scenes in Grant's past including a visit his mother paid him while he was incarcerated at San Quentin State Prison.
First time writer/director Ryan Coogler gives us this well-acted tragedy with a minimum of dramatic manipulation. In one scene (that was made up for the screen) Oscar comforts a dying pit bull that was hit by a speeding car. It not only foreshadows Oscar's demise but, according to the director, it also symbolizes the fear with which some people view black males. Although, to be clear, the movie never explicity gives race as a cause of Oscar's death, although it strongly implies his being black played a role.
Oscar isn't portrayed as a saint. It is made perfectly clear that he is an ex-con who has been caught cheating on his girlfriend. He is shown having a rather explosive temper in a scene where he confronts his ex-boss to ask for his grocery store job back. He was fired for being late once too often. At this point in the movie I was thinking "What a jerk." Oscar, a flawed human being, had a young daughter and is shown having a close relationship with both his mother and grandmother.
Fruitvale Station is a realistic portrayal of the final tragic day in one young man's life. Michael B. Jordan gives a performance of heartfelt simplicity. He is a natural and he brings Oscar Grant to life without any overdone dramatic affectations. It's a star making turn. Melonie Diaz is also quite good as his girlfriend and the mother of his young daughter. Octavia Spencer is heartbreaking as Oscar's mother. Her final scene at the hospital will surely bring anyone with a beating heart to tears. A guy I work with told me he sat in his car and cried for fifteen minutes after watching this film. Yes, it's that tragically sad.
The names of the officers involved have been changed for the movie. The officer that did the shooting claimed he thought he was using his Taser and didn't realize he had his gun in his hand. He was convicted of manslaughter and served 11 months in prison. Oscar Grant got into a fight while riding the train home on that tragic New Year's Eve. But he was unarmed and lying on his stomach on the train platform floor when he was shot in the back.
The climax of the movie was filmed on location at Fruitvale Station in Oakland, California. Jordan lay on the exact spot where Grant was shot; the bullet hole remains in the floor there. Accident or intentional murder, the death of Oscar Grant was senseless and Fruitvale Station is one of the most emotionally powerful movies I've ever seen.
Photos © Copyright Forest Whitaker's Significant ProductionsOG Project (2013)