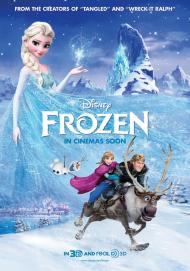 US Release Date: 11-27-2013
Directed by: Chris Buck and Jennifer Lee
Starring
▸
▾
Kristen Bell

,

as

Anna
Idina Menzel

,

as

Elsa
Jonathan Groff

,

as

Kristoff
Josh Gad

,

as

Olaf
Santino Fontana

,

as

Hans
Alan Tudyk

,

as

Duke
Ciaran Hinds

,

as

Pabbie /Grandpa
Chris Williams

,

as

Oaken
Stephen J. Anderson

,

as

Kai
Maia Wilson

,

as

Bulda
Edie McClurg

,

as

Gerda
Robert Pine

,

as

Bishop
Maurice LaMarche

,

as

King
Livvy Stubenrauch

,

as

Young Anna
Eva Bella

as

Young Elsa

Reviewed on:
December 1st, 2013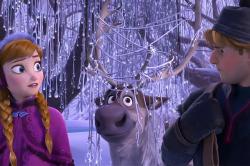 Kristen Bell voices Anna with Jonathan Groff as Kristoff in Frozen.
Animated films released under the Walt Disney name have taken a back seat to Pixar for years. Only recently has It shown a flicker of life with 2010's Tangled and 2012's Wreck-It Ralph. Although those films were enjoyable, it is with Frozen that the studio truly feels as though they've made a return to form and it easily outclasses anything Pixar has released this year. It's a musical featuring not one, but two princesses belting out songs, accompanied by enough adventure and humor for the whole family.
The story is based very loosely upon the Hans Christian Anderson story, "The Snow Queen". Kristen Bell is the film's heroine, Anna. She's the younger princess in the kingdom of Arendelle. Her older sister Elsa (Broadway veteran Idina Menzel) was born with the power to create ice and snow. When their parents die at sea, Elsa is destined to succeed to the throne, but she's afraid that she won't be able to control her powers following an accident when she nearly killed her sister. She flees the kingdom in panic, leaving it in a state of eternal winter. Anna sets out to save Elsa, accompanied by an Ice Salesman, a reindeer and an overly optimistic Snowman named Olaf.
During the Disney Renaissance of the 1990s, all of their films seemed destined for the Broadway stage and indeed most of them have since been transferred there. Frozen, while perhaps not quite equaling the best of those films, sits quite nicely among them and likewise feels as though Disney has another potential stage hit on their hands if they so desire it, even if some of the songs are rather forgettable. Menzel gets the film's one show-stopping number with "Let it Go". The songs were written by Robert Lopez, the composer of Avenue Q and The Book of Mormon and his wife Kristen Anderson-Lopez.
The animation, as you would expect, is beautifully rendered. In style, it is similar to Tangled, particularly in the look of the characters, with their large eyes. The snow and ice provide a winter wonderland for the animators to play with, particularly when Elsa lets her powers go to their fullest creating an ice castle, sculptures and a snow monster. The climax of the film on the frozen bay is likewise exquisitely rendered. Although released in 3-D, I didn't bother to watch it in that format and didn't feel as though I'd missed anything.
Most of the comic relief is provided by Olaf, the snowman who loves Summer, voiced by Josh Gad of Broadway's The Book of Mormon. The animators have fun with his replaceable, removable body parts. There's also a running gag involving Sven the reindeer and Olaf's carrot nose that had the children in the theater laughing.
One of the film's weaknesses is its lack of a strong villain. It's a problem that Tangled had as well. In this film there's no clear villain at all until the third act and even then they are merely despicable rather than memorably evil.
Despite an ending that plays with the idea of true love, the story never strays too far from the Disney formula. After seeing how enjoyable this film is, it might make you wonder why they ever do. With Frozen, they've created another film that will surely be enjoyed for generations to come.

Reviewed on:
December 5th, 2013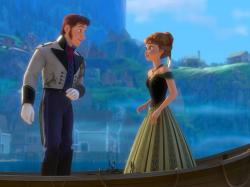 Santino Fontana and Kristen Bell provide the voices of Hans and Anna in Frozen
Frozen not only strays from the traditional Disney formula, it acknowledges the absurdity of it. This movie calls to task the romantic relationships of past Disney princesses. Snow White and Aurura found love and a husband via a single kiss. Cinderella took a couple of hours at the ball before it was determined that she had met her true love.
As with Brave (2012) Frozen makes romantic love secondary to love between immediate family members. Like some contemporary chick novel, Anna is presented with two suitors. That clichéd love triangle is however, not as important to the plot as Anna's love for her sister Elsa.
Scott mentioned the lack of a strong villain and I agree. The witches in Snow White, Sleeping Beauty and Cinderella could be described as evil. The problems created here are more out of a person's selfishness or poor decision making than the actions of a larger than life antagonist. This starts with Anna's and Elsa's parent's horrible decision to separate their daughters when they were young without any explanation to Anna.
In fact, Elsa is as much a villain as anyone else. Her fear over her power and the use of it threatens more lives than anyone else in the film. The final act presents a "bad guy" but it says as much about Anna's poor decision making as it does him.
Here is the greatness of the contemporary Disney film. The characters are far better-rounded than ever before. They are as responsible for the problems as they are the solutions. These princesses want love but are not about to take a back seat to any male suitor. That may be a nice message for the young girls in the audience but it may alienate the boys.
The princesses of old were all saved by a prince who had even less personality than the princess they saved. Although Kristoff and Hans help Anna at some point, neither is the traditional hero. In fact, Anna could have made it through the entire film without either one. Disney is showing girls that they do not need to define themselves by the man in their life.I understand the reason for Disney showing young ladies that they should not wait for a man to save them but that made for a formula that worked. Let's be honest. Many women want a man that will sweep them off their feet and take them to a life of love and luxury. There are also men who want to play the role of knight in shining armor who rescue the damsel in distress. Although unrealistic, there is nothing wrong with that fantasy.
The animation in Frozen is gloriously inspired and whimsical. The winter scenes are particularly wondrous and I half expected to see my own breath during some of them. Although this animation far surpasses all of those classic Disney films, it remains to be seen whether or not Frozen will stand the test of time.
Reviewed on:
January 13th, 2014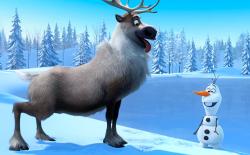 Sven and Olaf in Frozen.
Frozen is gorgeously rendered, often funny, and features several somewhat-catchy songs. The voice-work is all top notch. Yet somehow the story never really drew me in. I applaud Disney for showing little girls that they don't need to be rescued by a boy to find happiness. It is the most refreshing aspect of the script. The love between sisters saves them both. But the script doesn't seem to know who the villain of the piece is.
During the first half of the movie Elsa is the nominal villain. She causes much damage to her kingdom, then later creates a giant evil snowmonster, and nearly kills her sister (albeit unintentionally). Apparently she was originally intended to be the villain as she is in the Hans Christian Anderson fairytale. It was only after they realized she had the best song in the score that the filmmakers changed their tune.
This led to the rather abrupt behavioral change in the character of Hans. Completely out of the blue (in nearly all previous animated movies there is some obvious foreshadowing when a character is being deceitful) he changes personalities. It made little sense and didn't suit the story in my opinion. I never expected Anna and Hans to end up together but did they really have to go so far as to have him callously leave her to die?
Yes this movie may be a step forward in terms of gender equality but I was still bothered by the look of these princesses. They are both generically pretty with nothing but their hair-color to distinguish them from each other. Whereas Kristoff was given a rather large nose, animated females are still required to fit some regimented mode of beauty. And in this day and age I'm a bit surprised that Disney would make a movie where every single character is Caucasian.
Olaf was my favorite character. His whimsical song about summer was the comic highlight of the movie for me. Frozen is amusing and well-made but it's not the classic it's being touted as.
Photos © Copyright Walt Disney (2013)