Movie Review
The Frozen North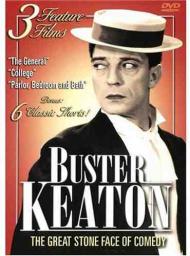 US Release Date: 08-28-1922
Directed by: Buster Keaton
Starring
▸
▾
Buster Keaton

,

as

The Bad Man
Joe Roberts

,

as

The Driver
Sybil Seely

,

as

Wife
Bonnie Hill

,

as

The Pretty Neighbor
Freeman Wood

,

as

Her Husband
Edward F. Cline

as

The Janitor


Reviewed on:
July 13th, 2010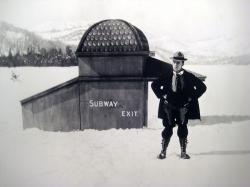 Buster Keaton in Frozen North.
Frozen North is another Buster Keaton/Edward Cline collaboration. Yet, it is a different kind of movie for Keaton. He plays the bad guy. It is a role I had never seen him do before.
The movie opens with its most famous site gag. Keaton comes out of the last stop on the subway and finds himself in the frozen north. It is a subway exit in the middle of a snow covered landscape. Most of the movie is shot on location, in the snow. At one point he uses guitars as snow shoes.
This is Keaton's darkest role. He cuts out a figure of a man pointing his gun in a poster and uses it as his partner when trying to rob some men gambling. In the film's funniest scene, he sees his wife kissing another man in their cabin. He shoots through the window, and kills them both. He then realizes that it was not his cabin, and that was not his wife.
I have read that Keaton is doing a parody of actor William S. Hart in this movie. I have yet to see one of Hart's films so I am not sure. Keaton does poke fun of silent film director Erich Von Stroheim. Near the end of the film, a woman imagines Keaton dressed in a quasi-military dress uniform and monocle.
Frozen North seems to jump around awkwardly, but it is not the fault of the editor. Apparently there are no complete copies of this film still in existence. Frozen North was considered lost to history until a damaged copy was found. The movie ends with Keaton being woken up in an empty movie theater. The film is merely a dream, and thus the confusing plot is actually better explained.
Reviewed on:
April 16th, 2011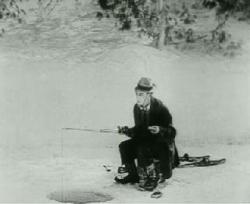 Buster Keaton ice fishes in The Frozen North.
Frozen North is a great example of Keaton's penchant for surreal humor. As Eric noted it features some of his darkest and most subversive gags. Besides the scene where he kills the kissing couple he also dances with his wife's unconscious body before dropping her callously to the ground. The movie culminates with a knife fight and more gunplay before the final revelation.
There are many interesting little details to enjoy like the deer's head with the bending antler on the wall of the igloo, the man vacuuming the igloo, Keaton camouflaging himself with snow. Or check out the menagerie of inappropriate sled dogs; shades of Yukon Cornelius 40 years before Rudolph.
The parody of William S. Hart is in the scene where Keaton has a melodramatic close-up with a tear trickling down his face. Hart often cried in his movies. Stroheim was known as "The Man You Love To Hate" as he was forever raping and pillaging in movies set during the First World War.
Not surprisingly this movie was extremely popular in France. There is a fairly good quality print available on You Tube with French subtitles. The Frozen North is one of Keaton's most experimental movies and shows him firing on all cylinders creatively speaking. A must see for silent movie buffs.

Reviewed on:
December 31st, 2011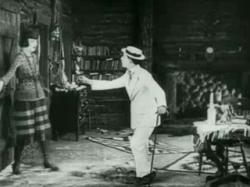 Bonnie Hill and Buster Keaton in The Frozen North.
This is definitely the blackest humor I've seen Keaton perform. It's not often that you see murder and especially rape used in a comedy. It's only because of the final scene with him waking up in the theater that he even gets away with it.
The murder of the couple is shockingly funny in its audacity. The rape scene with the use of the Von Stroheim imagery, Keaton lustfully leaping at her and then the woman crying on the floor in the following scene is a little bizarre and shocking for a comedy.
One of the funnier light hearted moments that I enjoyed is when Keaton spots the "Keep off the Grass" sign stuck into the snow and he dutifully steps around that patch of snow. There's also an amusing moment on the ice, followed by a quick bit of him almost playing tennis with snowballs and a snowshoe for a racquet.
While audiences at the time might have spotted the William S. Hart parody right away, you'll need to be quite the silent film afficienado to recognize it now without being told. In a quote listed on the TCM web site, Keaton said, "I tried my best to be Bill Hart, so much so that Bill Hart didn't speak to me for a couple years after I made it. He was a great actor, but he got hammy at the end of his career. He always looked for the opportunity to... cry, even with two guns strapped to his side out in the desert." You also have to wonder if this wasn't Keaton sticking it to Hart following Hart's public statements regarding Keaton's friend Roscoe Arbuckle's infamous murder trial where Hart insinuated that Arbuckle was guilty.
This isn't Keaton's best short, but it's one of his most interesting and quite different in some ways from his usual work.
Photos © Copyright First National Pictures (1922)