Movie Review
From Here to Eternity
The boldest book of our time... Honestly, fearlessly on the screen!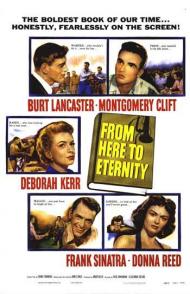 US Release Date: 08-05-1953
Directed by: Fred Zinnemann
Starring
▸
▾
Burt Lancaster

,

as

1st Sgt. Milton Warden
Montgomery Clift

,

as

Pvt. Robert E. Lee Prewitt
Deborah Kerr

,

as

Karen Holmes
Donna Reed

,

as

Alma Burke (Lorene)
Frank Sinatra

,

as

Pvt. Angelo Maggio
Philip Ober

,

as

Capt. Dana Holmes
Ernest Borgnine

,

as

Sgt. 'Fatso' Judson
Jack Warden

,

as

Cpl. Buckley
Mickey Shaughnessy

,

as

Corporal Leva
George Reeves

,

as

Sergeant Maylon Stark
Claude Akins

as

Sergeant 'Baldy' Dhom

Reviewed on:
October 29th, 2003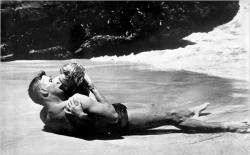 Burt Lancaster and Deborah Kerr in From Here to Eternity.
Set at Schofield army base in Hawaii in the weeks leading up to the attack on Pearl Harbor, From Here to Eternity is both a romantic soap opera and a psychological character study. The nineteen-fifties may be remembered as a 'Golden Age' of American innocence but as far as cinema was concerned it was the decade when Hollywood finally started overcoming the restrictions of the Hays Code. Just as wide-screen movies shot in Technicolor were being used to lure people away from their tiny black and white sets, a more cynical and adult attitude began creeping into theaters in an effort to compete with the squeaky clean programming on television. From Here to Eternity, although filmed in black and white, reflects some of these changes.
The all-star cast boasts Burt Lancaster, Montgomery Clift, Deborah Kerr, Donna Reed, Ernest Borgnine, and Frank Sinatra - in a comeback role as the tragic Maggio for which he received the Best Supporting Actor Oscar.
Based on the novel by James Jones, Eternity is most famous for the shot of Lancaster and Kerr making love on the beach and in the serf as waves crash romantically over them. The movie is actually far darker than this iconic moment suggests. In fact there isn't a happy or contented person in sight.
The 1st Sergeant is a career man. He's not looking for love, but he finds it anyway, in the arms of his Company Commander's wife. She's a woman with a reputation, and a story for those who will listen. Private Prewitt has been transferred to the company at the captain's special request. You see he longs to win the boxing title and 'Prew' just happens to be dynamite with his fists. As fate would have it though, Prewitt has given up his gloves due to an unfortunate incident in which he caused another fighter to go blind. Nearly the entire company gives Prew 'the business' in order to force him to fight. Except for Maggio that is. He's just about the only guy that doesn't put the screws on. Unfortunately Maggio has a few altercations with the sadistic stockade sergeant, while Prew begins falling in love with ambitious social club employee Lorene – whose real name turns out to be Alma.
Then the bombs start dropping.
From Here to Eternity takes perhaps THE pivotal moment of the twentieth century and humanizes it. Forget about the awful Pearl Harbor or the over long Tora! Tora! Tora!. For my money this remains the best movie on the subject ever made.

Reviewed on:
December 12th, 2003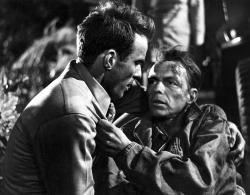 Montgomery Clift and Frank Sinatra in From Here to Eternity.
From Here to Eternity is one of the greatest ensemble cast movies ever made. It has several plots going on at once. Their lives slightly touch each other until the attack when all are united in a common bond.
Each character is hopelessly flawed. There is the philandering couple, the prostitute with a lofty ego, the party boy and the hard head. You will root for one or all of these people to find happiness. But history has already told you how the movie is going to end. Like Gone With the Wind before it and Titanic afterward, From Here to Eternity is a story of tragic characters set against an historical tragedy.
This movies biggest flaw is that it was not filmed in color. It was filmed on location in Hawaii. Why did they not take advantage of that scenery? I believe that if this movie had been filmed in color it would be even better remembered today than it is.
Reviewed on:
February 21st, 2009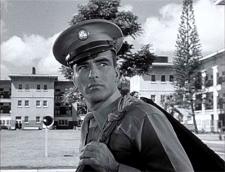 The melodrama is as thick as pea soup.

I disagree Eric. Sure, filming in color might have made some of the Hawaiian scenery more beautiful, but I don't think it would have improved the movie and could even have damaged it. This movie is pure melodrama and being in black and white fits that style of drama better than color. Color makes things more realistic and the style of acting and the dialogue is not like that at all. The black and white also makes the action seem more intimate.
The biggest problem with this movie is the soap opera storyline. There's some very good acting from a great cast but the drama is very over the top. Take the famous scene on the beach for example. The music swells and they say lines like, "I never knew it could be like this! Nobody ever kissed me the way you do." I don't watch nearly as many old movies as either of you two and so it took me a while to get into the swing of this movie and the rhythm of the way they spoke in this old dramas.
Sinatra delivers the most natural performance of the cast and he provides both comic relief and a breath of fresh air from all the drama. Out of everyone, he's the one I most wanted to see have a happy ending. The rest of them seem doomed from the start.
I also don't like the ending. I don't mean the attack on Pearl Harbor. That's handled well, but Prewitt's ending, while it fits the dark mood of the story, it is very much a downer and left me feeling, I watched two hours of this movie and that's how they end it?
I do like that this movie was able to be a bit more explicit compared to the more innocent films of the 1940s. I just wish they could have toned down the melodrama as well.
Photos © Copyright Columbia Pictures (1953)