Movie Review
From Hand to Mouth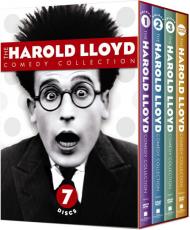 US Release Date: 12-28-1919
Directed by: Alfred J. Goulding, Hal Roach
Starring
▸
▾
Harold Lloyd

,

as

The Boy
Mildred Davis

,

as

The Girl
Peggy Cartwright

,

as

The Waif
Snub Pollard

as

The Kidnapper

Reviewed on:
December 16th, 2010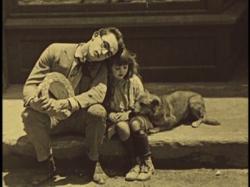 Harold befriends a waif and her dog.
From Hand to Mouth is a nearly perfect silent two-reel comedy that showcases the talents of Harold Lloyd. It shows his originality and proves that he did the most exciting chases of any of the silent comics. His optimistic persona and can do attitude no matter what his circumstances made you always want to root for him and in this movie he provides some real emotion as well.
When the movie begins Harold is a broke hungry young man watching diners through a restaurant window. A little girl waif shows up and she and Harold are both chased away by the proprietor. They steal some food together and Harold befriends her and her lame dog. Sounds a bit like Chaplin's The Kid doesn't it? That movie came out more than a year after this.
Harold, while running away from the police, in the first of three exuberant chases, gets involved with a gang of thieves that plan to kidnap an heiress for her crooked lawyer. He added a stipulation in her father's will that if she isn't there to sign it before midnight she will disinherit her fortune.
It turns out that this is the same woman who saved Harold and the little girl from the police earlier in the movie. Now Harold must save her from the kidnappers. In the second chase sequence of the movie he hops on a bicycle and follows the kidnappers to where they are holding the heiress.
He then goes to get the police. Of course none of them will pay him any attention so he hits, trips and throws things at every policeman he sees in order to get them to follow him to where the woman is being held. This leads to the third and final chase where more and more policemen run after Harold until he is being pursued through the streets by a mob of men in blue. If you have seen Keaton's Cops (released in 1922) this will look very familiar.
I don't know for sure that Chaplin and Keaton copied this movie but it features two key plot devices that they would each later use. At any rate From Hand to Mouth certainly ranks as one of the best of Harold Lloyd's shorts. It has everything a silent comedy needs, characters to root for, laughs, action and heart.

Reviewed on:
December 23rd, 2012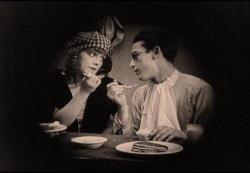 Midlred Davis and Harold Lloyd in From Hand to Mouth.
It's possible that Chaplin may have copied elements of this film when he made The Kid, but it's definite that Lloyd copied elements of Chaplin's earlier work when he made this one. The plot and the pathos definitely seem reminiscent of a Little Tramp short.
I'm less convinced that Keaton copied the finale for his short, Cops, because so many shorts of the silent era ended with a police chase that it seems a stretch to think that it was this particular short he was copying. The twist in the police chase in this short is that Lloyd wants the police to chase him, which is the reverse of the standard silent short ending.
It's the sentimentality of this short that really makes it seem like an imitation Little Tramp film. That and the economic level of the lead character. Normally, Lloyd's Glasses character was a middle class, white collar type and not the homeless tramp that he is here. His type of humor was less likely to venture into pathos as well. He's almost always so upbeat and optimistic that nothing makes him or the audience sad while watching him.
I mentioned in my review of Bumping into Broadway that 1919 was a pivotal year in Lloyd's career. One of the reasons for that was the departure of his longtime female co-star Bebe Daniels. Fortunately for Lloyd he was able to find a suitable replacement in Mildred Davis who would make 15 films with the comedian, but more important personally, would go on to become Mrs. Harold Lloyd and the two would remain married until her death in 1969. From Hand to Mouth was their first film together.
Like Patrick I found this short to be delightful from start to finish. It might be derivative of Chaplin's work, but it's no less funny or enjoyable because of it. Lloyd still manages to bring his own trademark energy and comedic style to the story.

Reviewed on:
December 30th, 2012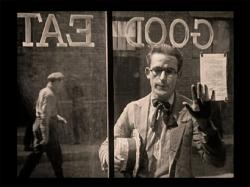 Harold Lloyd is no Charlie Chaplin.
I enjoyed From Hand to Mouth as much as I have most of Harold Lloyd's work, but felt his venture into Chaplin's territory was not a complete success. As Scott wrote, Lloyd often played a middle class character. Here he is dressed in his traditional modest suit, only with a tear in his hat. Had we been shown him losing his job we would have better understood why he was in dire straits. As it is, we are left with a missing piece of the puzzle. Chaplin was identifiable as a tramp on sight, but Lloyd's character here begs the question, "What happened?"
The pace moves along well enough, even though much of it is standard silent film comedy routines. Police chases had been around since the Keystone Cops. Lloyd's energy seems boundless and his charm works better when pulling a fast one than looking desperate. Mildred Davis was quite good looking. She and Harold have a real spark. Peggy Cartwright is adorable as the little girl. She made her film debut as a baby in The Birth of a Nation (1915) and would go on to become part of the original group of "Our Gang" children.
From Hand to Mouth is a smorgasbord of silent film staples, and although it does them all justice, they were all done better in other films.
Photos © Copyright Rolin Films (1919)
Related Review