Movie Review
Frisco Kid
He's the Two-Fisted Hero of the Square Mile of Hell the Devil Himself disowned!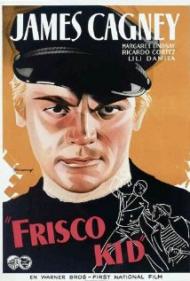 US Release Date: 11-30-1935
Directed by: Lloyd Bacon
Starring
▸
▾
James Cagney

,

as

Bat Morgan
Margaret Lindsay

,

as

Jean Barrat
Ricardo Cortez

,

as

Paul Morra
Lili Damita

,

as

Belle Morra
Donald Woods

,

as

Charles Ford
George E. Stone

,

as

Solly Green
Robert McWade

,

as

Judge Crawford
Barton MacLane

,

as

Spider Burke
Fred Kohler

,

as

Shanghai Duck
Joe King

as

James Daley
Reviewed on:
January 7th, 2015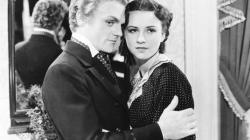 James Cagney and Margaret Lindsay in Frisco Kid.
Frisco Kid is a rather odd James Cagney picture in that it is one of his rare period pieces. It's set along San Francisco's infamous Barbary Coast during the early 1850s. Cagney plays a sailor named Bat Morgan who nearly gets shanghaied on his way to the gold fields. In typical Cagney fashion he thwarts the attempted abduction and winds up killing the man responsible – the infamous Shanghai Duck. Before you know it Bat has opened his own gambling joint on the waterfront and is romancing the noble daughter of a slain newspaperman played by the reliable Margaret Lindsay. Several murders and a few mob scenes later Bat is heading for the gallows. Can his beautiful lady love save him from certain death?
The sets and costumes are first rate, and the supporting cast is fine (Margaret Lindsay has rarely looked lovelier than she does here (see photo)) but the script is a bit formulaic and overly contrived. The direction by Lloyd Bacon keeps the pace moving. The first 15 minutes are particularly good and the climactic ending likewise. Unfortunately the middle of the picture gets a bit muddled. This marked the fifth of an eventual seven movies Bacon and Cagney would make together.
During his first decade in motion pictures James Cagney made just three movies set before the twentieth century. A Midsummer Night's Dream and The Oklahoma Kid are the other two (thrice in his career Cagney made a picture with Kid in the title - in 1934 he played The St. Louis Kid). The latter of which was his first true western and was also directed by Lloyd Bacon. Whenever Cagney was removed from the modern day urban jungle he always seemed a bit out of place. He doesn't look as ridiculous here as he would later sporting that huge hat in The Oklahoma Kid, but he nonetheless doesn't appear natural in his period costume. Unlike say Clark Gable, who seemed quite at home in nineteenth century garb, Cagney looks ill at ease.
Another incongruous aspect of his performance is the fact that he doesn't alter his speech patterns. He still has that rapid fire staccato style of talking and he still walks around with a gangster's hitch in his gait. But truth be told he is still the inimitable James Cagney and he had such an overflow of charisma that even miscast as he is here, you cannot take your eyes off him whenever he is on the screen.
James Cagney will always be remembered as a tough guy strutting his way across the screen, but he resented being typecast as a gangster. Somehow though, no matter the setting, he always played a variation of this persona. Frisco Kid is a great example of this. Sporting the clothes of an 1850's dandy he is still the same Jimmy Cagney. This is far from a great picture but like virtually all of his movies it's worth seeing for his presence alone.
Photos © Copyright Warner Bros. (1935)