Movie Review
Friday Night Lights
Hope comes alive on Friday nights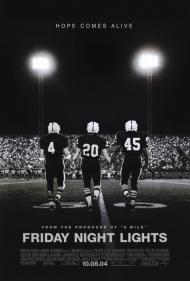 US Release Date: 10-08-2004
Directed by: Peter Berg
Starring
▸
▾
Billy Bob Thornton

,

as

Coach Gary Gaines
Lucas Black

,

as

Mike Winchell
Garrett Hedlund

,

as

Don Billingsley
Derek Luke

,

as

Boobie Miles
Jay Hernandez

,

as

Brian Chavez
Lee Jackson

,

as

Ivory Christian
Lee Thompson Young

,

as

Chris Comer
Tim McGraw

,

as

Charles Billingsley
Christian Kane

as

Brian

Reviewed on:
October 22nd, 2004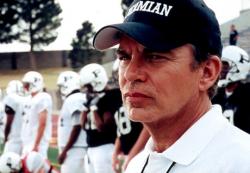 Billy Bob Thornton in Friday Night Lights.
Despite its familiar formula and stock characters Friday Night Lights is a good time at the movies. Set in West Texas in 1988 it tells the story of the small town of Odessa's high school football team, The Permian High Panthers, as they quest for the State Championship.
Billy Bob Thornton is good as the coach. What could easily have been a one dimensional stereotype (tough coach with a heart of gold spouting pearls of locker room wisdom) is a fully fleshed out person in his hands. He continues to be one of the best and most original actors working in film today.
The story focuses on three players. There is the cocky all-star runningback Boobie Miles (Derek Luke in his first good role since Antwone Fisher) who gets sidelined by a leg injury. Lucas Black as Mike Winchell provides the emotional core of the team, he plays quarterback and is being raised by his mentally unstable single mom. Then there's average guy Don Billingsley (Garrett Hedlund) who can't measure up to his former State Champion team player father (country singer Tim McGraw proving he can act as well as sing).
One thing this movie demonstrates is just how seriously small town America takes its high school football games. Many businesses in the economically depressed Odessa are closed on the night of a big game and everyone the coach and players meet on the street are constantly offering advice or asking if they will bring home the championship. The pressures these guys face are enormous.
The football games are quickpaced and exciting, all leading up to the State Championship game at the Houston Astrodome. The plot may be routine but the acting and direction of Friday Night Lights elevates it to a higher realm than your average sports movie.

Reviewed on:
October 12th, 2005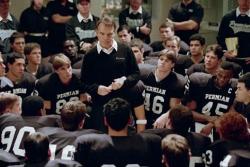 Billy Bob Thornton in Friday Night Lights.
It is also better than your average sports movie because it is not just about winning the big game. Friday Night Lights is about the pressure and glory of high school football. These kids get recognized all over town and treated like celebrities. They get invited to all the parties and apparently get sex by just showing up. The price they pay for that attention is a large amount of pressure from practically everyone they meet.
Football is so much of these kids lives that they cannot separate it from anything else they do. Boobie Miles seems to have a bright future sown up as the star player. Yet he has a hard time reading and does not have a clue what an MRI is. He puts everything into football and ignores his education. Mike Winchell is so under pressure as the teams quarterback that he never seems happy. He never smiles. Even after he has sex he looks depressed. I was surprised he was even able to perform sexually because he seems so distracted.
Don's father, Charles, was on a championship team and wants so badly for his son to do the same that he is willing to sacrifice his sons happiness and emotional well being to see it happen. At one point Charles tells Don. "You were sent down here to learn how to play football." Charles is at first a cold hearted bastard but they share an emotional scene after the big game, and you realize that he is more human than demon.
I agree with Patrick that Billy Bob does a great job. He is subtle yet effective. As the coach, he is under even more pressure than the players. People in the community are constantly stopping him on the street to give advice and even subtlety threaten him. He does dispense some pearls of wisdom. My favorite one of his is, "Our only curses are self imposed."
The constant theme in the movie is that this is these boys time to shine and enjoy. Life will hit these kids soon enough. Playing on the football team gives them a few moments in the spot light and will prepare them for the pressures of adult life. So many "high school" movies simply show the football team as a bunch of happy go lucky guys. Friday Night Lights opens up the emotional core of these players and demonstrates that they have it no easier than anyone else in school, and may in fact have it harder.
Photos © Copyright Universal Pictures (2004)