Movie Review
Frida
Prepare To Be Seduced.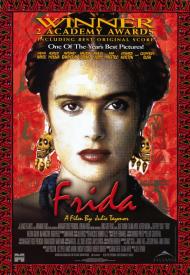 US Release Date: 10-25-2002
Directed by: Julie Taymor
Starring
▸
▾
Salma Hayek

,

as

Frida Kahlo
Alfred Molina

,

as

Diego Rivera
Geoffrey Rush

,

as

Leon Trotsky
Ashley Judd

,

as

Tina Modotti
Antonio Banderas

,

as

David Alfaro Siqueiros
Edward Norton

,

as

Nelson Rockefeller
Mía Maestro

,

as

Cristina Kahlo
Roger Rees

,

as

Guillermo Kahlo
Diego Luna

as

Alejandro 'Alex'
Reviewed on:
October 27th, 2002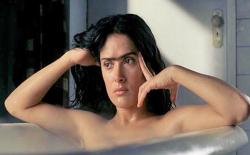 Salma Hayek in Frida.
If art is born of pain than it is no wonder that Frida Kahlo became an artist. Most of her life was spent in physical agony as the result of an accident when she was young, riding on a bus. When the bus collided with a trolley, a steel rod was driven through her body and most of her bones were broken. After a long time recovering in a full body cast, she spent most of the rest of her life in pain.
I have to confess that before seeing this movie, I knew nothing about this woman who led such a fascinating life in Mexico City during the first half of the 20th century. Married to Diego Rivera, Mexico's most famous artist, together they led a fast and volatile life. As a bi-sexual, she could list the communist Leon Trotsky, and the Parisian dancer Josephine Baker among her many lovers. She lived in New York for a short time while her husband painted a mural inside Rockefeller center for Nelson Rockefeller. She was also there when Rockefeller had the mural torn down because one of the figures in the painting was Lenin. It was in New York that her one attempt to have a baby ended in a miscarriage, but the act would lead to the birth of a great many paintings devoted to the subject. By the end of her life, her misused body, hindered by alcohol and cigarettes, caused her to be bedridden. She had to be carried, on her bed, to her one and only One Woman Showing, in her own country.
Salma Hayek who co-produced this movie, plays Frida with a skill she has never had the opportunity to show before. She perfectly captures the pain and the pleasure that this woman got from life. It is an Academy Award worthy performance. Salma's acting alone makes this movie worth watching. The movie is carried on her shoulders, but she is supported by a slew of well known actors. Antonio Banderas, Edward Norton, Ashley Judd, Geoffrey Rush, all have small parts as some of the people who affected Frida's life. Alfred Molina, as Diego, Frida's husband, is also quite good as the philandering communist artist who accepts commissions from the rich and famous.
The director Julie Taymor tries to give the movie some artistic touches which work most of the time, but not always. The moments that work best are the scene transitions that feature Frida's paintings coming to life. Some of the others, such as their stylized entrance into New York City, don't work quite as well.
The only real problem I had with this movie was the way it breezes and bumps through the events so quickly. It wants to tell the entire story of her life, which is fine, but this is a woman who led a full life and two hours doesn't do justice to it. What we are left with is a series of anecdotes rather than one long narrative. Less scope and more detail might have made a better movie.
Photos © Copyright Miramax (2002)