Movie Review
The Freshman
Hooray for Harold Lloyd!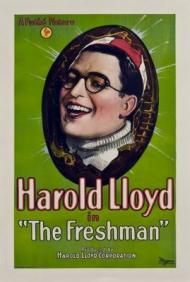 US Release Date: 09-25-1925
Directed by: Fred C. Newmeyer, Sam Taylor
Starring
▸
▾
Harold Lloyd

,

as

Harold (Speedy) Lamb
Jobyna Ralston

,

as

Peggy
Brooks Benedict

,

as

College cad
James Anderson

,

as

Chester A. (Chet) Trask
Hazel Keener

,

as

College Belle
Joseph Harrington

,

as

College tailor
Pat Harmon

,

as

College coach
Grady Sutton

as

Student Who Goes to Dean

Reviewed on:
April 9th, 2003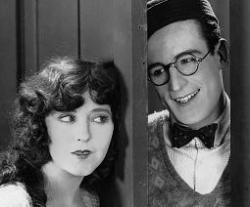 Jobyna Ralston and Harold Lloyd in The Freshman.
Harold Lloyd, besides being funnier than either Keaton or Chaplin, was also more of a romantic leading man. This is evident in his sweetly simple movie The Freshman.
The plot is now a worn out cliché. Harold 'Speedy' Lamb goes off to college. He takes with him only his youthful optimism and a clever little jig that he saw in a movie and that he does every time he meets someone new. Oh yeah, and his dreams of being a star football player. But Harold has one small problem, namely that he lacks any apparent talent. Out of pity, however, he is made the team water boy, although he is under the impression that he is really on the team. Unaware that his classmates are being completely facetious in their treatment of him as a popular hero, Harold adds new meaning to the old adage that ignorance is bliss.
There is a girl in the story of course and the interaction between her and Harold is romantic and sweet in an old-fashioned schoolyard crush kind of way.
The most famous thing about this movie is the football game sequence. It is the championship game and Harold finally gets to play after every other substitute player has been injured and taken out of the game. The final ten minutes of the movie are miraculous. I won't give away the details but Harold Lloyd once again proves his inventive comic genius. He really knew how to build tension and be funny at the same time.
As a footnote, this story was redone by Adam Sandler as The Waterboy.

Reviewed on:
March 10th, 2011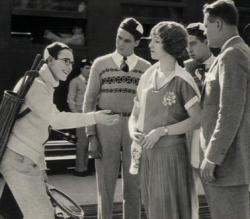 The Freshman.
American football was created in 1879 by Walter Camp, a player and coach at Yale University. Based on Rugby, Camp kept revising and editing the rules until his death in 1925, the same year The Freshman was released.
College, and even high school, athletes are put on pedestals they may or may not deserve. The opening title card reads, "Tate University - A large football stadium, with a college attached." To this day, jocks expect to be treated differently than others, and often are. The Freshman shows that this has always been the case. Harold goes to college with popularity as his goal. He admires the school's football star and will do everything he can to be just as popular, including joining the team. My favorite scene is when he stands in as the tackle dummy during football practice.
This movie really shows why he is considered the lesser comedian to Keaton and Chaplin. He is not as frantic as Keaton, whose film College, released two years later, is a superior film. Although we root for Harold, he is not as sentimental as Chaplin. When Harold finds out that everyone has been patronizing him, it lacks the emotional kick Chaplin would have added.
What Lloyd's film do have above Keaton and Chaplin is verisimilitude. There is a level of truth found in his films that do not exist in Keaton's fantasies or Chaplin's poignancy. His character is far easier to relate to than the stone face or the tramp, but is less iconic. We have all wanted to be liked and popular at some point, and as such we all see a little of ourselves in Harold trying to make friends.
Reviewed on:
January 16th, 2012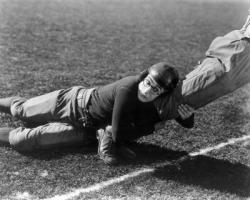 Harold Lloyd hangs on in The Freshman.
Harold Lloyd was 4 years younger than Charlie Chaplin, 6 years younger than Roscoe Arbuckle, 2 years older than Buster Keaton and yet his films seem to be from the next generation from theirs. While their films often seem to be from an earlier time and contain echoes of the 19th century, Lloyd is very much of the 1920s. He, more than the other three, seems to be a part of the Jazz Age.
One of the great things about Lloyd's work is that he so carefully preserved his films. So many silent films are scratchy, blurry and sometimes have to be pieced together from various prints, while Lloyd's major works are crisp, clear and positively pristine. This film in particular is absolutely perfect in quality. This isn't just nice from a historical perspective, but it positively helps the gags. Faces and reactions are visible in long shots and closeups, which really helps.
This was Lloyd's most successful silent film of the 1920s and it holds up remarkably well today. As you say Patrick, the plot is a cliche now, but at the time must have felt fresh. And even though modern viewers have seen its like perhaps dozens of times, it somehow does little to diminish The Freshman's charm.
The football game is the culmination of the film and does contain some very funny scenes. I especially like how after finally begging and pleading his way onto the team, he is knocked unconscious just 2 seconds into his first play. That doesn't stop him from getting back on the field however, as he wakes up on the stretcher and stumbles his way back onto the field for more antics leading up to the grand finale.
Even before the big game however, there are plenty of laughs. I love his little jig that he does when introduced to someone, no matter how many people at a time he is introduced to. The shenanigans at the dance, where the slapdash tailoring causes his suit to fall apart, are also quite funny.
Lloyd doesn't just race from gag to gag however. This is a comedy with heart. We empathize with Harold and want him to succeed. There's a nice moment following the scene where Harold learns that his classmates have all been poking fun at him when he breaks down crying in Peggy's lap. We cheer even more for Harold to succeed because he's a fully developed character because of moments like that. Interestingly however, Lloyd cut the crying scene when rereleasing the film because he felt it was too much. Who am I to argue with a comedy genius, but I think it's a stronger film because of that scene.
In no way is Lloyd a lesser comedian than Keaton or Chaplin. This film proves that. I've often said that I'm not a big fan of silent films, but The Freshman is better and funnier than a great many talkies. Perhaps because his films were more of the 1920s they don't seem as timeless as Keaton's or Chaplin's, but The Freshman however, is as funny today as it was so many years ago.
Photos © Copyright Pathe (1925)
Related Review