Movie Review
A Free Soul
A Free Woman With A Free Soul
US Release Date: 06-02-1931
Directed by: Clarence Brown
Starring
▸
▾
Norma Shearer

,

as

Jan Ashe
Leslie Howard

,

as

Dwight Winthrop
Lionel Barrymore

,

as

Stephen Ashe
James Gleason

,

as

Eddie
Clark Gable

,

as

Ace Wilfong
Lucy Beaumont

,

as

Grandma Ashe
Roscoe Ates

,

as

Man Shot at in Men's Room
Edward Brophy

as

Slouch

Reviewed on:
January 18th, 2012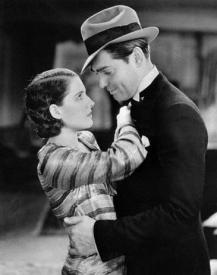 Norma Shearer gets willingly manhandled by Clark Gable in A Free Soul.
Eight years before they played Rhett Butler and Ashley Wilkes in GWTW, Clark Gable and Leslie Howard squared off against each other over the affections of Norma Shearer in A Free Soul. Directed by the legendary Clarence Brown, A Free Soul is yet another MGM melodrama that plays like the more glamorous cousin to the typical working class Warner Brothers' picture of the era.
Norma Shearer stars, along with Lionel Barrymore. She's a gorgeously gowned society darling and he's her father, a once prominent attorney lost in drink. Howard plays her steadfast fiancé and a pre-mustachioed Gable plays (what else?) a ridiculously virile gangster named Ace, the man her father successfully defends on a murder charge. 65 years before the O.J. Simpson trial Barrymore uses a similar courtroom trick. He has Gable try on a hat that has been introduced as evidence by the prosecution. It's much too small and sits perched ridiculously on top of his head, eliciting guffaws from the spectators.
Shearer falls for bad boy Gable, scandalizing her family. She makes a deal with her father. She won't see Gable again if he will quit drinking. They take an extended camping trip in the mountains. She to forget her gangster lover and he to get over his love affair with the bottle. Upon returning to civilization things don't exactly go as planned. All of which leads to a melodramatic climax in a courtroom.
This climactic scene, where Lionel Barrymore gives an impassioned plea to the jury, was done in one take. At fourteen minutes it is credited by the Guinness Book of World Records as the longest take ever in a commercial film. They had to use more than one camera as a reel of film is only about 10 to 12 minutes long.
There are several distinguishing pre-Code elements to A Free Soul. For starters it is made explicitly clear that the unmarried Shearer and Gable are sleeping together. She is his sexual playmate for several months. The most suggestive moment occurs when Shearer lies down seductively on Gable's bed, gives him a come hither stare and asks him to put his arms around her. The censors wanted this scene cut but MGM wisely ignored them and - this being before strict Production Code enforcement - they got away with it.
An example of pre-Code dialogue is spoken by Barrymore in one of the camping scenes. He tells his daughter that Gable runs everything from "Opium to White Slavery."
Norma Shearer, at the peak of her popularity, and Clark Gable, at the beginning of his illustrious career, create sparks together in this well-made early talkie courtroom drama. Lionel Barrymore won the Best Actor Oscar for his performance; Leslie Howard is good in his small but pivotal role and character actor James Gleason is along for comic relief. But A Free Soul belongs, body and soul, to Norma Shearer and – to a lesser extent – future King of Hollywood, Clark Gable.

Reviewed on:
February 22nd, 2012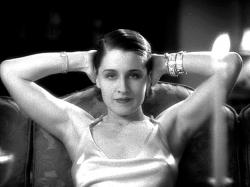 Norma Shearer is a free spirit in Free Soul.
I've only seen Norma Shearer in a couple of movies, but I'm a fan already. She was able to play independent, worldly women with confidence and poise. If you just look at a photograph of her she doesn't look traditionally beautiful, but when you see her in motion, her charisma makes her more attractive. And from what I've seen of her she was quite a good actress, capable of comedy and drama. What there is to enjoy about this movie is mostly down to her. It's just too bad that the plot is melodrama and the ending is just over the top and quite silly.
The movie begins with an odd scene between Barrymore and Shearer that contains weird incestuous overtones. It's innocent enough and we're not really supposed to believe anything is going on, but it's a bit odd. For the first few minutes the audience is deliberately mislead into not knowing what the relationship is between their characters.
Patrick, you mentioned the climatic scene and it is long and it is dramatic. It's also completely ridiculous. I don't want to spoil the ending, so look away now if you don't want to know it. Barrymore's character successfully defends a man on trial by using the "I was a bad parent defense." Not as the parent of the man on trial, but the parent of the woman that the man on trial is in love with. You'll have to watch to know fully what I mean, but no jury in the world would find a defendant not guilty based on his speech, no matter how impassioned. All he really does is inform the jury of the real motive for the murder.
Gable does a good job in his part. The scenes between he and Shearer are the best scenes in the movie. Their romantic scenes together are frank and adult and night and day compared to love scenes from movies made after the code went into effect. Shearer enjoys sex and she's allowed to say so and act on her feelings. It's easy to see why she's attracted to him. It's Leslie Howard who it's difficult to see what she sees in him.
I agree that the cast is good Patrick, but the plot and the writing are pure melodrama. It's a shame Shearer isn't remembered more today.

Reviewed on:
December 8th, 2012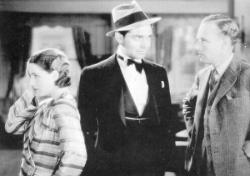 Norma Shearer, Clark Gable and Leslie Howard in A Free Soul
Jan is a free soul . She drinks and smokes. She plays the field, dating both Ace and Dwight at the same time. She enjoys sex and wants it from Ace. Note the scene Patrick mentioned that bothered the censors. Jan makes it clear to Ace that she just wants to get laid while he is talking of marriage.
The real man in her life is her father. As Scott wrote, there is an insinuation of incest but it is only an insinuation, especially in the opening scene. She always calls him "Darling" or "Dear" and their relationship works more like that of an older married couple than father/daughter. To help her father sleep while camping, he lays his head on her lap. She strokes his head and says, "Just think of how much I love you."
I am not a big fan of Norma Shearer. She too often seems to mistake posing for acting. I agree with Scott that she is not attractive in photos, but I do not find her attractive in motion as well.
My favorite bits of this melodrama are a couple of lines of dialogue. Early in the picture Gable has this line, "A lot of people don't believe that gag about being born equal." When Ace tells Jan's father that he wants to marry her, Jan's father looks at Ace with disgust and says, "The only time I hate democracy is when one of you mongrels forget where you belong." They are very fitting for a country in a depression.
Photos © Copyright Metro-Goldwyn-Mayer (MGM) (1931)