Movie Review
Freaky Friday
Get Your Freak On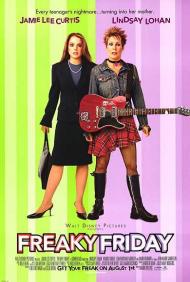 US Release Date: 08-06-2003
Directed by: Mark S. Waters
Starring
▸
▾
Jamie Lee Curtis

,

as

Tess Coleman
Lindsay Lohan

,

as

Annabell Coleman
Mark Harmon

,

as

Ryan
Harold Gould

,

as

Grandpa
Chad Michael Murray

,

as

Jake
Stephen Tobolowsky

,

as

Mr. Bates
Christina Vidal

,

as

Maddie
Ryan Malgarini

,

as

Harry Coleman
Rosalind Chao

as

Pei-Pei


Reviewed on:
August 10th, 2003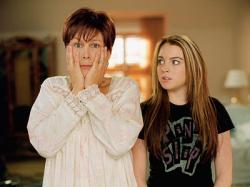 Jamie Lee Curtis and Lindsay Lohan in Freaky Friday.
Freaky Friday is a great movie! Although it comes across as a chick flick, anyone who has ever had trouble dealing with their parent or child can relate to it. Isn't that everyone? Freaky Friday is both funny and touching.
Jamie Lee Curtis plays a career mother of two. She has a teenage daughter and a young son. She is about to remarry after the death of her husband. Her daughter is a bit rebellious and they of course butt heads. Due to a fortune cookie miracle, they switch bodies.
For one day, this mother and daughter learn more about each other than most of us will learn in a lifetime. The mom, in the body of her daughter, goes to high school where she learns that things are not as easy for her daughter as she assumed. The daughter, in the body of her mom, goes to work and deals with her fiancée. She keeps faking a cold sore so she doesn't have to kiss him.
The son gets freaked out by both. His once tormenting sister now calls him honey and treats him nice. His once loving mom now calls him punk.
The set up leads to many funny situations. The daughter, in mom's body, gets put on a television show where she has to promote her Mom's book that she can't even pronounce the name of. The mom, in her daughter's body, gets stuck on a stage at a concert where she is expected to play a guitar.
Although this movie is quite funny, it is the sentimentality that gives it so much heart. During this day, mother and daughter learn to respect each other. However, this whole odd arrangement takes a toll on mom's fiancée. In a sweet, tearful toast, the daughter, in mom's body, gives an emotional speech to help smooth things out. Only the coldest of people won't be moved by it.
When she filmed this movie, Jamie Lee Curtis, had a daughter and son almost exactly the same age as her on screen children. Perhaps that is why she walks through this movie so utterly natural. She appears to be having the time of her life in this movie. She goes through many ranges of emotions. I know that the Academy rarely looks at films like this for award nominations, but Curtis does such a great job here that it is her performance that will stay with you longer than anything else in the movie.
Curtis is a great comedian! Look at her work in Trading Places and A Fish Called Wanda. Watch her now classic transformation scene in True Lies. Curtis is one talented screen comic. In Freaky Friday she carries this film and it is definitely her best role ever.
Reviewed on:
April 11th, 2004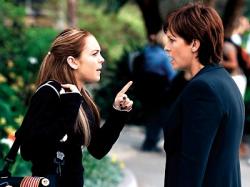 Lindsay Lohan and Jamie Lee Curtis in Freaky Friday.
The thing I couldn't figure out, before seeing this movie, was just what could Eric have found to enjoy so much? A remake of an only so-so 1970's live-action Disney movie featuring no male lead (all the men play supporting roles) just didn't seem like his usual taste in movies. However, now that I've actually watched 2003's Freaky Friday, I have to say that I am in complete and utter agreement with his review. Well, I'll always prefer Jamie in A Fish Called Wanda, but besides that, I am 100% in agreement with his assessment.
In fact, I agree so much, that he's left me very little to add, except perhaps to comment upon the performance of Lindsay Lohan as the daughter. While its true that Curtis gets the funnier and showier role, Lohan does a very good job in the straighter role. If you compare her performance as the teenage Anna with her performance as the adult inside Anna's body, the differences are quite remarkable.
Also, as Eric said, this movie works as well as it does because of its heart. So many movies that try to be touching just end up being sappy and overly sentimental. This movie avoids those pitfalls and is actually touching in a genuine way. I'm happy to say that I don't qualify as one of the coldest people, Eric refers to in his review. I was moved by the toast Anna makes inside her Mom's body.
A thoroughly surprising comedy, Freaky Friday proves that with the right talent behind and in front of the camera, Disney can still put out the occasional, classic, live action movie.
Reviewed on:
March 4th, 2005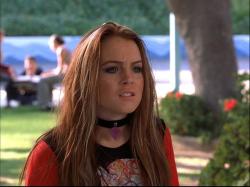 Lindsay Lohan in Freaky Friday.
Yes it's good but a classic? I'm not sure I agree there. I do agree Jamie Lee Curtis rocks and Lindsay Lohan is pretty awesome too. They play off each other well and together make it a much better movie than it otherwise would be.
Mark Harmon is a complete cipher however. He doesn't even show up on screen and gives one of the least effective performances of this type I have ever seen in a major Hollywood movie.
My one other complaint; the only Asian characters are rather stereotypical.
Still the story charms and it does have that one genuinely touching moment. Like my brothers I was moved by the toast. Jamie Lee really shines in the scenes with the young hottie that her daughter likes and Lindsay's best moments are when she is freaking-out her friends by acting like her mom.
Photos © Copyright Buena Vista Pictures (2003)