Movie Review
Four Weddings and a Funeral
He's quite engaging. She's otherwise engaged.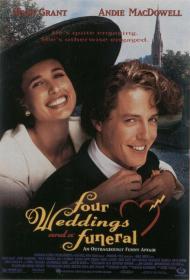 US Release Date: 03-09-1994
Directed by: Mike Newell
Starring
▸
▾
Hugh Grant

,

as

Charles
Andie MacDowell

,

as

Carrie
James Fleet

,

as

Tom
Simon Callow

,

as

Gareth
John Hannah

,

as

Matthew
Kristin Scott Thomas

,

as

Fiona
David Bower

,

as

David
Charlotte Coleman

,

as

Scarlett
Rowan Atkinson

,

as

Father Gerald
Anna Chancellor

as

Henrietta

Reviewed on:
March 15th, 2010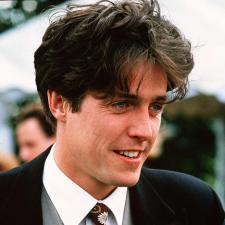 Hugh Grant in the role that made him a star in Four Weddings and a Funeral.
Four Weddings and a Funeral is best remembered now as the movie that made Hugh Grant a star and writer Richard Curtis synonymous with romantic-comedies. A surprise hit in 1994, it was at the time and for five years afterwards, the most successful British film ever released in the US. "This Year's Four Weddings and a Funeral" became popular marketing slang for years after its release.
Grant plays Charles, a very posh young Englishman. Charles is quintessentially English. He's polite, self-deprecating, foppish, shy and stammering. It's a performance that made his career but also one with which he has become so associated that with only a few exceptions he's basically been playing the same part ever since.
Charles falls in love with Carrie, an American girl he meets at the first of the four weddings. Funnily enough, the thing I realized while watching this movie again is that the romance between Charles and Carrie is one of the weakest parts of the film. No good reason is given for their love of each other. Their relationship is one of those love at first sight relationships and not based on any kind of real connection. They simply meet, are attracted to each other and then sleep together.
As is common in Richard Curtis' films the female lead is played by an American woman and she's slept around. I don't know if Curtis met an American woman who slept with a lot of men or was rejected by an American woman and so stereotypes American women as some kind of revenge, but time and time again his films feature loose American women. Carrie though is the loosest of the bunch; having slept with over 30 men (two of them at the same time).
The best part of the film is Charles interacting with his circle of friends. James Fleet is funny as the very rich, but not too bright Tom. Kristen Scott Thomas looks good as Tom's sister with a crush on Charles, although her storyline is kept short and skimmed over; weakening the emotional impact. In what was quite a novelty at the time, John Hannah and Simon Callow play a gay couple. Hannah is the emotional center of the group and generates the most emotion when he reads the W.H. Auden poem at the funeral. Callow is a scene stealer and quite funny, as is Charlotte Coleman as Scarlett. I cared more about Charles and his friend's relationship than I did with his relationship with Carrie.
Another scene stealer is Rowan Atkinson as the novice Priest. He's only in two scenes, but he manages to pack quite a few laughs into those short scenes.
Grant is great in this part and the rest of the cast is very good as well, but then they are given some truly great lines to deliver. It had been years since I'd seen this movie and yet I still found myself quoting along with it effortlessly. The script is smart and witty and features distinctive and memorable characters. Curtis was nominated for an Oscar for the script and deservedly so.
Both Grant and Curtis launched their film careers with this movie and in many ways they've both been trying to match its success ever since. While they've each had other hits, including a couple more together, in my opinion, this still remains the highlight of both their careers.

Reviewed on:
July 18th, 2012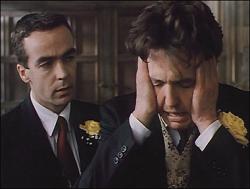 John Hannah and Hugh Grant in Four Weddings and a Funeral
I agree with Scott that the relationship between Charles and Carrie seems more like sexual attraction than legitimate feelings of love. At the first wedding, Charles stares intently at Carrie. Matthew notices his interest and asks Charles, "Is it love at first sight?" As they have yet to know each other it is clearly more like "lust" at first sight. When Charles expresses his affection to Carrie, he awkwardly says, "...the words of David Cassidy in fact, eh, while he was still with the Partridge family, eh, "I think I love you,"..." Even though it is intended to be, it does not seem like a sincere declaration.
The funniest moments are when Charles finds himself in embarrassing situations. In the first wedding it is when he mistakenly tells a man about how his wife slept with someone else. The second wedding is a series of awkward situations. He is assigned to a table with several previous girlfriends. Then he gets caught in the bridal suite as the newlyweds are having sex. One old flame stops him in the hall and cries to him about his being "...a serial monogamous." My favorite line comes near the end when Tom says, "I think I fooled them so far. The great advantage of having a reputation of being stupid is that people are less suspicious of you."
By the third wedding, things start to get more serious. Charles watches as Carrie marries another man and Fiona finally tells Charles that she has always been in love with him. This also is when one of Charles's friends dies, leading to the funeral in question. Again agreeing with Scott, at this point I cared little about what may or may not happen between Charles and Carrie, but I was firmly invested in the welfare of Charles's circle of friends.
Grant is good but there is more than just him to enjoy. John Hannah may be more remembered for his role in The Mummy movies, but he does a remarkable job here. The poem he reads is truly moving, "I thought that love would last forever. I was wrong." I also liked the details. The couple who gets married in the first wedding arrive at the last with babes in arms. Charles's deaf brother David acts thrilled when the girl who likes him learns to sign. It represents the entire theme of the film, that there is someone for everyone, you just have to be patient and have good timing.
Reviewed on:
July 24th, 2012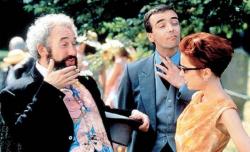 Simon Callow, John Hannah and Charlotte Coleman attend one of Four Weddings and a Funeral.
I remember the first time I saw this movie how touched and inspired I was by the nonchalant manner in which the gay couple is presented. In 1994 the idea of same sex marriage was still considered quite radical. As Matthew says at Gareth's funeral, "Gareth used to prefer funerals to weddings. He said it was easier to get enthusiastic about a ceremony one had an outside chance of eventually being involved in." We've come a long way in less than 20 years.
The two of them are at the center of their group of single friends. While exiting the funeral Charles says to Tom (about them), "Yes, it's odd, isn't it? All these years we've been single and proud of it and never noticed that two of us were, in effect, married all this time." I agree with my brothers that Matthew's reading of W.H. Auden's poem at the funeral is an emotionally resonant scene.
I also concur with Scott and Eric about the relationship between Charles and Carrie. I never really cared if they got together or not. Of all the romantic couple's stories that are told in the movie, theirs is the least organic.
The dynamics of this diverse group of friends is the heart and soul of the story. In a deleted scene we would have learned a bit more about their past. Apparently Charles, Matthew and Fiona were at university together, while Gareth was a lecturer until he wrote a paper entitled "King Lear: Grandpa goes gaga". Charles discovered Scarlett beneath his kitchen table after a party and she's lived with him ever since.
Not only does Richard Curtis label American women as sluts; he is also blatantly insulting to Americans in general, most often employing the voice of Gareth to get his digs in. At one wedding he states, "It's hell out there. Matthew's trapped with an evangelist from Minnesota." In another scene an American wedding guest asks Gareth in all seriousness, "Do you actually know Oscar Wilde?" To which he sarcastically replies, "Not personally no. But I do know someone who could get you his fax number."
Four Weddings and a Funeral is a whimsical celebration of love and life. As Gareth says when rallying the troops at a wedding reception, "A toast before we go into battle. True love. In whatever shape or form it may come. May we all in our dotage be proud to say, "I was adored once too.""
Photos © Copyright Gramercy Pictures (1994)
Related Reviews