Movie Review
The Four Musketeers
One for all and all for one! (And every man for himself.)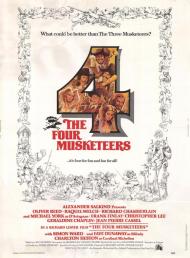 US Release Date: 02-26-1975
Directed by: Richard Lester
Starring
▸
▾
Oliver Reed

,

as

Athos
Raquel Welch

,

as

Constance de Bonancieux
Richard Chamberlain

,

as

Aramis
Michael York

,

as

D'Artagnan
Frank Finlay

,

as

Porthos
Christopher Lee

,

as

Rochefort
Geraldine Chaplin

,

as

Queen Anne of Austria
Faye Dunaway

,

as

Milady de Winter
Charlton Heston

,

as

Cardinal Richelieu
Roy Kinnear

,

as

Planchet
Jean-Pierre Cassel

,

as

King Louis XIII
Michael Gothard

as

Felton


Reviewed on:
September 2nd, 2010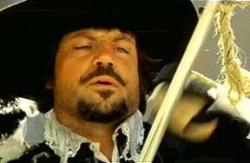 Oliver Reed as Athos.
Long before the makers of the Harry Potter and Twilight films decided to break a book into two movies, Richard Lester did it with Alexander Dumas's The Three Musketeers. In fact, the cast was not originally aware that they were making two movies during filming. They later sued when they found out they were paid for one film but actually made two.
With Cardinal Richelieu's plan to expose the Queens affair foiled, D'Artagnan is made a musketeer, thus turning the three musketeers into four. Some protestant rebels control La Rochelle in France. Lord Buckingham plans to send troops to support the rebels. While the musketeers are fighting the rebels. Richelieu has Rochefort kidnap Constance, to break the line of communication between the Queen and Buckingham. Milady de Winter attempts to distract/seduce D'Artagnan, but he quickly discovers she is no good. She unsuccessfully attempts to kill D'Artagnan after they have sex. She is then sent to England to assassinate Buckingham.
Although Welch is still second billed, Constance only appears in a hand full of scenes. Dunaway gets far more screen time and is easily a more interesting character. Milady has a romantic history with Athos. The final scene of the film is the movies best story arc as it brings their relationship some much needed closure.
The Four Musketeers still has plenty of action and adventure. The musketeers must save Constance, fight in a large siege, defeat Rochefort and his many men. The comedy seems a bit less this installment, but there are still moments. The best being when Milady arrives home and unknowingly interrupts her maid having sex with D'Artagnan. She asks if D'Artagnan has arrived, and the maid responds, "He did not come."
As in the first film you must listen for the jokes. As Milady gets out of her servant carried carriage, one of the men remarks quietly, "She's put on weight." while the other asks, "Why doesn't she get a horse?"
The tension is greater this time. Several featured characters are killed. Often the fight scenes were filmed as slapstick, but this one contains some serious ones as well, particularly when D'Artagnan fights Rochefort in the church. Lester again uses the location to his advantage as part of the fight takes place over a spot on the floor colored by the sun streaming through a stain glass window.
Although the film includes some brief flash backs, this is only a film that should be watched after seeing the first. The Three Musketeers stands as an independent film, with a beginning and ending. This one actually has a much better ending, but if you had never seen the first you are missing out.
Reviewed on:
March 1st, 2014
Oliver Reed, Michael York, Frank Finlay, and Richard Chamberlain are The Four Musketeers.
The Four Musketeers seamlessly picks up right where The Three Musketeers left off. Filming them together was a stroke of genius (at least as far as everyone but the cast and crew were concerned). Turning Dumas' novel into two 105 minute movies makes perfect sense (unlike say padding out Tolkien's The Hobbit into three 160 minute movies). As Eric mentioned, you absolutely should see the first movie before watching this one since they really are like one long motion picture.
The cast members continue to be perfect in their roles. We get to know these wonderful characters -both heroes and villains alike- better as their story heads to its exciting and satisfying climax. Along the way you are treated to some of the most creative and inventive stunts you are ever likely to see. And since this movie predates CGI they were all created in the real world. This gives them an authenticity completely missing in today's action movies, where impossible feats of strength and dexterity have become the norm.
There may be slightly less humor in this installment but it is still there. Several jokes take aim at religion. Here's an exchange between Porthos and Aramis on the subject. Porthos: "You know, it strikes me that we would be better employed wringing Milady's pretty neck than shooting these poor devils of Protestants. I mean, what are we killing them for? Because they sing psalms in French and we sing them in Latin?" Aramis: "Porthos, have you no education? What do you think religious wars are all about?" And upon returning to France, Milady de Winter snidely remarks to Rochefort, "I reek of England and Calvinism."
Like The Godfather Part II, The Empire Strikes Back, and Aliens, The Four Musketeers belongs on that short list of sequels to classic movies that are equally as good as the movie they follow. Richard Lester's The Three Musketeers and The Four Musketeers are both rousing adventure yarns brought to vivid life on the screen. They are old fashioned entertainments that are timeless in their appeal. Rarely have any movies so combined action with humor; together they make for the perfect Saturday matinee double-feature.
Photos © Copyright Twentieth Century Fox Film Corporation (1975)
Related Reviews