Movie Review
Four Christmases
His father, her mother, his mother and her father all in one day.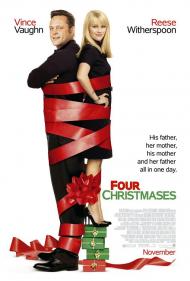 US Release Date: 11-26-2008
Directed by: Seth Gordon
Starring
▸
▾
Vince Vaughn

,

as

Brad
Reese Witherspoon

,

as

Kate
Robert Duvall

,

as

Howard
Sissy Spacek

,

as

Paula
Jon Voight

,

as

Creighton
Jon Favreau

,

as

Denver
Mary Steenburgen

,

as

Marilyn
Dwight Yoakam

,

as

Pastor Phil
Tim McGraw

,

as

Dallas
Kristin Chenoweth

,

as

Courtney
Peter Billingsley

,

as

Ticket Agent
Skyler Gisondo

as

Connor


Reviewed on:
November 29th, 2008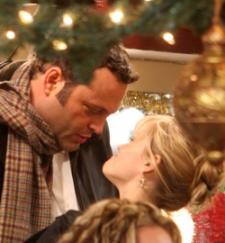 Vince Vaughn and Reese Witherspoon
With his second Christmas movie in two years it may seem that Vince Vaughn is trying to rival Tim Allen in Holiday spirit. Only Allen is clearly after the family audience, while Vaughn is somewhere in the middle.
Vaughn plays Brad, one half of a deliriously happy couple. He and his live in girlfriend, Kate, have a stress free relationship. That is until their holiday vacation to Fiji gets postponed and they find themselves visiting all four of their divorced parents. Of course all of their families are dysfunctional. I do not think Hollywood knows that any other kind exists. Both get embarrassed as each of their families reveal things they did not wish the other to know.
Brad's dad is your stereotypical white trash movie character. He is never without a beer can in his hand. His mother is now living with one of his old highschool friends. "Brad I am not trying to be your father, I just want to be your friend." My favorite character in the movie is Brad's brother Denver. He likens himself a cage fighter. The scene where he and his wife win the board game is one of the funniest scenes in the movie.
Four Christmases is an adult Holiday movie. Sex is often referred to or is the punch line of jokes. The movie opens with Brad and Kate role playing and having sex in a public bathroom. The theater I saw this in had many small children in it. I wonder what kind of conversation their parents had with them on the way home after watching the scene in which Vaughn bluntly dispels the mystery of Christmas to his nephew. The scene is kind of funny as the disappointed child yells hysterically, "Nobody loves me!" and runs outside naked, while his parents act indifferent. "He'll be back." Denver's wife assures an uncomfortable Kate.
Whereas there are laughs to be had here, the movie never finds an even tone. It is sometimes a slightly naughty romantic comedy and it sometimes has dark humor, such as when Kate body slams the kids in the balloon jumper. The movie ends on a gooey sweet note that feels very unsatisfying. With Tim Allen cornering the market on family holiday films, Four Christmases should have gone the darker route paved by Bad Santa and skewered more childish Holiday traditions.
Reviewed on:
July 30th, 2010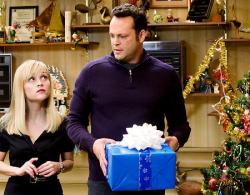 Reese Witherspoon and Vince Vaughn in Four Christmases.
Do people find kids beating up adults and being obnoxious, funny? Who are these jokes aimed at? Do parents find this funny? Do grown-ups without kids? Do kids find the idea of other kids behaving this way funny? I know Adam Sandler finds it funny because he's used naughty kids for "humor" several times. I know that I certainly don't find it funny and Four Christmases is filled with these types of annoying children. One of the best scenes in the movie is when Reese starts bodyslamming kids around inside the inflatable castle.
I agree with you somewhat Eric about the uneven tone, but really it's just the opening scene that feels out of place. Obviously it's there to show you the kind of freedom Brad and Kate share as a childless couple (they can have sex anywhere and anytime they want), but it sets an expectation that okay, this is a Christmas movie for grown-ups, but then very quickly it becomes a "heart-warming" movie for the whole family.
The funniest moments are the more surreal ones. The kid jumping out the window to go streaking when he finds out there is no Santa, or the friend from his childhood marrying his mom, or Reese beating up the kids, although my favorite scene is when Brad and Kate play the game Taboo with a couple of other couples, including Brad's mom. The warmer moments just never really ring true and there are too many of them.
At least Vaughn and Witherspoon share a good chemistry together. They make a believable couple and are both likable enough that you at least want to care about what happens to them.
Four Christmases could have been a much better movie. It definitely has its moments, but it just never quite finds its footing.
Reviewed on:
December 4th, 2010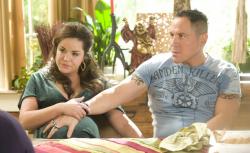 This couple really knows each other well.
Yes this could have been a much better movie and no, I for one, don't find obnoxious kid humor to be very funny, not as it is presented in this movie anyway. The set-up is ripe with potential. The idea of this blissfully happy couple who - when it comes right down to it - don't really know a hell of a lot about each other, could have been milked for more laughs as well as provide a bigger emotional pay off.
Brad and Kate learn an embarrassing thing or two about each other's childhoods but missing from the script is that moment when they realize they have been presenting each other with a censored version of themselves. The closest this movie comes to making this point is during the board game which my brothers and I all agree is the funniest scene.
Brad's brother and his wife clearly know each other very well and like many long time couples have a sort of shorthand language that is spoken only by the two of them. Brad and Kate, in comparison, not only know very little about each other's pasts, they also seem to not know much about each other's personal likes or dislikes.
On an unrelated note, a pet peeve of mine is how prevalent crude bathroom humor has become in movies in recent years. I am no prude and enjoy gross-out humor when it is well done. I laughed my ass off during There's Something About Mary (which was, I believe, the unfortunate catalyst for this type of humor).
That's not what I am talking about. I mean movies, such as animated children's films or this holiday movie, where the writers insert a completely unnecessary and disgusting joke or bit of business. Have you noticed how nowadays, for example, whenever a character in a movie vomits we are shown the entire act in great detail? When the little girl ran off with Kate's home pregnancy test I knew that at some point it would end up in her mouth and sure enough it does.
Four Christmases is mildy amusing but fails to live up to its potential. Oh, and by the way did anyone else notice the wasted homage with a now grown-up Peter Billingsley of A Christmas Story fame playing the sarcastic ticket agent at the airline?

Photos © Copyright New Line Cinema (2008)