Movie Review
Foul Play
It's a highly dangerous comedy!!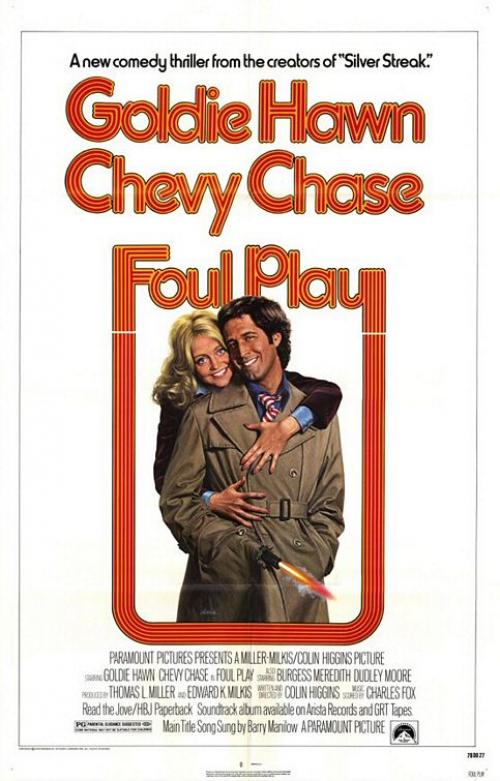 US Release Date: 07-14-1978
Directed by: Colin Higgins
Starring
▸
▾
Goldie Hawn

,

as

Gloria Mundy
Chevy Chase

,

as

Tony Carlson
Burgess Meredith

,

as

Mr. Hennessey
Rachel Roberts

,

as

Gerda Casswell
Eugene Roche

,

as

Archbishop Thorncrest
Dudley Moore

,

as

Stanley Tibbets
Marilyn Sokol

,

as

Stella
Brian Dennehy

,

as

Fergie
Marc Lawrence

,

as

Stiltskin
Chuck McCann

,

as

Theatre Manager
Billy Barty

,

as

J.J. MacKuen
Don Calfa

,

as

Scarface
Bruce Solomon

,

as

Scott
Cooper Huckabee

,

as

Sandy
Pat Ast

,

as

Mrs. Venus
Frances Bay

,

as

Mrs. Russel
Queenie Smith

,

as

Elsie
Hope Summers

as

Ethel

Reviewed on:
June 13th, 2015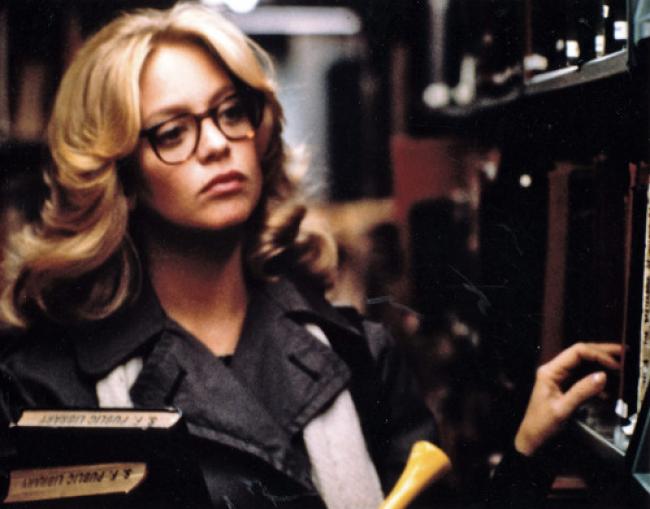 Goldie Hawn at her most adorable in Foul Play.
Foul Play is yet another in a long line of films reviewed on this site that my brothers and I saw repeatedly on HBO when we were young. Returning to watch it now for the first time in many, many years, I was happy to find that unlike so many of those films from that era it still holds up remarkably well. The fashions and the music on display have aged, but the comedy and the charm of its two leads are as good as they ever were.
Goldie Hawn stars as Gloria Mundy, a somewhat ditzy blonde librarian living in San Francisco. The part was something of a comeback for her after taking a couple of years off to have a baby. She almost missed out on it when the studio wanted to give it to "it" girl of the moment, Farrah Fawcett. Fortunately for Hawn and audiences alike, Fawcett was tied up in litigation with the producers of Charlie's Angels and so proved unavailable. Following the success of this part, Hawn, who is the epitome of adorable here, went on to star in a string of hits over the next half a decade or so.
Her co-star is Chevy Chase, fresh off his success on the first year of Saturday Night Live. This is Chase when he was still young enough and charming enough to play a romantic lead. He's funny here, but his comedy is restrained compared to what it would be when his ego and parts grew bigger. He shares a nice chemistry with Hawn and they starred with each other again in the less successful Seems Like Old Times a couple of years later.
The script is by the film's director, Colin Higgins, who had also written the similarly themed film Silver Streak in 1976. Both this film and that one are comic homages to the master of suspense Alfred Hitchcock. Here Hawn's Gloria unwittingly gets caught up in an assassination attempt and Chase plays the detective assigned to protect her. The two face off against a motley crew of villains including a dwarf, an albino, and a man with a scarred face. It's all silly, but the plot is lightweight and mainly serves up a string of setpieces to allow Hawn the chance to be both funny and cute as a button, often simultaneously. As an example of one of the plot's weaknesses, the detectives know there's going to be an assassination attempt in the city, but they're baffled as to who will be killed, despite the fact that the Pope just happens to be visiting the city that week. Higgins, who had also written 1971's Harold and Maude, would go on to write and direct 9 to 5 and The Best Little Whorehouse in Texas, but would sadly die of an AIDS-related illness in 1988 when he was just 47 years old.
Although I hadn't seen the film in years there were a couple of scenes I remembered vividly laughing at as a child and I laughed almost as hard at them now. Dudley Moore plays Stanley, a lecherous little man who keeps running into Gloria under compromising circumstances. His bachelor pad is decked out in 1970s' excess complete with disco ball and a lighted Murphy bed. The part was written by Higgins for Tim Conway, but when Conway turned it down it went to Moore who was hired on the strength of his few scenes here to star in 10. The other scene I remembered so well was when a bible selling midget arrives at Gloria's door and she mistakes him for the Dwarf she was warned about and ends up throwing him out of the window. While the slapstick in that scene still made me chuckle, it was the following scene when Gloria goes to visit him in the hospital that really made me laugh now.
As so many movies set in San Francisco seem to, this one ends with a car chase through the city. Hollywood just can't resist sending a car flying over those hills. While it's a mildly amusing scene, perhaps the most remarkable thing about it when seen with a modern eye, is watching those gigantic, mile-long, 1970s' cars being driven at such speeds. Each one looks to be 20 to 30 feet long. How did we ever find parking spaces in those days?
Some movies manage to embody their time period without becoming dated. Foul Play is such a movie. It's quintessentially of the 1970s, but still manages to amuse and charm almost 40 years later. And for those who can remember the decade personally, it evokes a sense of nostalgia with the hair, the fashions, and the Barry Manilow heavy soundtrack.
Reviewed on:
June 17th, 2015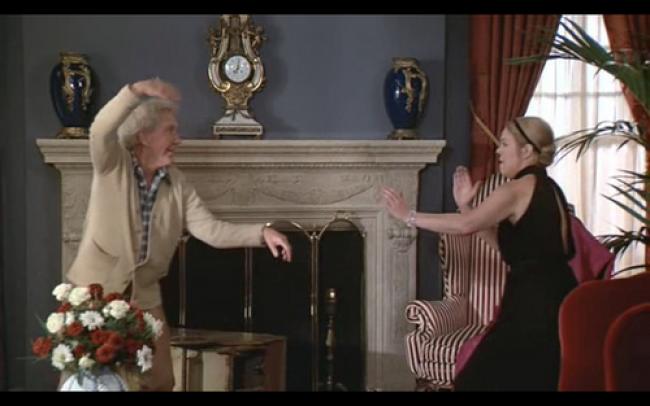 Burgess Meredith and Rachel Roberts in Foul Play.
I too have fond memories of watching this movie multiple times on HBO a lifetime ago. I couldn't agree more with my brother that it holds up remarkably well after all these years. Like Silver Streak, it works as a comedy while containing a few moments of actual danger. I never before realized that the same person wrote both movies but it certainly makes sense. Colin Higgins was an amazing talent who left behind a small but memorable body of work.
I thought the fact that these detectives can't figure out that the Pope is the assassination target is part of the joke. Colin Higgins called it "tongue in cheek realism." adding that, "The audience is in on the joke but the actors must carry on as if they were unaware." The roll of film that sets the events in motion and winds up inside that cigarette packet - before being completely forgotten - is another example of this. It's what Hitchcock called a MacGuffin; the object or information that everyone in a movie is after. Higgins pays homage and spoofs the idea at the same time.
Scott mentioned a few scenes he vividly remembered from childhood and I remember them as well. Dudley Moore's bachelor pad scene is indelibly imprinted on my brain. I remember watching this movie with our mother and I can still hear her infectious laughter during this scene. What Scott didn't mention is that Stanley's Murphy bed has a mirrored ceiling and that he has a closet full of sex toys. But it is Goldie Hawn's reaction that provides the scene its punchline. She takes it all in stride, expressing curiosity and fascination, "I never knew there was such diversity." I also agree that the midget bible salesman scene is hilarious.
Marilyn Sokol provides a few laughs as Gloria's wisecracking friend Stella. She's constantly expecting to be gang-raped at any moment. She gives Gloria a rape alarm, a can of MACE and some brass knuckles, saying, "Take these. Without them, you are a walking light-bulb... waiting to be screwed." Elsie and Ethel, the old ladies playing Scrabble, are worth a chuckle. "Wait, Elsie. I think you're wrong. I think you spell that word with a hyphen." As is the old Japanese couple who've just arrived in the United States. "Kojak - Bang bang!" But for my money the movie's absolute funniest moment is the hand-to-hand combat scene between Burgess Meredith and Rachel Roberts (see photo). It is truly hilarious the way they go at each other with such gusto, while tearing that room apart in the process. It ranks among the funniest fight scenes ever.
My one and only complaint is the romantic interlude scene between Gloria Mundy and Chevy Chase's Detective Tony Carlson on his houseboat. It slows the movie down and isn't needed. Despite the fact that the movie ends with them kissing this isn't a romantic comedy and Chevy Chase is clearly in support of the star, Goldie Hawn. This minor flaw doesn't seriously mar the film though. It remains a classic example of the Hitchcock spoof genre. And as Scott wrote, it's both perfectly evocative of its era and timeless.

Reviewed on:
June 22nd, 2015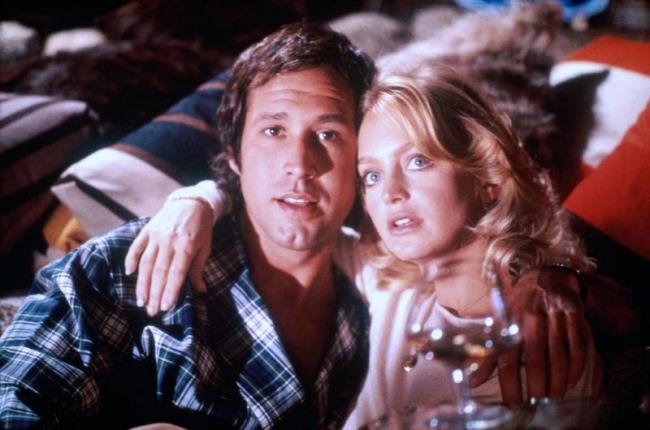 Chevy Chase and Goldie Hawn in Foul Play
Threemoviebuffs have reviewed many 1930s screwball comedies and we have often complained that they just do not make them like they use to. I stick by that statement but for a period in the 1970s Hollywood made some near facsimiles. The best being What's Up Doc? (1972) which stole heavily from the Katharine Hepburn/Cary Grant classic Bringing up Baby (1938). Running a not too distant second is Foul Play, as Scott wrote, it takes place in San Francisco, just as What's Up Doc does and it likewise contains a mad drive through the city.
The adorable Goldie Hawn plays a part that would have likely gone to Carole Lombard or Jean Arthur had it been cast in the depression decade. Like so many of those comedic female roles of yore, Hawn is playing a likable but slightly ditzy girl waiting for the right man to come along and solve her problems. She finds herself in the middle of some mad cap shenanigans that end with the car chase and a shootout during a live opera performance.
On the road to that happy ending we are treated to some hilarious moments as described by my brothers. Scott enjoyed Dudley Moore as the sex starved Orchestra leader and he is worth plenty of laughs. "Here it is, my own little beaver trap." This was the first American film appearance of a character he would play variations of in his greatest film successes. However, I agree with Patrick that the fight between Burgess Meredith and Rachel Roberts is the film's funniest moment. "She was one tough old mama!" I spit iced tea when Meredith karate chopped the brick, "Shit!"
There are plenty of laughs here but not every scene works, such as the romantic part Patrick mentioned. At another point Gloria is standing directly in front of a window looking down into the dark street for the Albino. He is desperately looking for her but he never thinks to look up at the lighted window. Of course Gloria is just as clueless and she does not realize that Stanley has meanwhile turned the room she is currently standing in, into a cheap bordello right behind her back. Sure, it is all meant as a joke but it seemed a bit sitcom-ish to me.
The best thing about this movie is Goldie Hawn. Farrah Fawcett was a real looker in 1978 but she lacked Hawn's charm. Chase is alright here but he would do better work in the Vacation movies. He does however, have real chemistry with Hawn. Chase, "I think we got off on the wrong foot." Hawn, "Yes, and it seems to be in your mouth." Can you not picture William Powell and Myrna Loy having that exchange? They just don't make them like they use to.
Photos © Copyright Paramount Pictures (1978)
Related Reviews