Movie Review
Fort Apache
John Fords masterpiece of the frontier.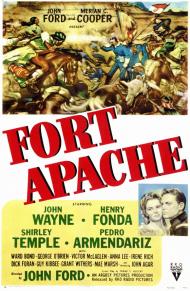 US Release Date: 03-08-1948
Directed by: John Ford
Starring
▸
▾
John Wayne

,

as

Capt. Kirby York
Henry Fonda

,

as

Lt. Col. Owen Thursday
Shirley Temple

,

as

Philadelphia Thursday
Pedro Armendariz

,

as

Sgt. Beaufort
Ward Bond

,

as

Sgt. Maj. Michael O'Rourke
John Agar

,

as

2nd Lt. Michael Shannon O'Rourke
Mae Marsh

,

as

Mrs. Gates
Dick Foran

,

as

Sgt. Quincannon
Victor McLaglen

,

as

Sgt. Festus Mulcahy
Guy Kibbee

,

as

Capt. Dr. Wilkens
Anna Lee

,

as

Emily Collingwood
George OBrien

,

as

Capt. Sam Collingwood
Irene Rich

,

as

Mary O'Rourke
Grant Withers

as

Silas Meacham


Reviewed on:
August 17th, 2009
Henry Fonda and John Wayne in Fort Apache.
Westerns are not my favorite film genre, but John Wayne alone can make me enjoy them. In Fort Apache his storyline is second to Henry Fonda's, but it is the friction between the two that makes the movie work.
Fonda plays Colonel Thursday, who is newly assigned to a remote Arizona cavalry outpost. He arrives with his daughter, Philadelphia, and a young officer named O'Rourke, who is fresh from West Point. He grew up on the post and has eyes for Philadelphia. Wayne plays an officer on the post.
Colonel Thursday is pretentious and quite stuck up. He feels O'Rourke, whose father is enlisted, is not good enough for his daughter. He forbids them from seeing each other. He thinks little of the Indians and the way many of his men drink.
The fist half of the movie is character development as The Colonel and his daughter settle in. Philadelphia and O'Rourke fall in love. There are a couple of funny scenes as some new recruits are taught to ride and some soldiers get in trouble drinking moonshine.
The movie takes a darker turn after Thursday orders Wayne to talk the Indians into coming back across the Rio Grande, into American territory. Under Thursday's advice, Wayne tells the Indians they will be safe and unharmed. As soon as Wayne reports that the Indians have returned, Thursday mounts an assault, resulting in a big climactic battle.
Fort Apache was filmed in black and white, at John Ford's favorite Western locale; Monument Valley, Utah. As you would expect, he makes great use of the scenery. The rock formations become a looming force all their own. They truly make the film seem like another time and place. The cavalry charging across the landscape got my adrenaline going. If only Ford had filmed more of his movies in color.
At this point in her career, Shirley Temple was a young lady. The actor playing O'Rourke, John Agar, was her real life husband at the time. They were married a few years earlier and had a child together. This was his film debut and their marriage ended the next year.
John Wayne plays the secondary role, but still gets top billing. He is what we like to think of when we think of cowboys. He always played tough, but honorable men. He would kill when he had to, but he always treated a woman like a lady. It is his portrayal of the western American man that folks from around the world think of when they think of a cowboy. In Fort Apache he is true to his image. He obeys orders even though he knows they are morally questionable. He lets his men drink but then compliments Temple, "Good girl." when she says she does not. Sure, Wayne seems old fashioned, but that is who he was on screen, and he never apologized for it.
Reviewed on:
May 21st, 2012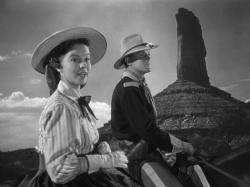 Shirley Temple and John Agar in Fort Apache.
Fort Apache was the first movie in what is now known as John Ford's "Cavalry Trilogy". It was followed by She Wore a Yellow Ribbon in 1949 and Rio Grande the following year. All three movies starred John Wayne and featured the United States Cavalry fighting Indians. This movie boasts a stellar cast with three legendary stars leading a crowd of familiar supporting faces.
The black & white cinematography is exquisite. As Eric said, Ford makes great use of those impressive rock formations in Monument Valley (see photo). More than any other director, he created the iconic image of the rugged Western terrain in movies. Clearly he had a large budget to work with; Fort Apache looks expensive. A large number of extras were used to play the cavalry and the Indians. The action scenes are few and far between however, although the climactic battle is rip roaring entertainment at its finest and features some impressive stunt work on horseback.
The story was loosely based on General Custer's infamous Last Stand at Little Big Horn, with Henry Fonda's blundering, by-the-book Colonel Thursday in the Custer role. The movie changed the Sioux to Apaches, with Cochise as their leader (that other famous Apache, Geronimo, is in one scene). Although, ironically, Ford employed members of the Navajo tribe to play his Apache warriors. At least they aren't white-men in red-face.
Shirley Temple was near the end of her movie career. She had been in the business since the age of 4 in 1932 and was a very girlish looking 19 when she played Philadelphia Thursday. She would make only 4 more movies, all of which would be released the following year in 1949. Legend has it that John Ford disliked her immensely and made fun of her lack of education and acting talent. To be fair I think she is fine in the role although she does have a tendency to resort to her little girl voice and mannerisms at times.
The hulking testosterone heavy trio of Dick Foran, Ward Bond and Victor McLaglen are around in supporting roles. The scene where the men drink the homemade whiskey, that Eric mentioned, provides a bit of levity to what is a mostly somber movie. While Anna Lee, Irene Rich and former silent star Mae Marsh bring a touch of estrogen to the rough and ready proceedings.
John Wayne had been in Hollywood since the mid-20s and a star since Stagecoach in 1939. He was on the cusp of superstardom as he would make his first appearance in the box office top ten the following year in 1949 and remain firmly planted on the list for the next 25 years. His legendary status growing with each passing year. As Eric wrote, despite his top billing, he's technically in a supporting role to Henry Fonda, but he gets to play the quintessential noble soldier, honorable and loyal to the end, even to a man that doesn't deserve it.
Fort Apache is a classic Western from the greatest director and greatest star the genre has ever known.
Reviewed on:
June 20th, 2012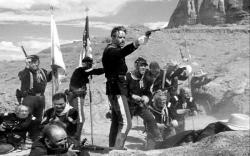 Henry Fonda in Fort Apache.
Westerns aren't my favorite genre either, but the combination of the Duke and John Ford is hard to resist. This one may take a little while to get going, but once it gets rolling it draws you in and keeps your attention up until the end.
In an era when the cavalry regularly came to the rescue in movies, this one colors things a little differently. Colonel Thursday is shown as being willing to lie and trick the Indians into battle before ultimately showing himself to be insane. The Indian Commissioner Silas Meacham is a liar and fraudster. Without white washing or sanctifying the Indians(something later Westerns were guilty of), this movie paints both sides in shades of grey.
As in nearly all his movies, it is up to Wayne to play the good guy. It is he who deals honorably with Cochise. His final actions are to defend the honor and memory of Col. Thursday for the good of the U.S. Cavalry despite what he personally knew about the man.
As my brothers pointed out, the look of the movie is impressive. Ford shows off the landscape beautifully, making good use of the black and white cinematography. The final battle though, while exciting and well filmed, seems to be lacking in numbers. In the actual battle of Little Big Horn, something like 1500 Indians took on 650 cavalrymen, where here the number seems much smaller. It's a skirmish rather than an epic battle.
The cast is terrific. Fonda is great as the ultimately sanctimonious Colonel while a restrained Wayne handles the more honorable duties of the second-in-command. As Patrick said, Temple does a decent enough job and the rest of the cast is filled with familiar faces from Ford's stable of actors.
When a movie's this good, you don't need to be a fan of the genre. You just have to be a fan of great cinema.
Photos © Copyright RKO Radio Pictures (1948)
Related Review