Movie Review
The Forgotten
On September 24th everything you've experienced, everything you've known, never happened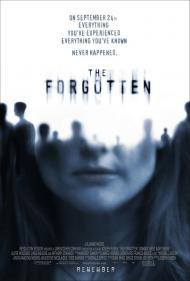 US Release Date: 09-24-2004
Directed by: Joseph Ruben
Starring
▸
▾
Julianne Moore

,

as

Telly Paretta
Alfre Woodard

,

as

Det. Anne Pope
Linus Roache

,

as

A Friendly Man
Gary Sinise

,

as

Dr. Jack Munce
Dominic West

,

as

Ash Correll
Anthony Edwards

,

as

Jim Paretta
Kathryn Faughnan

,

as

Lauren Correll
Tim Kang

,

as

Special Agent Alec Wong, NSA
Christopher Kovaleski

,

as

Dane
Kathrina Miccio

as

Mrs. Munce


Reviewed on:
October 20th, 2005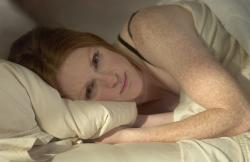 Julianne Moore in The Forgotten.
A good mystery is always an entertaining watch. You ride along with a character as they uncover clues. In The Forgotten, Julian Moore leads you through a twisting plot that some times has you scratching your head. Other times you catch on to things long before she does.
Moore plays a woman, Telly, still grieving over the death of her son 14 months earlier. She and her husband have been in therapy. The husband has moved on with his life but Telly still looks at her sons possessions and photos daily. One day she wakes to find all of her sons photos and videos are gone. Even more horrifying is that her husband and psychiatrist are now telling her that there never was a son.
The son died in a plane crash with other children. Telly visits a father, Ash, of a little girl who died in the plane crash as well. At first he thinks she is crazy and denies that he ever had a daughter. Eventually he remembers that he did have a daughter and he and Telly set out to discover what is going on. A mysterious man keeps showing up every where they go and the federal government has agents on their tail.
A big pivotal scene occurs when Ash captures an agent and ties him to a chair. Just when the agent is about to spill some info he is suddenly sucked up through the roof of the building and into the sky. This adds a new level to the movie but Ash and Telly react far to casually to this happening to be believable.
I can't write much more about the plot without giving to much away. I advice watching the extended version on the DVD as it explains more of what happened. The Forgotten is a good watch if you can except the world it presents to you. It is a bit out there but still a fascinating movie.
Moore does a good job as a frustrated mother dealing with something completely beyond her control. Moore has a line reminiscent of Ripley's line at the end of Aliens. Sigourney Weaver said "Get away from her you BITCH!" Moore has this to say to her adversary,"I had life inside me. I had life. I have a child. I have a son. I have a son, and his name is Sam, you son of a bitch." Other than too easily excepting the strange events around her Moore does fine work.
The Forgotten ends up proposing so much that the ending is only a happy ending on the surface. Think about the events in the movie and you realize that this is hardly the real end of the movie and that it is not a completely happy one.
Reviewed on:
November 17th, 2005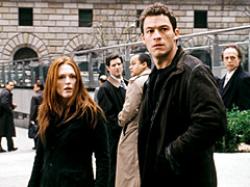 Julianne Moore and Dominic West in The Forgotten.
This movie was advertised as a psychological thriller and it certainly starts as one. Then from out of left field it turns into science fiction. The last half hour or so takes you places I never saw coming. Unfortunately it gives the movie a personality complex.
It is just too unbelievable to be taken seriously. And I agree with Eric that the ending is ambiguous at best. This movie raises so many more questions than it answers that it leaves you feeling cheated.
Yes, the acting and production values are all first rate, and the movie does manage to surprise. The main thing I felt after watching it, though, was unsatisfied.
Photos © Copyright Revolution Studios (2004)