Movie Review
Force 10 from Navarone
The Odds Against Them Were 10,000 to 1...But What the Hell!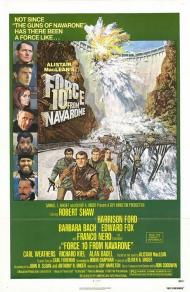 US Release Date: 12-08-1978
Directed by: Guy Hamilton
Starring
▸
▾
Robert Shaw

,

as

Maj. Keith Mallory
Harrison Ford

,

as

Lieutenant Colonel Mike Barnsby
Barbara Bach

,

as

Maritza
Edward Fox

,

as

Miller
Franco Nero

,

as

Capt. Nikolai Leskovar
Carl Weathers

,

as

Weaver
Richard Kiel

,

as

Capt. Drazak
Alan Badel

,

as

Petrovitch
Michael Byrne

as

Schroeder

Reviewed on:
February 3rd, 2010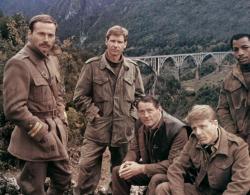 Franco Nero, Harrison Ford, Robert Shaw, Edward Fox and Carl Weathers in Force 10 from Navarone.
Force 10 from Navarone is a sequel, in mostly name only, to The Guns of Navarone. Both films are based on books written by Alistair Maclean. Before the credits, the final scene of The Guns of Navarone is revisited to remind the audience what the title is referencing. Near the end of the movie Mallory says to a traitor, "You're the man who blew us in Greece." Other than that, this movie stands completely on it's own.
Miller and Mallory are the two characters from Guns who survived to be picked up by a British ship. After returning to England, they are sent along with an American squad into Yugoslavia. The Americans have a job to blow up a bridge, while Mallory is to kill someone believed to be a double agent.
After getting shot down, they get captured and escape, and have all kinds of adventure on the way to their assignments. Along the way all of the extra soldiers get killed, until only the main characters are left. Most of the movie was filmed on location and full advantage is taken of the beautiful scenery.
Guns worked so well because the characters were always on edge. Even when not in a fight they had issues with each other. Force 10 lacks that, and as such is an inferior film. Shaw is no Gregory Peck, and Ford is not able to give Barnsby any personality. Although the script does not give much characterization, it makes up for it with plenty of action.
One person who deserves credit for this film is whoever did the casting. Robert Shaw had recently done Jaws, playing the memorable Quint. Ford had just done Star Wars. Bach was a Bond girl the year before in The Spy Who Loved Me, in which Kiel menaced her, much as he does here. Likewise, Byrne plays a Nazi officer here just as he does in Indiana Jones and The Last Crusade.
The worst character is Weaver. His only characteristic is that he is black. Much is made of it. He forces his way onto the mission, and then later complains about how he is being treated. One annoying scene has him potentially endangering everyone because he does not feel appreciated. I am not sure if his character is in the novel, but his part seems very forced and unnecessary. The army was segregated during World War II. The addition of Weaver seems like merely an excuse to have racial diversity in the movie. Weathers would play his most famous character, Apollo Creed, the following year in Rocky II.
Force 10 from Navarone has a very memorable cast, as well as a veteran action director. Hamilton had directed many James Bond films. It is based on a novel written by a respected author. Still, it fails to connect with the audience. In Guns, the goal is clear and everyone is focused on it. In Force 10, the characters and plot seem to wander a bit. It is a fun ride and it ends with a big bang, but someone needed to spend more time on the script. If the characters leave you indifferent, then the plot is almost moot.
Photos © Copyright Columbia Pictures Corporation (1978)
Related Review