Movie Review
For Me and My Gal
Greatest musical show ever to thrill your heart!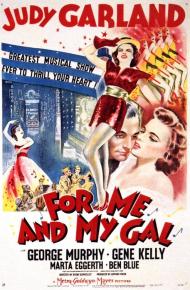 US Release Date: 10-21-1942
Directed by: Busby Berkeley
Starring
▸
▾
Judy Garland

,

as

Jo Hayden
George Murphy

,

as

Jimmy K. Metcalf
Gene Kelly

,

as

Harry Palmer
Mártha Eggerth

,

as

Eve Minard
Ben Blue

,

as

Sid Simms
Stephen McNally

as

Mr. Waring

Reviewed on:
March 17th, 2006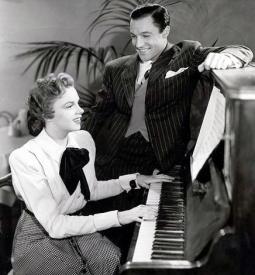 Judy Garland and Gene Kelly in For Me and My Gal.
Gene Kelly made his movie debut opposite the great Judy Garland in this black & white MGM musical. He was a newcomer to the silver screen at the age of 30. Judy was 10 years younger but had already appeared in 15 movies.
This one is an homage to Vaudeville during the years of the First World War. Garland is Jo Hayden and Kelly is Harry Palmer. They meet on the circuit and immediately develop a love/hate relationship. They form an act together and start slowly moving up the ladder on their way to a booking at New York's Palace Theater. After some light melodrama and a few decent song and dance numbers (the best of which are the title song and the rousing "Ballin' the Jack") the plot kicks in a bit late. On the eve of their first appearance at The Palace, Harry gets drafted in the army. He breaks his own hand to postpone going overseas. Unfortunately this is the very day that Jo gets the news that her brother has been killed in action at the front. She tells Harry she never wants to see him again.
Harry tries desperately to enlist after this, in order to prove his courage and patriotism, but mostly to win Jo back, but he permanently damaged his hand and is rejected. All the main characters finally meet up in Paris at the movie's climax. Jo is performing for the troops and Harry also finally made it overseas by performing. Judy Garland does a wonderful medley of WWI songs with a group of soldiers. These include "It's a Long Long Way to Tipperary", "How Ya Gonna Keep 'Em Down on the Farm? (After They've Seen Paree)" and "Pack Up Your Troubles In Your Old Kit Bag and Smile, Smile, Smile!"
This movie was released in 1942 the year the United States entered WWII. At the end there is a plug for war bonds. This is one of the last of the Word War I movies. World War II would soon take it's place on the screen. Even to this day there are very few movies made about the First World War.
You just know this will have a happy ending, but that's not the point. It's about the songs, dances, laughs and melodrama. For Me and My Gal offers a nice mix of those 4 ingredients. I just wish they had filmed this musical postcard in Technicolor.

Reviewed on:
March 17th, 2006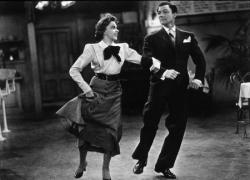 Judy Garland and Gene Kelly in For Me and My Gal.
Whereas Patrick mentioned that this movie was made during World War II, I will argue that it was made because of World War II. Hollywood in the early 1940's was actively making films that were very supportive of the war effort. For me and My Gal is a great example of that.
The most telling scenes come the second half of the movie when Jo's brother comes to visit and is greatly respected by everyone. After Harry smashes his hand in the trunk, to avoid being drafted, Jo wants nothing to do with him. "You'll never be big time because you're small time in your heart." Jo tells Harry. She then goes off to do her part by entertaining the troops. To regain Jo's and his own self respect Harry tries desperately and eventually gets into the service. That is hardly a subtle message to a country at war.
This movie is a musical love story but it really has a single message: Hollywood loves and supports the troops. The problem is that it takes too long to get there. As Patrick wrote, the plot takes a while to get going. There is some dramatic attempt with a love triangle but it just slows the plot down.
Gene Kelly was a star on Broadway before making it to Hollywood. He starred in the stage production of Pal Joey 10 years before Frank Sinatra made the film version. Kelly and Garland are adequate together, but this is Garland's movie. Kelly's lack of experience is evident, especially in the one action scene where he is trying to get through on the radio. Six years later in The Pirate, a more comfortable looking Kelly paired up again with Garland and the experience he gained in the six years since For Me and My Gal are plainly evident.
Reviewed on:
February 10th, 2009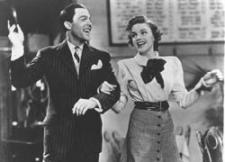 The movie works best during its lighter moments.
Sure this movie's patriotic message is about as subtle as a knee in the Kaiser's groin, but thanks to Judy, Gene and some nice songs, that hardly matters. They make a cute couple and they keep you hanging in there with the movie even after it runs on for a bit too long.
This may have been Gene's first movie, but I don't think he does that bad a job. I mean he was never known for his dramatic acting even later on in his career. He's definitely better in the lighter moments though, but then so is the whole movie. What surprised me was how little dancing he gets to do. Sure he dances with Judy, but you can see how he wasn't allowed at this early stage of his screen career to perform in the way he would in later films. Only during the short dance at the beginning do you see a hint of his dancing athleticism.
It is definitely the lighter moments of the first half of the movie that are the best. Judy and Gene trying to make it to the Palace together. They have a comic chemistry that just works ("Holy cow, why didn't you tell me I was in love with you?"). When the War starts and it gets darker, the movie loses a bit of its charm, but it manages to regain it by the time the credits roll and the two singing lovers are reunited at the Palace at last.
Photos © Copyright Metro-Goldwyn-Mayer (1942)
Related Review