Movie Review
Footloose
There comes a time to cut loose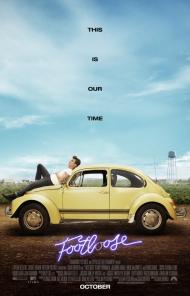 US Release Date: 10-14-2011
Directed by: Craig Brewer
Starring
▸
▾
Kenny Wormald

,

as

Ren MacCormack
Julianne Hough

,

as

Ariel Moore
Dennis Quaid

,

as

Rev. Shaw Moore
Andie MacDowell

,

as

Vi Moore
Miles Teller

,

as

Willard
Ray McKinnon

,

as

Wes Warnicker
Patrick John Flueger

,

as

Chuck Cranston
Kim Dickens

,

as

Lulu
Ziah Colon

,

as

Rusty
Ser'Darius Blain

,

as

Woody
L. Warren Young

,

as

Andy Beamis
Brett Rice

as

Roger Dunbar

Reviewed on:
October 15th, 2011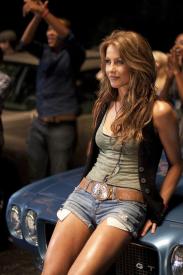 Julianne Hough in Footloose.
It's hard to believe about someone of my generation, but I've never seen the original 1984 Footloose. It always seemed like such a ridiculous plot and I was never that big of a Kevin Bacon fan and so I never saw it in the theater and found it quite easy to avoid in the intervening years. I'm familiar with the soundtrack of course. That was impossible to avoid and it contained some catchy 1980s pop songs. So I was neither excited nor offended that they were remaking this film although I still thought it was a dumb idea for a plot.
The movie opens with a group of teenagers getting into a car after a party where there was drinking and dancing. On the ride home the teenagers are killed in a car accident, prompting the town council to pass a series of laws designed to keep the teens of the town safe. They impose a curfew and among other things, a law that prohibits public dancing by minors. As crazy and as dumb an idea as that sounds, it's actually loosely based on a true story and I do mean loosely. Elmore Oklahoma had a 100 year old ban on dancing that was ended in 1980 at a high school prom.
Three years later, Ren MacCormack, a high school senior comes to the town following the death of his mom. He's from Boston and a dancer and he finds the laws constricting. There's some drama when he has a few minor run-ins with the law and falls in love with the preacher's daughter. He also makes some friends with some locals. The climax of the film is when Ren makes an impassioned plea to have the law revoked.
The cast of high-schoolers are mostly unknowns. On the plus side, Kenny Wormald is a dancer, unlike Bacon and so you actually get to see him dance. On the negative side, he and the rest of the cast are all way too old for their parts. Wormald is in his late twenties and looks it and the rest of the cast, while younger, are still in their twenties. In one scene, with no explanation to how they do it, a group of them go to a dance bar out of town where presumably they were able to drink because of how clearly old they look.
While hiring twenty-somethings to play high-schoolers is standard practice in Hollywood, it works against the movie here. This is a silly plot device and Ren's argument is based on the idea that kids need to be able to act like kids when they're kids. Now that's an argument that would have been a lot more effective if it had been delivered by a kid and not a man old enough to have kids of his own.
The movie trots out several songs from the original soundtrack including the theme tune, Let's Hear it for the Boy, Almost Paradise and Holding Out for a Hero. What it fails to do is include any new classics. It relies on recognition of the old ones, done mostly in remakes, instead of trying to inject any new music.
My big problem with this movie is that I never really cared about anyone in it. Miles Teller is funny as Willard, but the leads, Wormald and Julianne Hough, a young Jennifer Aniston look-alike, are pretty but vacuous. I was never drawn into their struggle to get the dance ban lifted. And without any emotional connection to the story, this is a long movie to get through at nearly two hours.
I'm sure there are plenty of people who will say that the original version was so much better than this one and they may be right, but I'm certainly in no hurry to prove it.

Reviewed on:
January 9th, 2015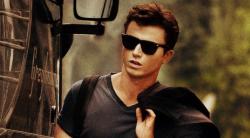 Kenny Wormald confusing modeling with acting in Footloose
I have seen the original Footloose. As a teenager at the time of its release, I bought into the ridiculous plot and was whole heartedly on the side of the teenagers fighting for their right to party. Now that I have raised teenagers of my own, I have become fully acclimated to just how stupid and irresponsible they can be. Watching it now, I did not care if they got to dance or not. Look at the bus race they have. These teens are reckless and this movie demonstrates just how much they still need parents to make judgment calls for them.
I too have never been a big Kevin Bacon fan. His entire career was built on the fact that he has always been in good shape. He is not, nor has he ever been, considered good looking or noted for great acting. Although that sounds like an insult, it actually works for him. Kenny Wormald could be considered attractive but he is even less of an actor and more of a poser. Bacon was more natural while Wormald seemed to spend every moment trying to look and act as James Dean cool as possible. "Cool" however, comes naturally. It cannot be put on. Watch a Dean or Steve McQueen movie for a perfect example.
The original soundtrack was a huge success with the theme song being the most memorable. Here it is performed by Blake Shelton. Scott noted that as Kenny Wormald is a dancer, you actually get to see him dance. That is only partially true. Yes, Wormald toured with Justin Timberlake as one of his dancers but you would never know it from this movie. His dances are so heavily edited that anyone could have performed these moves. "Pose. Cut. Pose. Cut…"etc. My favorite dance scene is when Wormald and the adorable Hough go to an adult bar to drink and line dance.
As Scott noted, Wormald is too old for the part. He was born in 1984, the year the original was released. Then again, Bacon was nearly as old when he played the same role. Supposedly, Bacon was offered a part in this film but he did not find a role in it that he liked. I guess when you become a huge box office, award winning actor such as Bacon, you can be choosy with your acting jobs. Oh wait.
Having recently watched Whiplash (2014), it was mildly interesting watching the talented Miles Teller play second fiddle to the already a has-been Wormald. Other than that, I was fairly bored. I too was not drawn into their struggle to get the dance ban lifted. These teens still dance, drink, party and get into trouble with or without the ban, so what exactly am I supposed to be rooting for? These kids want respect from their adults yet do nothing to earn it.
I am one of those people that will say that the original version was better but that truly is not saying much.
Photos © Copyright Paramount Pictures (2011)