Movie Review
The Fluffer
Love Is Hard.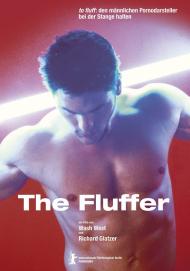 US Release Date: 11-16-2001
Directed by: Richard Glatzer and Wash Westmoreland
Starring
▸
▾
Scott Gurney

,

as

Mikey (aka Johnny Rebel)
Michael Cunio

,

as

Sean McGinnis
Roxanne Day

,

as

Babylon
Taylor Negron

,

as

Tony Brooks
Richard Riehle

,

as

Sam Martins
Tim Bagley

,

as

Alan Dieser
Adina Porter

,

as

Silver
Debbie Harry

,

as

Marcella
Penn Badgley

,

as

Young Sean
Ron Jeremy

as

Himself

Reviewed on:
November 18th, 2001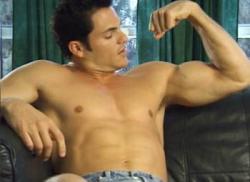 Scott Gurney in The Fluffer.
Touted as the 'gay' Boogie Nights, The Fluffer is actually a very different movie. The protagonist in Boogie Nights was the porn star, here, it could be said, our hero gives 'lip service' to the porn star. Boogie Nights as if told from Philip Seymour Hoffman's character's point of view. The Fluffer also differs in that it takes place in the present and is burdened with a bleaker tone. Sure Boogie Nights is just as raunchy, but with a decidedly cheerier ending.
The story centers on Sean, a young guy who in attempting to rent Citizen Kane ends up with a slightly different version called Citizen Cum. He becomes obsessed with the hunky star, known as Johnny Rebel, to the point of getting a job at the production facility where he works. When Johnny has some trouble preparing for a scene Sean is asked to provide a little oral support. He is soon madly in love. Johnny Rebel, however, is only 'gay-for-pay'; he has a beautiful girlfriend who strips. He is also a self absorbed drug addict.
Early on The Fluffer has a light comedic feel which changes and slowly grows darker as the movie unreels. It works fine as is but I wanted something else from it. A few more laughs. And as unhip as it is to admit it, I like a good Hollywood ending; which is exactly what this movie is lacking.
The cast is good, particularly Scott Gurney as Johnny Rebel; speed freak porn star extraordinaire around whose life the other two main characters revolve. And it's always nice to see Debby Harry even in a throwaway role like this.

Reviewed on:
December 2nd, 2010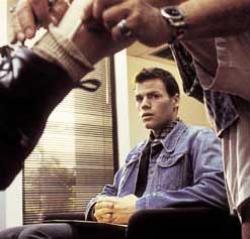 Michael Cunio in The Fluffer.
My problem with The Fluffer is that it centers far too much on Sean and not Mikey. Through Sean, we are taken into this adult business, but he is really little more than an observer. I wanted to know more about Mikey. How did he get into the business? How did his girlfriend first take to his job? On the surface, Mikey has it all, but underneath he is a wreck. His is the character that needed to be explored.
Everyone sees Mikey for his body, and as a porn actor he certainly encourages those thoughts, but he clearly has issues. Mikey is not given any back story, so we never learn very much about him. I wanted to like him, but he is a complete mess. By the end of the film he has committed more crimes that I could count. We understand that Sean is pursuing a fantasy, but what is Mikey after?
Mikey is an enigma. He is Sean's fantasy, and Sean eventually sees what a screw up he is, but it is a weak story arc. Scott Gurney is a pretty good actor, and we could have used a few less shirtless scenes and a few more humanizing ones.
I am not sure what this movie did to Gurney or is career, but he stopped acting after The Fluffer. He has gone on to become a television documentary film producer. Like Mikey, Scott Gurney is a bit of a mystery. For a guy who became famous for his physique playing sports, modeling and acting, he has now chosen to be behind the camera instead.
Michael Cunio has likewise disappeared from film after making this movie. Since 2001 he has done some theater work such as Jersey Boys and Hairspray. Perhaps this film created too big of a stigma for him to get past. Glatzer said in an interview with Thefreelibrary.com, "Wash would [even] hire Michael as a fluffer on a porn set--no one would need Viagra with him around!" Glatzer and Wash are partners professionally and personally.
Although their are some cheesy scenes when they make some of the movies, The Fluffer takes a relatively mature approach to porn. "It's an adult industry. Gotta be an adult to deal with it." and "Look, kid, we're not talking about sex here. This is pornography." If this movie says anything it is that no one is supposed to take porn seriously.
Like Patrick, I also found the ending to be a disappointment. Not only is it a downer, but it is far too ambiguous. There are some decent performances here, but it needed to change the focus and find a better ending.
Photos © Copyright First Run Features (2001)