Movie Review
Florence Foster Jenkins
The inspiring true story of the world's worst singer.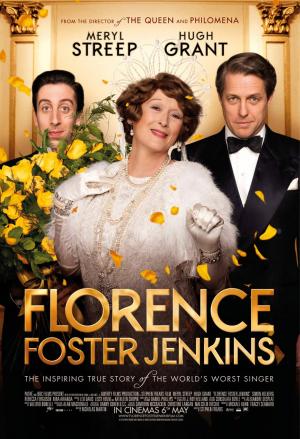 US Release Date: 08-12-2016
Directed by: Stephen Frears
Starring
▸
▾
Meryl Streep

,

as

Florence Foster Jenkins
Hugh Grant

,

as

St Clair Bayfield
Simon Helberg

,

as

Cosmé McMoon
Rebecca Ferguson

,

as

Kathleen
Nina Arianda

,

as

Agnes Stark
Stanley Townsend

,

as

Phineas Stark
Allan Corduner

,

as

John Totten
Christian McKay

,

as

Earl Wilson
David Haig

,

as

Carlo Edwards
John Sessions

,

as

Dr. Hermann
Brid Brennan

,

as

Kitty
John Kavanagh

,

as

Arturo Toscanini
Pat Starr

,

as

Mrs. Vanderbilt
Maggie Steed

,

as

Mrs. James O'Flaherty
Thelma Barlow

,

as

Mrs. Oscar Garmunder
Liza Ross

,

as

Mrs. EE Paterson
Paola Dionisotti

,

as

Baroness Le Feyre
Rhoda Lewis

,

as

Mrs. Patsy Snow
Aida Garifullina

,

as

Lily Pons
David Mills

,

as

Augustus Corbin
David Menkin

,

as

Carlton Smith
Sid Phoenix

,

as

Corporal Jones
Tunji Kasim

,

as

Private Smith
Carl Davis

as

Orlando Adams

Reviewed on:
August 13th, 2016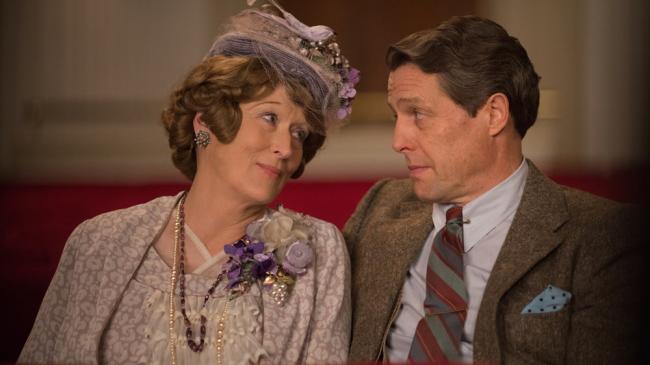 Meryl Streep and Hugh Grant in Florence Foster Jenkins.
The life of Florence Foster Jenkins has been labeled an inspiring one, but to be honest I didn't find it, at least as portrayed in this film, all that inspirational. There are certainly sad elements to her tale, but really, the only message the film conveys is that with enough money you can indulge any eccentricity that you can afford.
Meryl Streep is already generating Oscar buzz for her performance, but when doesn't she generate Oscar buzz for one of her performances? She stars as the title character, a rich New York City socialite and patron of the music world in 1944. Although Streep plays her at an indeterminate late middle age, the real Jenkins was 76 years old when the events of this film take place. Florence is a lover of music and was something of a piano playing prodigy, who even performed at the White House as a child. An unfortunate, short lived, marriage left her with syphilis, which in turn damaged the nerves in her left hand, losing her the ability to play the piano. Since then she has sponsored the musical performances of others while giving the occasional singing performance of her own, despite being completely unable to carry a tune or hit a note with her voice.
Florence's private concerts are carefully stage managed by her husband, played by Hugh Grant. He insures that the tickets only go to friends and that any music critic present is well paid to write only glowing reviews. The relationship between Florence and Grant's character is a strange one. Because of her syphilis, they have never consummated their marriage and he spends nights at another apartment with his girlfriend. He clearly loves Florence very much, without seemingly being in love with her. Grant, who was talked out of semi-retirement by director Frears, is quite good in the part. However, I couldn't help but wonder how much the script romanticized his character and how much the real St. Clair Bayfield took advantage of Florence and her generosity.

The plot builds to a performance by Florence at Carnegie Hall where, for the first time, her husband will be unable to control who is in the audience and which music critics are present. This is the part that is meant to be inspirational, but which I found to be the most lacking. Yes, Florence goes ahead and does what she loves, despite her lack of her talent, but it's her money that got her there rather than any great show of perseverance. As the real Florence famously said, and Streep repeats here, "People may say I can't sing, but no one can ever say I didn't sing."
Despite the tragic elements of Florence's life, the film is played as a comedy and it's in the lighter moments that it works best. Although I will say that the joke of Florence's poor singing is over played. It's funny the first time you hear her sing, but less so each successive time. Grant and Streep work well together and they are helped by Simon Helberg (Howard from The Big Bang Theory) as the odd little pianist Florence hires to accompany her.
A small amount of research online reveals how the filmmakers have altered Florence's story. In real life she wasn't unaware of her critics, although she dismissed them. It was she who controlled the guest lists to her private concerts. Her mental state may also have deteriorated by the time she gave that concert at Carnegie Hall due to years of taking Mercury for her syphilis, considered a medication for the disease before the invention of Penicillin.

In the end, this is lightweight entertainment that gently amuses. There are darker, more tragic elements to Florence's story that this film merely skims without ever fully exploring, lessening its emotional impact.
Reviewed on:
August 15th, 2016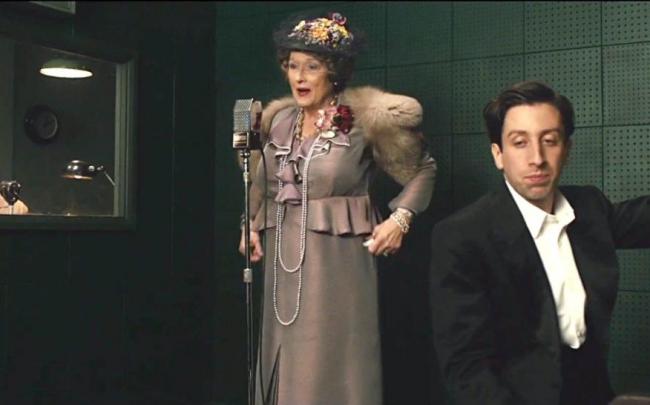 Meryl Streep and Simon Helberg in Florence Foster Jenkins.
I enjoyed Florence Foster Jenkins more than my brother did. She's a wonderfully eccentric character who provides Streep with yet another juicy screen role in which she doesn't disappoint. She makes this nutty, spectacularly untalented woman likable and she's hilarious whenever she attempts to sing. I'm not normally a huge fan of Meryl Streep (yes she's talented but sometimes I find her acting too clinical) but this time any Oscar buzz is well deserved. Not enough comedies get Academy recognition anyway. Hugh Grant is equally delightful as St. Clair Bayfield. This lovable ham is a part he was born to play and it's nice having him back on the big screen in a leading role. I hope he makes more movies.
I never saw Florence Foster Jenkins' message as being only that if you have enough money you can indulge any eccentricity. Yes she used her wealth in order to sing in front of a select group of admiring audiences but she was also a generous patron of music in New York City. She spread her riches around. The romantic in me saw this movie as a beautifully comic/tragic love story between two people who could never consummate their relationship. Sure he enjoyed the material comforts provided by Foster Jenkins' money (and had a girlfriend on the side – after all a man has his physical needs) but St. Clair Bayfield, as portrayed in this charming and quite funny movie, was a truly devoted husband who tried his best to make his wife happy and to spare her feelings as much as he possibly could. Perhaps their relationship was odd by most people's definitions of a marriage but it seems to have worked quite nicely for them.
Recordings exist of the real Florence Foster Jenkins. Her voice can be heard at the end of the movie. She was a perfect storm of bad singing. She suffered nerve damage from the syphilis which might have made it more difficult to control her vocal cords, perhaps accounting for her frequently flat notes. This was compounded by hearing loss due to ingesting mercury and arsenic which were the prevalent syphilis remedies at the time, and the fact that she tended to choose incredibly difficult coloratura arias to perform. Streep's impression is uncanny.

Lastly, I'll second my brother's mention of Simon Helburg. He completes the trio of great performances at the heart of this charming movie that so beautifully combines pathos with humor. Bravo Florence Foster Jenkins!
Photos © Copyright Pathé Pictures International (2016)