Movie Review
Flirting with Disaster
Have you flirted yet?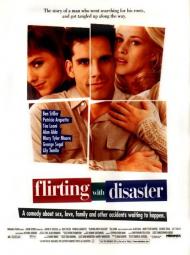 US Release Date: 03-22-1996
Directed by: David O. Russell
Starring
▸
▾
Ben Stiller

,

as

Mel Coplin
Patricia Arquette

,

as

Nancy Coplin
Tea Leoni

,

as

Tina Kalb
Alan Alda

,

as

Richard Schlichting
Mary Tyler Moore

,

as

Pearl Coplin
George Segal

,

as

Ed Coplin
Lily Tomlin

,

as

Mary Schlichting
Josh Brolin

,

as

Tony Kent
Richard Jenkins

as

Paul Harmon
Reviewed on:
July 4th, 2009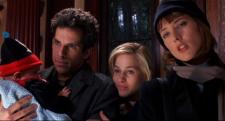 Ben Stiller, Patricia Arquette and Tea Leoni in Flirting with Disaster.
Will Ferrell and writing partner Adam McKay recently posted a list of 14 movies to see before you die. On that list at number 14 was 1996's Flirting with Disaster, a movie I only vaguely remember seeing previews for back when it was released, but with their recommendation plus the strong cast, I decided to make it my next movie to watch. Having seen it now, I can't say that I would put it in my top 14 movies of all time, but must agree that it is very good and very funny.
Ben Stiller stars as Mel Coplin, a 30ish year old married man who wants to find his birth parents. A quest that is spurred by the birth of his son, who Mel can't commit to a name for, until he discovers his true background. His adopted background is a neurotic New Yorker. His adopted parents are played by Mary Tyler Moore and George Seqal.
Accompanying Mel on his parental journey is Tina (Leoni), a woman from the adoption agency where Mel was originally adopted from, who is coming along to document Mel's reunion with his birth parents. Also along for the ride is Mel's wife, Nancy (Arquette), whom Mel has been ignoring since his quest began, especially as his attraction to Tina grows and is reciprocated.
Mel's journey takes him to San Diego where he's reunited with a woman who turns out not to be his mother after all, and then onto Michigan where meets a trucker who almost was his father, before ending up in the desert of New Mexico where his real parents (Alda and Tomlin) lead an alternative lifestyle. Along they way they meet up with a pair of gay government agents (Brolin and Jenkins), one of whom went to high-school with Nancy and who confesses to her that's he's actually bisexual and attracted to her.
In case any of this journey sounds like soap opera or melodrama, trust me that it's not. Although you might take some small lesson about what makes people your parents, giving birth or raising you, the point of this movie is to make you laugh and it does for most of the time. Very often it is quite silly and that is when it is at its best. I just wish that it had gone further on occasion. In some scenes it borders on screwball comedy, but too often it seems to rein itself in. One of the funniest scenes involves two rental cars, two couples who are flirting with each other, but not their own partners, and the fifth member of the party who is left out and tossed back and forth between the two of them.
You could easily compare this movie to Meet the Parents, only in this case Stiller is meeting his own parents. Not that this movie is as zany as that one, but it shares the same setup, that of New Yorker Stiller being a fish out of water when he meets parental figures. However, where that later movie was dominated by Stiller and De Niro, this one is more an ensemble piece with a large and well known cast.
I do agree with McKay and Ferrell that this is good movie probably not seen by enough people. It's not one of the greatest of all time, but definitely worth seeing.
Photos © Copyright Miramax (1996)