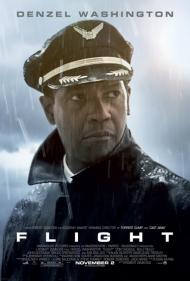 US Release Date: 11-02-2012
Directed by: Robert Zemeckis
Starring
▸
▾
Denzel Washington

,

as

Whip Whitaker
Don Cheadle

,

as

Hugh Lang
Kelly Reilly

,

as

Nicole
Bruce Greenwood

,

as

Charlie Anderson
John Goodman

,

as

Harling Mays
Nadine Velazquez

,

as

Katerina Marquez
Tamara Tunie

,

as

Margaret Thomason
Melissa Leo

,

as

Ellen Block
Garcelle Beauvais

,

as

Deana
Justin Martin

as

Will

Reviewed on:
November 4th, 2012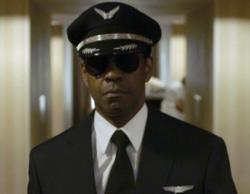 Denzel Washington in Flight.
With Flight, Denzel Washington delivers another great acting performance. Although it's the plane crash that features most prominently in the previews, this is really a movie about addiction. Washington plays a man both weak and charming, in control and totally out of it. It's a part that is sure to have him in the running during this year's award's season.
The movie opens the morning after for Captain Whip Whitaker (Washington) where his day begins with a naked stewardess, last night's beer and a snort of cocaine. From all available evidence this is just one in a long line of morning afters for him. This particular morning however, turns out far from normal.
On a short flight from Florida to Atlanta, during which Whip drinks even more, the plane malfunctions and goes into a nosedive. Despite his chemical condition, Whip manages to land the plane with a minimum of damage. It's a terrifically filmed scene and it starts the movie with a bang. While he's hailed as a hero for saving the life of all but 6 people aboard the plane, a blood sample taken at the crash site threatens to ruin his career and send him to prison.
The plane flight and crash is obviously a metaphor for Whip's addiction. He flies high and then he crashes. Will he be able to pull off as miraculous a maneuver in real life as he did behind the controls of the plane, is the final question. And does he deserve to? You can probably guess how it will end, but it will hold your attention anyway.
Denzel is superb in the part. He's cocky and charming when he needs to be and a slurring, fall down drunk at other times. Without question, his landing of the plane is heroic, but is he a hero? He's a deeply flawed man whose addictions have estranged him from his ex-wife and son. Even Nicole, the junkie he meets in the hospital and takes into his home, ends up leaving him because she wants to go clean and can't be around him. Not many actors working today could play such an unlikable, weak man and still keep you watching and hoping he will pull up in time.
Although it's pretty much a one man show, the supporting cast does do a good job. Kelly Reilly is appealing as Nicole, the recovering addict. Don Cheadle does good work as the lawyer, who will do whatever it takes to get Whip freed from all charges. And John Goodman provides some comic relief as Whip's friend and dealer, even if the humor he provides does seem a bit out of place in a movie about addiction.
Director Zemeckis seems interested in fate. His most successful film, Forrest Gump, dealt heavily with the idea and this film is concerned with it as well. There's a religious angle to this story that is touched upon but never really goes anywhere. An act of god is added to the list of reasons why the plane crashed. Whip's co-pilot is quite religious, but it's not particularly clear if his attitude is meant as a joke.
In terms of plot, this could easily be a Lifetime movie of the week. It's raised above that by its tense opening scene and an Oscar worthy performance by Denzel Washington.
Reviewed on:
January 16th, 2013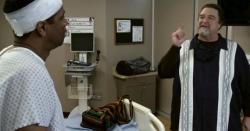 Denzel Washington and John Goodman in Flight.
Like Ray Milland in The Lost Weekend and Jack Lemmon in Days of Wine and Roses, Denzel Washington plays an alcoholic whose life is spiraling out of control in Flight. As Scott wrote, and despite the trailers for this movie, it is really a character study about one man's battle with his addictions more than it is about a plane crash and the ensuing legal formalities. It is a gripping tale from the pen of the Oscar nominated John Gatins, and directed by Robert Zemeckis at the helm of his first live-action movie in more than a decade.
Although most of the Oscar buzz has been centered on Daniel Day-Lewis as Abraham Lincoln, Denzel Washington certainly gives an Oscar worthy turn as Whip Whitaker. A win for either man would give them their third Oscar statuette. I agree with Scott's assessment that not many actors could make this seriously flawed character as sympathetic as Denzel manages to do.
At the beginning of the movie Whip is a man whose life is one long party. Watching his denial slowly turn to acceptance is a thing of beauty. The scene where Whip reluctantly attends an A.A. meeting and then walks out in the middle because it is all hitting way too close to home, is a brilliant example of screen acting. Denzel doesn't overdo it or underplay it. He gets it just right. This is his juiciest role in years and he really sinks his teeth into it.
John Goodman has been on a roll ever since The Artist. Besides being in that Best Picture Oscar winner he was also in the Best Picture nominated Extremely Loud and Incredibly Close last year. He was in four movies in 2012 including Best Picture nominee Argo. In addition to that movie and this one he was in The Campaign and Trouble With the Curve. The sixty year old actor seems to be peaking. As Scott wrote, he provides some ironic comic relief as Whip's loyal drug dealer and buddy.
Flight is a well-written look at one exceptional man's battle with addiction. It features a superb central performance from Denzel Washington at the height of his powers. The ending manages to be uplifting without undermining the realness of everything that has come before.

Reviewed on:
January 28th, 2013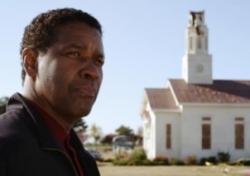 Denzel Washington in Flight
Scott wrote that, "There's a religious angle to this story that is touched upon but never really goes anywhere." It is more than touched upon. It is very much a theme of the movie, with religious symbols and references throughout. Margaret, a stewardess, tries to get Whitaker to go to church. The plane's wing knocks off a church steeple when crashing next to a graveyard filled with crosses. The passengers are then rescued from the wreckage by robe wearing choir members.
When Whitaker asks his co-pilot how he is doing, he responds, "Happy to be alive." but then a girl jumps in with, "Blessed to be alive." The co-pilot asks Whitaker to pray with him, where he praises Whitaker in Jesus's name for saving his life.
One of the movie's best scenes is when Whitaker sneaks into the hospital stairwell to smoke a cigarette. He meets Nicole and a man dieing of cancer. The cancer patients acts as an angel informing the other two that everything is in God's hands and that he has control over how life plays out. He tells Whitaker, "You walked away, or limped away." He tells Nicole, "You're beautiful you know that." He also adds that, "People are either drawn to me or they pretend they can't see me." He is bluntly honest to them both. God is clearly speaking through him.
Agents of Satan are at work here as well, most notably in the form of the drug pushing Harling Mays. Satan's biggest act comes when Whitaker suddenly hears a noise and discovers that the door to the adjoining hotel room is open. After entering it, he notices the humming of the alcohol filled refrigerator. The Devil has always been noted as a temptress. Washington's struggle with his demons is an exceptional piece of acting.
The film becomes a question of where does God's plan for us end and where do our choices begin. Thus Flight is a philosophical question of preordained destiny versus autonomous decision. Ephesians 1:11 says, "In him we have obtained an inheritance, having been predestined according to the purpose of him who works all things according to the counsel of his will," At one point Whitaker yells at Nicole with all self assuredness, "I choose to drink!"
Flight presents both philosophical arguments. It does not solidly side with either. If anything it suggests that both are at play in our lives. Was it an act of God that caused the accident or did God guide Whitaker's hands in dealing with it? God sends Whitaker all kinds of people to help him on his journey, yet only Whitaker can make the decision to help himself.
Do not get the wrong idea about Flight. It is not a Bible thumping Christian film. The word "Fuck" is often employed. It features lots of drug use and some full frontal nudity as well as a scene that takes place on a porn film set. This however, just reiterates that life is not one sided
Photos © Copyright Paramount Pictures (2012)
Related Review