Movie Review
Five Came Back
CRASH LANDING in the HEADHUNTER'S JUNGLE!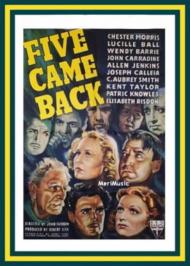 US Release Date: 06-23-1939
Directed by: John Farrow
Starring
▸
▾
Chester Morris

,

as

Bill Brooks
Lucille Ball

,

as

Peggy Nolan
Wendy Barrie

,

as

Alice Melbourne
John Carradine

,

as

Crimp
Allen Jenkins

,

as

Pete
Joseph Calleia

,

as

Vasquez
C. Aubrey Smith

,

as

Professor Henry Spengler
Kent Taylor

,

as

Joe, the co-pilot
Patric Knowles

,

as

Judson Ellis
Elisabeth Risdon

,

as

Martha Spengler
Casey Johnson

,

as

Tommy Mulvaney
Dick Hogan

as

Larry, the steward
Reviewed on:
August 2nd, 2012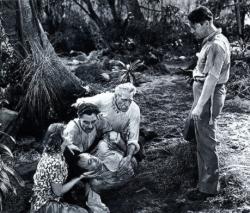 Lucille Ball, Allen Jenkins (lying on ground), Joseph Calleia, C. Aubrey Smith and Chester Morris in Five Came Back.
Five Came Back was made for a mere $225,000. It became a surprise box office hit for RKO studios in the summer of 1939. This precursor of the Disaster Picture has been remade several times and even had a Star Trek episode based on its plot. This original version elevated the film career of Lucille Ball, then known as "Queen of the Bs". Her rave notices by critics ensured her getting offered larger roles henceforth. John Farrow (Mia's father) directs with wonderful pacing (it runs just 75 minutes) from a script by Jerry Cady, Dalton Trumbo and Nathanael West. The wonderful B&W cinematography is by Nicholas Musuraca, famous for his photography in film noir.
Nine passengers and three crew members embark on a commercial flight from Los Angeles to Panama City. After a layover in Guatemala they encounter a fierce storm and are blown off course. They are eventually forced to crash land somewhere in the Amazonian jungle. They build huts and form a community while the pilots repair the plane. All the while fearing an attack from native headhunters that live in the region. On their 23rd day in the jungle the plane is ready for takeoff. But with only one engine in good working order it can carry just five of them back to civilization, hence the title.
Facing disaster brings out each of the passenger's true natures, for good or ill. These include an elderly professor and his wife, a wealthy young businessman and his fiancee who are eloping, a hitman accompanied by his fugitive gangster bosses' young son, a young woman with a bad reputation, and a detective bringing his prisoner, an accused political murderer, to be hanged for the $5,000 reward. The joy of the movie is in figuring out just who will live and who will be left in the jungle to face certain death.
Although it was shot entirely on a sound stage John Farrow insisted they import real trees to make it look more realistically like a jungle setting. Legend has it that several large black spiders descended from one of the trees and got entangled in Lucille Ball's famous red hair. She allegedly left the set screaming.
The script is taut and the story tense. If you pay attention you get nearly complete back-stories for each of the characters. The entire cast shines, with Lucille Ball, Allen Jenkins, C. Aubrey Smith, Elizabeth Risdon and Joseph Calleia each a stand out. Patric Knowles and Chester Morris are also good. The story isn't filled with action but the melodrama is quite riveting. The ending packs a punch and left me entirely satisfied.
Five Came Back proves that a creative director working with a solid script can make a classic movie without spending huge amounts of money. Of course a talented cast certainly helps. The story is adventurous but this is really a character study about human nature in the face of life threatening adversity. Although it isn't well remembered today, Five Came Back is definitely worth checking out.
Photos © Copyright RKO Radio Pictures (1939)