Movie Review
Five Branded Women
All The Savage Ravishing Passions of War!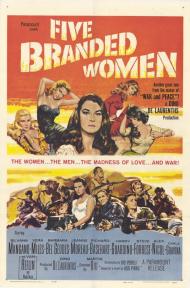 US Release Date: 03-15-1960
Directed by: Martin Ritt
Starring
▸
▾
Silvana Mangano

,

as

Jovanka
Jeanne Moreau

,

as

Ljuba
Vera Miles

,

as

Daniza
Barbara Bel Geddes

,

as

Marja
Carla Gravina

,

as

Mira
Van Heflin

,

as

Velko
Richard Basehart

,

as

Captain Eric Reinhardt
Harry Guardino

,

as

Branco
Alex Nicol

,

as

Svenko
Steve Forrest

as

Sergeant Paul Keller


Reviewed on:
May 26th, 2012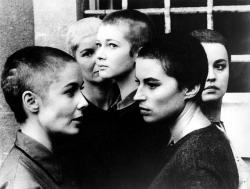 Five Branded Women
Five Branded Women is an action filled World War II film. Produced by Dino De Laurentiis, it is an Italian/American production filmed on location in Austria. The cast includes both Italian and American actors, lead by Van Heflin and the beautiful Silvana Mangano.
In a small Nazi occupied Yugoslavian village, one German sergeant spends most of his time getting laid by as many local girls as he can. Some of the women are willing participants while others have to be intimidated. He convinces one woman that unless she has sex with him her brother will be taken away.
After having sex with one girl, Jovanka, in the woods. The sergeant gets attacked by some partisans. The girl, along with four others who are believed to have given "comfort" to the enemy, have their hair cut very short to mark them as traitors and are sent out of town to fend for themselves. The sergeant's fate is even worse.
This starts a journey in which the five women quickly learn that sex can be as dangerous as Nazis. They wander the countryside trying not to get raped. After a couple of attempts, they end up with a band of guerrilla fighters, lead by Velko, the man who attacked the German sergeant and cut Jovanka's hair.
Velko lets the women join, where they fight alongside the men. He gives a speech to all the partisans where he says there cannot be any fraternization. He has one of his men tell a story about when two couples snuck off to have sex while on guard duty, allowing Germans to sneak up on the partisan camp and slaughter them.
However, combining lonely men and vulnerable women makes for a hormone charged environment. Before long, a couple is established, while another woman has eyes for a German soldier she guards. One of the girls gives birth to a child she created with the German sergeant.
Jovanka and Velko also develop a relationship, but one on a level far deeper than sex. After the climactic attack on some Nazis, they share a heated conversation in which Jovanka calls the Nazis, as well as themselves, "Savages." Velko tells her, "We had to become savages to survive." Later Velko tells her that everything will go back to normal after the war, but Jovanka says, "We can never go back."
Five Branded Women is very frank in its depiction of sex during war time, and the violence pulls no punches. It is very much a companion piece for Two Women, also made in 1960, in which Sophia Loren and her daughter wander war torn Italy and end up getting raped. This was not the kind of film being made in the United States in 1960 and is still not. Even today you would have to watch such foreign films as the German made, A Woman in Berlin (2008) to find a similar theme.
The production could a have been a bit better and the ending is intentionally ambiguous. Its biggest crime though, is that it was filmed in black and white. All of those glorious scenes in the Austrian Alps would have looked so amazing in color. Dramas at this time were, for some reason, still being made in black and white. That would soon change, but films like this would have been so much better in color.
Reviewed on:
February 19th, 2014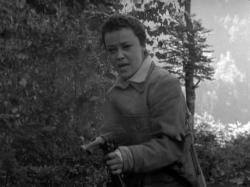 Jeanne Moreau in Five Branded Women.
I remember seeing this movie as a young boy and being quite shocked by it, especially the sight of the shorn heads of these five women. In those days the sight of a nearly bald woman was highly unusual. Although I hadn't seen it since, I was surprised at how well this movie holds up. It is clumsily edited at times but the cast is flawless and the story uncompromising.
The first thing that struck me was the age-old hypocrisy of men in regards to women and sex. If there had been German nurses in this village and a local man had slept with several of them he would have been admired and envied by the other men of the village. But since these are women (some of whom were coerced into the act, and one who was actually innocent) who slept with the enemy they are considered traitors.
The sight of these nearly bald women in bomber jackets, boldly firing weapons at the enemy, lends an unusual twist to the action scenes. There isn't much in the way of character development, and the movie exploits these women by pushing the boundaries of near-nudity several times, but all-in-all it is a well made WWII picture, with a decidedly anti-war message.
The deaths of several of the characters are quite shocking. This isn't your typical Hollywood war movie. The international cast adds an authenticity to the story. Of the women, Jeanne Moreau stood out for me. She had such presence and those expressive eyes and full mouth are accentuated by the short hair (see photo). Her relationship with the German POW played by Richard Basehart is the most compelling of the individual storylines. Basehart manages to create sympathy in the audience for this enemy officer, in a very limited amount of screen time. The under-appreciated Barbara Bel Geddes is quite good as Marja. In fact all of the women give sterling performances.
Of the men, Basehart is the standout. The reliable Van Heflin begins the movie in the role of antagonist but by giving these women a chance at redemption he redeems himself in the eyes of the audience. The rest of the men play more or less red-blooded stereotypes who can barely keep it in their pants at the sight of a woman.
The black & white cinematography suits the elegiac tone of this somber melodrama. I also disagree with Eric in regards to his comparison of this film to Two Women. Whereas that movie brutally displays the horrors of gang rape this one has more of a snickering-behind-the-hand view of sex. What I mean to say is that unlike Two Women this movie seems aimed at titillating a male audience.
Photos © Copyright Paramount Pictures (1960)