Movie Review
The Fish That Saved Pittsburgh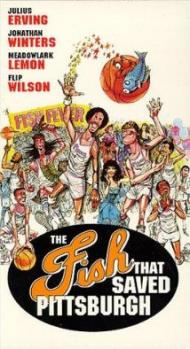 US Release Date: 11-06-1979
Directed by: Gilbert Moses
Starring
▸
▾
Julius Erving

,

as

Moses Guthrie
Jonathan Winters

,

as

H.S. / Harvey Tilson
Meadowlark Lemon

,

as

Rev. Grady Jackson
Jack Kehoe

,

as

Setshot
Kareem Abdul-Jabbar

,

as

Himself
Margaret Avery

,

as

Toby Millman
James Bond III

,

as

Tyrone Millman
Michael V. Gazzo

,

as

Harry the Trainer
Peter Isacksen

,

as

Driftwood
Nicholas Pryor

,

as

George Brockington
M. Emmet Walsh

,

as

Wally Cantrell
Stockard Channing

,

as

Mona Mondieu
Flip Wilson

,

as

Coach 'Jock' Delaney
Marv Albert

,

as

Himself
Debbie Allen

,

as

Ola
Julius Carry

,

as

Malik Jamal Truth
Jessie Lawrence Ferguson

,

as

Jackhammer Washington
Dwayne Mooney

,

as

Benny Rae
Daryl Mooney

,

as

Kenny Rae
Branscombe Richmond

,

as

Winston Running Hawk
Joe Seneca

,

as

Mr. Sweets
Harry Shearer

,

as

Murray Sports
The Spinners

,

as

Deacon Smith / Featured Singers
The Sylvers

,

as

Themselves
Norman Nixon

,

as

Basketball Player
Ken Foree

as

Pittsburgh Python Player
Reviewed on:
January 13th, 2014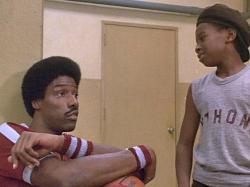 Julius Erving and James Bond III in The Fish That Saved Pittsburgh.
Of all the sports movies I've seen perhaps none is odder than The Fish That Saved Pittsburgh. It is a comic/fantasy from 1979, directed by Broadway veteran Gilbert Moses. It concerns the fictional NBA team the Pittsburgh Pythons. They have such a lousy record that many of the players are begging to be traded. The team's star player is Moses Guthrie (Julius Erving in his one and only movie role).
The plot is absurd in the extreme. One day the team's ballboy/waterboy Tyrone Millman gets the idea to use the zodiac to help improve the team. He visits an astrologer played by Stockard Channing and together they concoct a plan. After getting the approval of the team's owner (Jonathan Winters playing twin brothers) they hold open auditions with the idea of hiring only players born under the sign of Pisces (Moses is a Pisces so it makes sense see).
After assembling the strangest group of athletes you are ever likely to meet the team starts winning games and is rechristened the Pittsburgh Pisces. True to the formula of nearly every sports movie ever made the former underdog team eventually find themselves playing in game seven of the NBA championship series against the Los Angeles team (the term Lakers is never used). Kareem Abdul-Jabbar shows up as himself, which is quite strange since Dr. J is playing a fictional character.
There are some mildly amusing shenanigans throughout the story and the games themselves are fairly well-staged. Apparently The Fish That Saved Pittsburgh has developed somewhat of a cult following over the years. This is mostly due to the disco-flavored soundtrack and 1970's hair and clothing fashions on display. The incredibly short, tight basketball shorts the players wear are hilarious by today's standards. The title song is quite catchy and 1970's disco group The Sylvers even show up for a song during the championship game halftime show.
The cast includes Debbie Allen making her feature film debut, Flip Wilson in his final big screen appearance, and former Harlem Globetrotter Meadowlark Lemon as a basketball playing reverend. The role of astrologer Mona Mondieu was originally intended for Cher, but she changed her mind at the last minute.
The Fish That Saved Pittsburgh isn't a very good movie. In fact it's quite awful. It is, however, a curiosity worth watching for its sheer bizarreness alone. You may find yourself scratching your head and wondering WTF were they thinking. As entertainment it's cheap, as a time capsule of the late disco era it's priceless.
Photos © Copyright Lorimar Productions (1979)