Movie Review
Fireproof
Never Leave Your Partner Behind.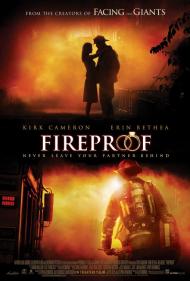 US Release Date: 09-26-2008
Directed by: Alex Kendrick
Starring
▸
▾
Kirk Cameron

,

as

Caleb Holt
Erin Bethea

,

as

Catherine Holt
Ken Bevel

,

as

Michael Simmons
Stephen Dervan

,

as

Wayne Floyd
Eric Young

,

as

Terrell Sanders
Jason McLeod

,

as

Eric Harmon
Harris Malcom

,

as

John Holt
Phyllis Malcom

as

Cheryl Holt

Reviewed on:
April 27th, 2009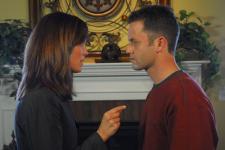 Fireproof
Alex Kendrick is an ordained pastor at the Sherwood Baptist church. Not content with merely preaching from the pulpit, Alex decided to reach a larger congregation through the use of film. He founded Sherwood Pictures. Fireproof is his third film. He has directed all three. He and his brother Stephen wrote all the screenplays. Fireproof is not their first film to get released in theaters but it did get the most publicity because it stars one time teen idol, Kirk Cameron.
Caleb is a married fireman whose marriage is on the brink. He and his wife both work long hours and rarely see each other. When they do pass in the kitchen, they argue over what the other has or has not done around the house. When his wife finally says she wants a divorce, Caleb starts seeking advice form those around him. He starts talking about faith with a fellow fireman. His Dad gives him a book of 40 things to do over 40 days to strengthen his marriage. His wife has meanwhile found herself attracted to a doctor at work, and Caleb finds his work cut out for him.
The movie makes many references to God and faith. Being that I am not a devout believer by any means, I found those scenes to be quite slow and well, dull. Too fault this movie for preaching though, is like complaining about nudity in a porn film. The Kendrick brothers set out to spread the word of their faith, and they do it very openly. If they are content with simply preaching to the choir then they are doing a great job. However, if they want to grow their audience they may want to be a little more subtle.
Fireproof features several well done action scenes of firemen rescuing people. The best parts, for me, were the arguments between Caleb and his wife. They were so true to life. Some of the things they said to each other really hit home with me. Alex Kendrick is married with six kids. I guess he knows marriage as well as the next spouse.
Photos © Copyright Sherwood Pictures (2008)